Valentine's Day
is my jam. I LOVE creating new, homemade, printable cards for my kids to take to school for their parties. As a result, I have an awesomely huge selection for you to choose from if you are also interested in DIY Valentines. Check out all my candy and non-candy options below. I also have some awesome recipes, crafts and fun odds and ends. I will update this list as my new Valentines get published! Happy Valentine's Day!
DIY Valentine Cards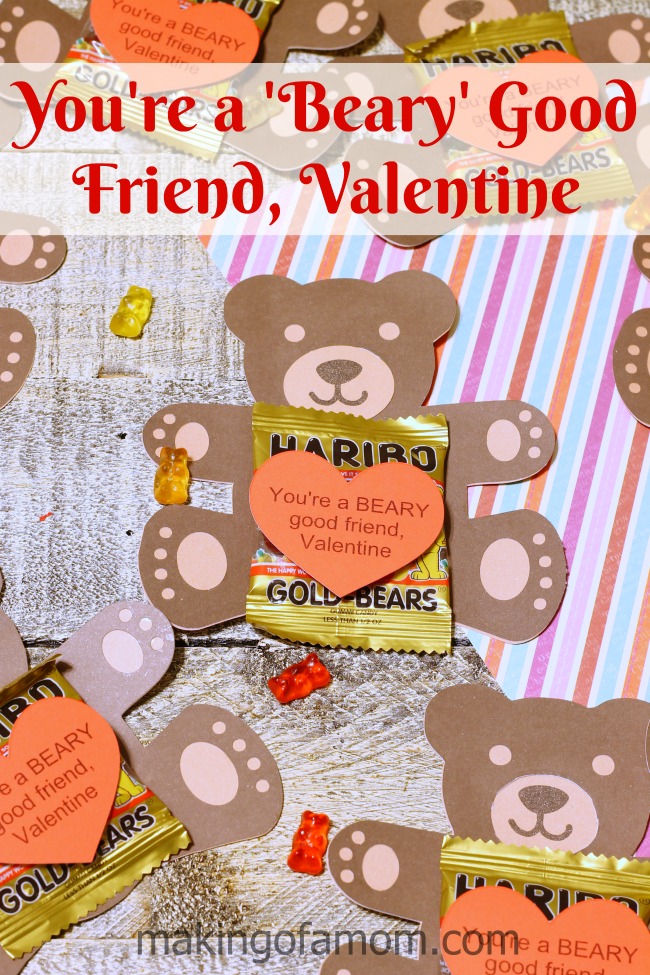 What is better than gummy bears and bear puns? Not much! This
Bear DIY Valentine
is one of the harder cards we have made because it involves cutting out two color bears (one for the back and one for the front), in addition to the heart with the message. It's a really sweet card though, so totally worth the effort.
This
high five DIY Valentine
might be candy free – which is a bonus for some, but the trade off is the noise. The clappers are technically a noise maker, but we thought it was such a cute idea and a nice break from the candy.
The
I Spy DIY Valentine
is one of the newest in our collection of printable cards. This darling card combines as a toy with the magnifying glass. Perfect for the little detectives at your house.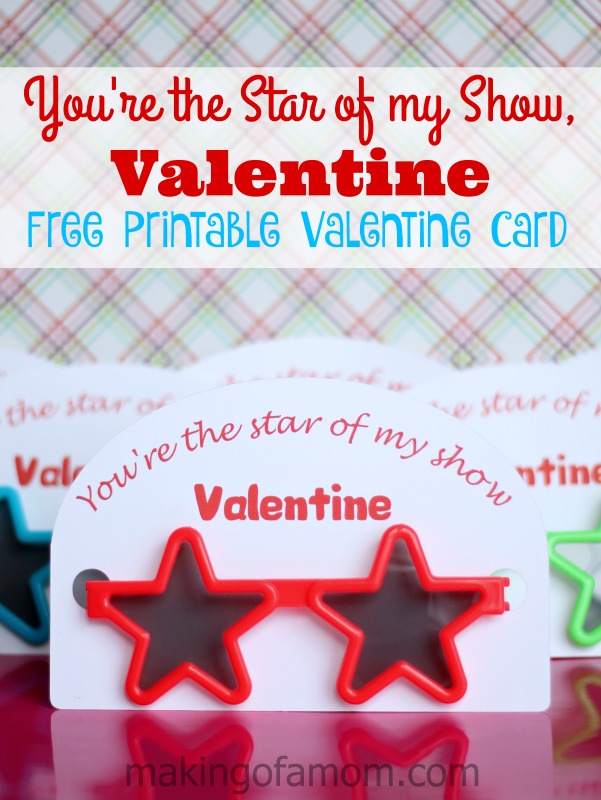 The sun is shining and it's a beautiful day! Get out the shades and celebrate Valentine's Day with the
star sunglasses DIY Valentine
. Love this non-candy option that is useful as well.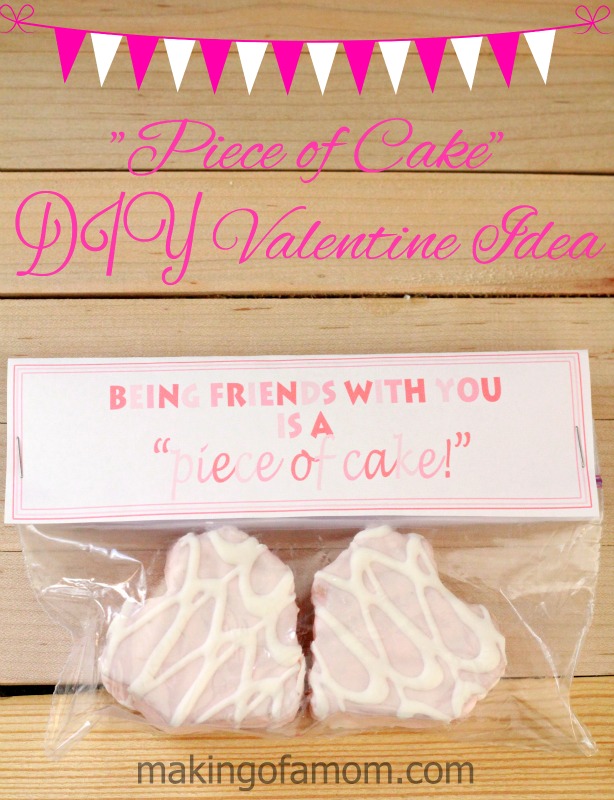 Yum cake, that is a great way to tell someone you want them to be your Valentine. This
"piece of cake" DIY Valentine
is a great bag topper.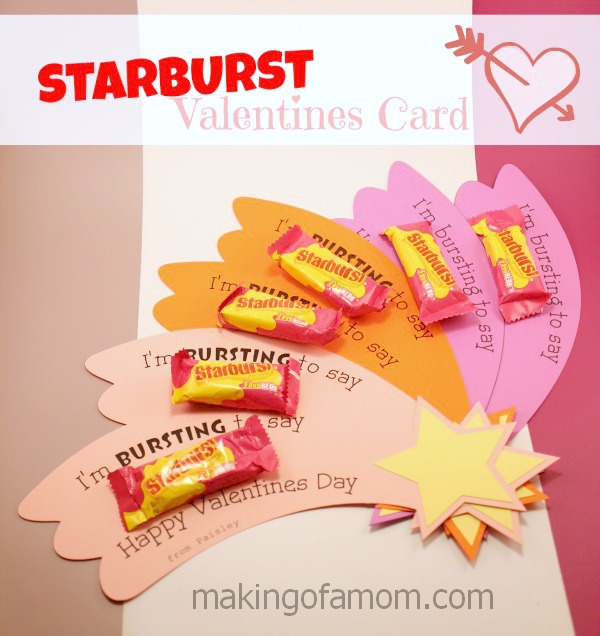 By far the most popular (and the first!) printable Valentine is this
Starburst DIY Valentine
. It also involves cutting the shooting star, and a regular star and gluing them together, but it's simple enough and makes for a unique, and darling card.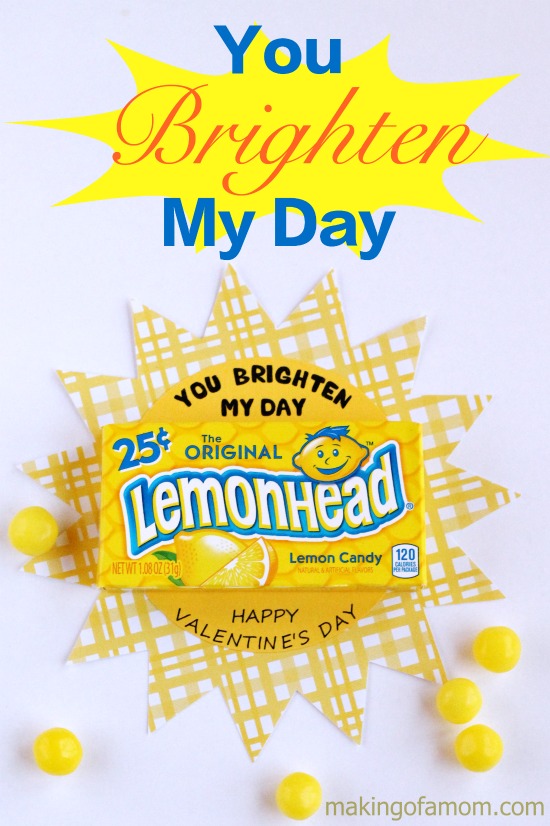 No sour faces here with the lemon heads on this bright DIY Valentine! You can use whatever patterned paper for the sun that we want. I liked the contrast for a patterned yellow paper and a solid center of the sun. I think this is a bright and cheerful card, perfect for the holiday of love!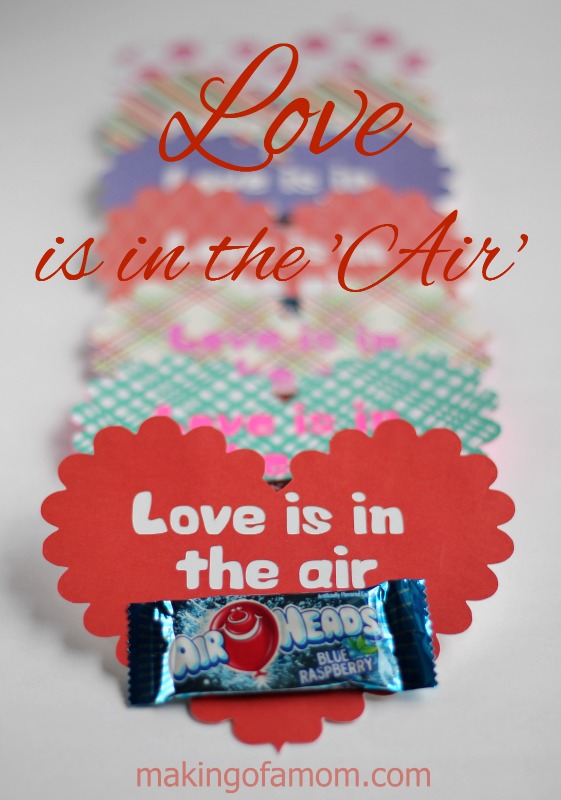 This darling two-step Valentine (print and cut) has a tasty play on words featuring airheads. You can get everything you need for
Love is in the "air DIY Valentine
here.
DIY Valentine Mailboxes
I dreamed of creating a
hot air balloon DIY Valentine mailbox
. While it turned out pretty cut, you do need to use a large basket (or box) underneath to hold all your goodies.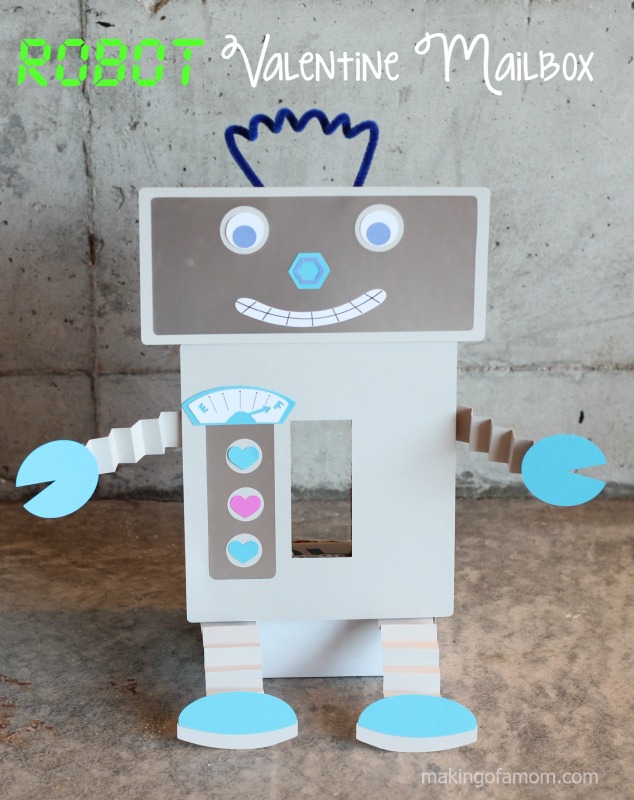 My favorite DIY Valentine mailbox we have ever created is this darling
robot
. It's a combination of paper, pipe cleaner and sticker paper to makes this cute box. It might look difficult, but we have easy directions and all the printable pieces for you!
Princesses get ready to create a lovely
pretty pink castle DIY Valentine mailbox
. This is great for princess lovers and can be easily sized to the box you use behind it.
DIY Valentine Recipes
This
Red Hot Love Cake
is a delicious pound cake with a spicy kick. It is a beautiful color and looks very elegant with the icing drizzle. Impress your Valentine with this yummy cake.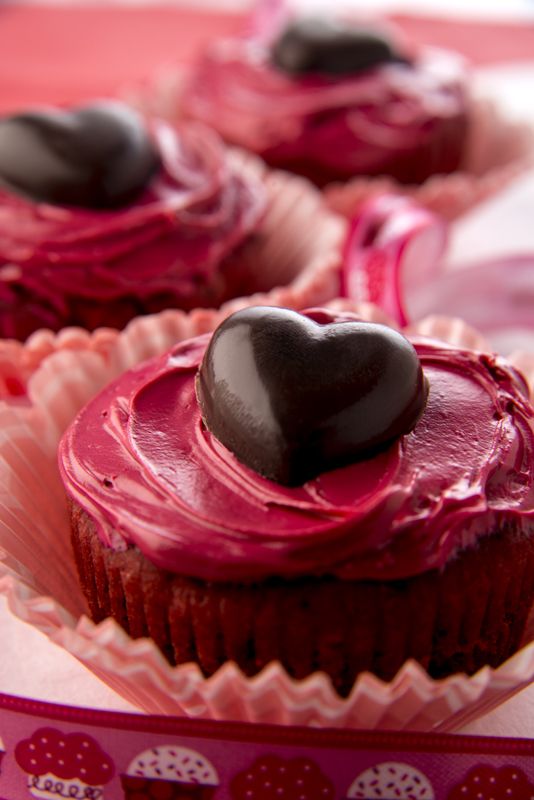 Are you gluten-free? These gorgeous
Red Velvet Gluten Free cupcakes
are for you! They are so beautiful, you won't even miss the gluten.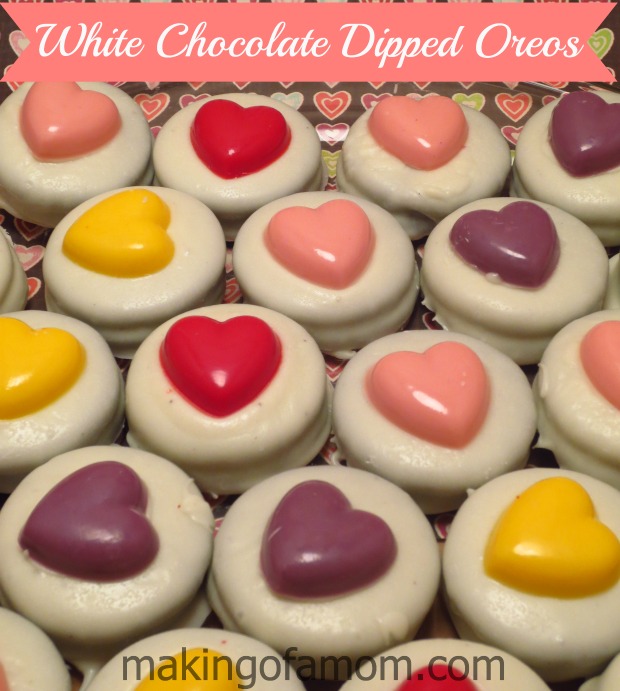 White Chocolate Dipped Oreo's
with lovely heart chocolates makes a great gift or even party food.
DIY Valentine Crafts
This
DIY Valentine Treat Jar
is perfect as a decoration or as a gift. Fill it with goodies to give to a Valentine or place it somewhere everyone can grab a goodie.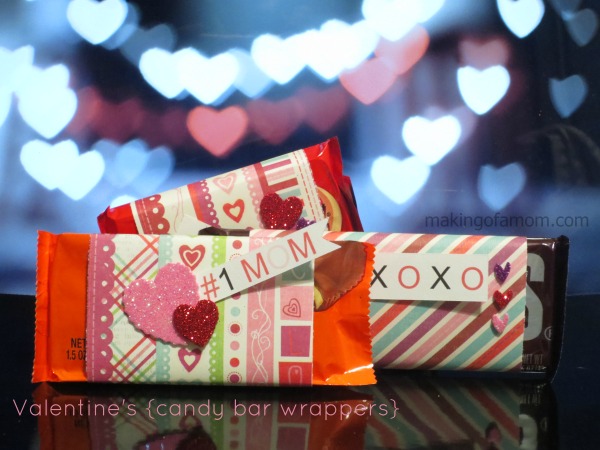 Want to give out full sized candy bars to your Valentine? I totally support that! Wrap up the candy with these darling
DIY Valentine candy bar wrappers and notes.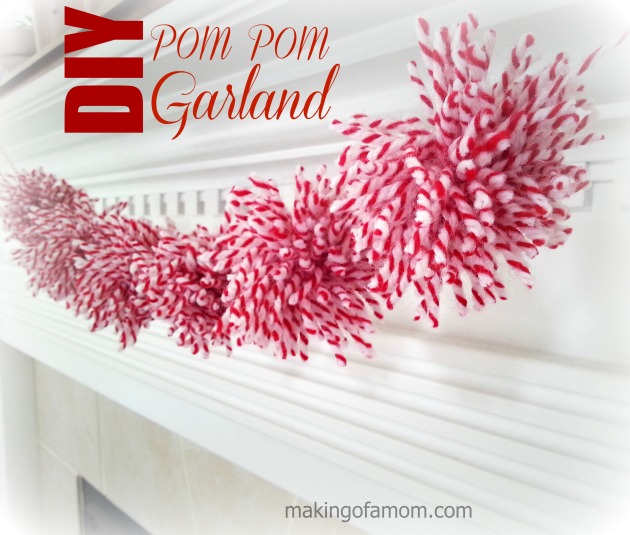 Decorate your house with a cute
pom pom garland
. Make it red and white and it can be appropriate for many holidays throughout the year.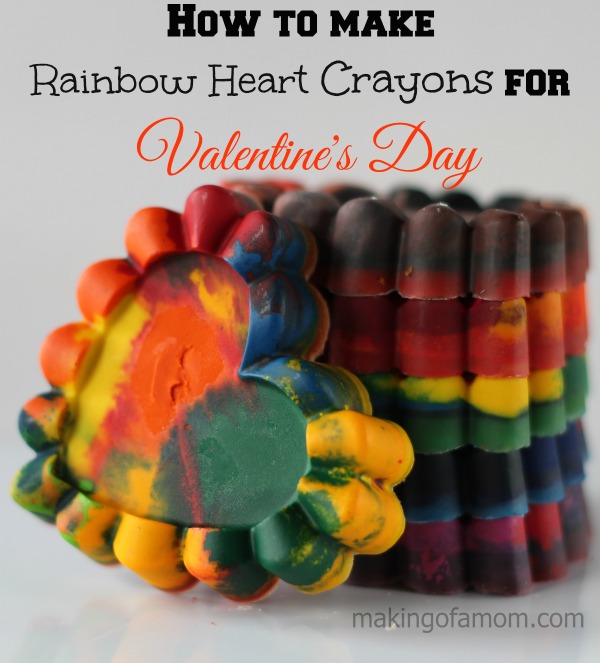 Making
DIY Valentine Crayons
is super easy. These also make a great gift idea for kids or to hand out at the school Valentine party. All the directions you need are here!
Looking for a fun game to play with your kids for Valentine's Day? Get this
printable Valentine's Bingo game
.