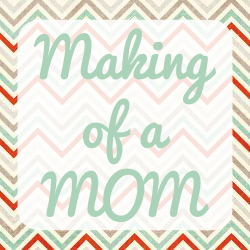 Making of a Mom is written by Stefanie, a stay at home Mom. You can read about her in the "About
Stefanie
" section. On Making of a Mom we discuss a wide variety of topics dealing with family life including travel, crafting, recipes, products and more. This makes Making of a Mom the perfect platform to advertise your business. Most products are applicable to Mom's and families.
The largest demographic I am reaching is Women ages 24-44 with young children living in the United States. They have interests in home decor, home improvement, children's items, cooking and traveling. They are searching for coupons and discounts on the items they purchase daily. Reach these women by working with me on an advertising campaign!
If you are a small business or large corporation, Making of a Mom would LOVE to work with you on online marketing campaign specific to your needs. Whether you need a sponsored post, Twitter/Facebook party, social media attention or more, contact me for current rates. Email me at makingofamom@gmail.com.
Trusted Partner
I am currently working with a few of my favorite brands as a Brand Ambassador. If you have an ambassador program and think I may be a good fit, please email me at
makingofamom@gmail.com
so we can discuss it. I would love to be considered to be apart of the team of a great family friendly company.
Do you need someone to organize a group of bloggers for a promotion? I'm ready to get to work, find some bloggers out of my trusted network and help you run a great campaign. I am also available to consult on social media issues.
Ready to Travel
Travel is one of the main topics on my blog so it makes sense for me to travel to your event. I love press trips. It's fun to visit new places, meet brands and bloggers, learn about new products and companies and then share it all with my readers. Some of my most favorite press trips include:
Testimonial from Corrie Oberdin who represents Visit Omaha:
Stefanie of Making of a Mom is one of my favorite bloggers to work with. While we only started working together since the middle of 2013, she has already become my "go to" blogger when I am looking to run a promotion that will reach a large number of my target audience who are excited and interested in what she has to say. She routinely goes "above and beyond" for me – whether doing a review or a contest – and she has quickly become my client's blogger of choice, and I am actively trying to find ways to work with her again! She is professional, enthusiastic and easy to work with! I can't recommend her enough!
Melissa Stradnick with Hershey Entertainment said this of me:
THANK YOU!!!  You're every PR/Comms person's dream blogger! You've been so quick to post and they're all so fun and engaging. We appreciate you.
I have a current passport and a desire to travel. I would love to attend your next press event!
In the Media
Stefanie and Making of a Mom's contributions around the internet:
Visit Overland Park Blog – Deanna Rose Farmstead
Visit Overland Park Blog – New Theater Restaurant Review
A to Z Packing Series Letter C
A to Z Packing Series Letter D
Tuckaway Shores FAM Trip Press Release
Lynch Chrysler Jeep Dodge Blog
D-Link citing Making of a Mom's Review
Advertiser
If you are looking for an extra boost in the promotion of your company, brand, product, etc  Making of a Mom is here to help! I offer several advertising promotions including, but not limited too:
Sponsored Posts 
Attraction Reviews 
Product Review+Giveaways
Giveaway Only 
Banner/ Text Link Advertising
Twitter/ Facebook Parties
I'm happy to discuss your social media needs and how I can help meet them. I would love to work on a custom marketing plan that fits your needs and budget. Please email me at makingofamom@gmail.com to get started.
Kansas City, I'm here for YOU
I am the administrator of a team of local bloggers that cover a variety of topics from foodies to fashion and crafts to kids. My team wants to be the go-to team for promoting local businesses, events and products! Please contact me at makingofamom@gmail.com to discuss what my local team can do for you.
For another easy way to contact me, fill out this form.
[contact-form to='makingofamom@gmail.com' subject='contact form'][contact-field label='Name' type='name' required='1'/][contact-field label='Email' type='email' required='1'/][contact-field label='Website' type='url'/][contact-field label='Comment' type='textarea' required='1'/][/contact-form]
Making of a Mom is my business therefore please expect to find sponsored content and affiliate links in every post I publish. Most often than not my posts are sponsored content, where I still include my own opinion, or I include affiliate links where I will earn a small commission if a purchase is made with the link.
Stefanie Cornwall is a participant in the Amazon Services LLC Associates Program, an affiliate advertising program designed to provide a means for sites to earn advertising fees by advertising and linking to amazon.com.
I accept products, services, coupons and cash as payment for various promotions I run on my blog. These things do not alter my honest opinion of what I am discussing. Companies that send products without first asking for a review or agreeing on the terms may not get their product featured on Making of a Mom. A verbal or written agreement must be made before I write a review on any product.
Please view my Privacy Policy for more information.