By Debbie Adler – author of  Sweet Debbie's Organic Treats: Allergy-free & Vegan Recipes from the Famous Los Angeles Bakery Makes 12 Cupcakes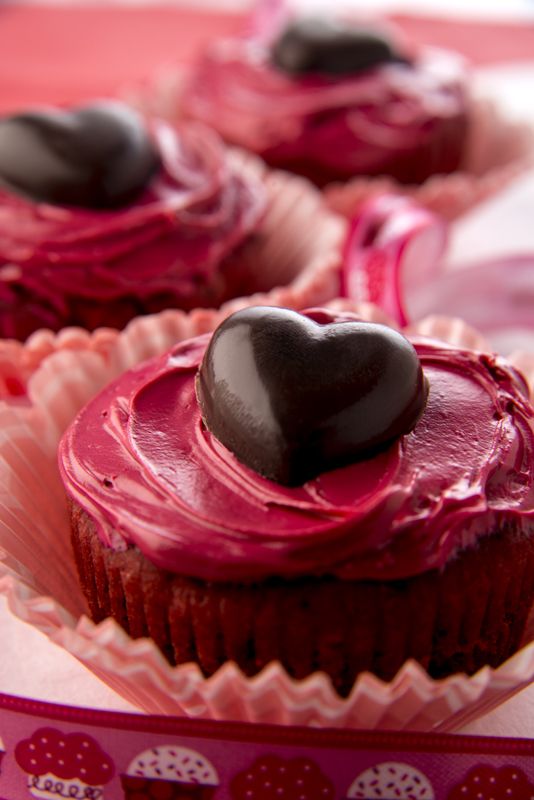 Must Have
Cupcakes
12 standard-size paper baking cups
10 ounces of frozen (thawed) cranberries
1/4 cup water
2 tablespoons unsweetened plain rice milk
1 teaspoon apple cider vinegar
2 cups all-purpose gluten-free flour
1 tablespoon cacao powder
11/2 teaspoons sodium-free baking powder
1/4 teaspoon xanthan gum
1/4 teaspoon fine sea salt
1/4 cup grapeseed oil
1/4 cup coconut nectar
1 teaspoon vanilla extract
3/8 teaspoon stevia powder
1/4 cup fresh squeezed lemon juice
1/4 teaspoon baking soda
Cranberry Frosting
2 tablespoons coconut oil
2 tablespoons coconut nectar
21/2 cups powdered erythritol
1/4 cup cranberry puree (leftover from cupcake preparation)
1/4 teaspoon stevia powder
1/4 teaspoon fine sea salt
Must Do 1. Preheat oven to 325°F. Line a standard 12-cup cupcake tin with paper baking cups.
2. To make the cupcakes, place the cranberries and water in a food processor or blender and puree until smooth.
3. Mix together the rice milk and apple cider vinegar in a small bowl.
4. Whisk together the flour, cacao powder, baking powder, xanthan gum and salt in a large bowl. Make a well in the middle.
5. Add the grapeseed oil, coconut nectar, vanilla and stevia to the flour mixture and stir to combine. Next add the rice milk mixture and 1 cup of the cranberry puree, and stir until the liquid is absorbed and the batter is smooth.
6. Mix together the lemon juice and baking soda in a small bowl, wait till it fizzes, and then quickly stir it into the batter. Act swiftly here so the baking soda doesn't lose its potency once it hits the citric acid.
7. Spoon the batter into the prepared cupcake tin, dividing it evenly. Each cup should be about two-thirds full. Bake the cupcakes for 22 to 23 minutes, or until they bounce back slightly to the touch. Rotate the cupcake tin from front to back halfway through baking.
8. Transfer the cupcake tin from the oven to a wire rack and let sit for 30 minutes before removing the cupcakes to cool completely.
9. To make the cranberry frosting, microwave the coconut oil and coconut nectar in a medium-size microwave-safe bowl for 20 seconds. Add the powdered erythritol, the remaining 1/4 cup of cranberry puree, stevia and salt and stir until smooth and well combined.
10. Frost the completely cooled cupcakes. Keep unfrosted cupcakes in an airtight container for no longer than 1 day, or wrap and freeze them for up to 3 months. Leftover frosting keeps in the fridge for about 4 weeks if stored in an airtight container.