Valentine's Day is right around the corner so it's time to think about what your son or daughter will be using to collect Valentine's from their friends at school. Why not a hot air balloon?
Materials
12 x 12 cardstock (varity of colors)
Small brad
Straws
Small basket
Supplies you need
paper cutter or scissors
stapler
clear tape
small hole punch
hot glue gun
Instructions
Cut the cardstock into 1 inch strips. You will need two strips of each color. We used 7 colors so we had a total of 14 strips.
Using clear tape, tape two ends of like colored strips together.
Punch a hole through the center of the double strips, where the two strips are joined together. Stack the strips in the color order you want and fan them out into a circle, making sure the angle between each strip is basically the same. Then insert and open the brad through the center holes, this will keep the strips together at the top of the balloon.  We didn't find this out until after we finished making our balloon. A brad works well because once you have the brad through all of the cardstock you still have some adjustment to make sure the angle between the strips is just right.
Cut a 1/2 x 12 inch strip out of any color you want and tape the ends together. This will be used for the base of the balloon.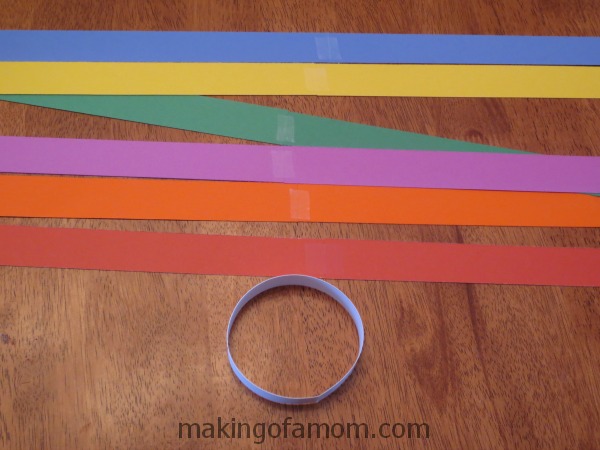 Start stapling one end of the double long strips to the inside of the base ring. The strips need to overlap a little so they all fit around the base. After one end of all the strips have been stapled to the base, take the loose end of the first color strip and staple it to the base. Continue to staple the next colored strip to the base, keeping in mind to go up and over the previous color.
Cut another 1/2 x 12 inch strip to go around the outside of the base to cover up all the staples, it can either be taped or glued on.
Using a hot glue gun, glue the four straws onto the inside of the basket. We glued the bottom of each straw to the basket and where the straw touched the top of inside the basket.
Glue the top of the straws to the inside if the balloon.