Sometimes a Valentine's Day card doesn't have a play on words (like our Starburst or Airheads cards) with the candy at all. Sometimes the color of the candy offers the inspiration. Perfectly yellow, little drops of sunshine inspired our "You Brighten My Day" homemade Valentine card. These cute handouts will be for my son's Kindergarten class.
Let me tell you, once I got this idea in my head, it was HARD to find little boxes of Lemonheads. So, I'll save you the trouble. On Amazon you can get the little Lemonhead boxes of candy
  for 24 boxes (1.08 oz. size) Lemonheads for $12.98.
This is a picture of our design
In order to make this as easy as we could, we have included the cut files for your Silhouette machine
. If you don't have a Silhouette, no worries, we have also included the printable for you to print and cut them out. The printable would act like a stencil if you wanted to use patterned paper and solid paper. For the middle of the suns with the words you would print that directly on colored paper.
Downloads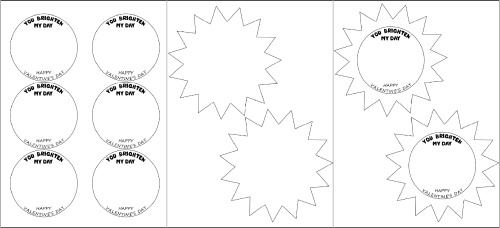 You Brighten My Day Printable (PDF)
Putting them together is simple. Glue the circle with the words on to the sun shape. We used double sided tape on the box of Lemonheads to stick it to the suns. We used patterned paper for the suns and solid paper for the middle. You can use any color combos you want!
Don't miss our other homemade Valentine Cards.
DIY Printable Valentine Cards
Do you make handmade Valentine's for your kids? Do you include candy for them to pass out to friends?