Valentine's Day is one of my favorite holidays so I have assembled this list of some of my favorite crafts. Here is my
Top 10 Valentine Crafts.
Skip To My Lou is a very cute blog! It has lots of fun craft ideas, recipes, party idea, free downloads and MUCH more! They have some cute printable flowers and butterflies lollipop Valentine papers. Very cute! The best part is you can print and cut, and leave your kids to the lollipop stuffing!
At Tablespoon there are TONS of delish recipes and they even have coupons!! I know this isn't technically a craft, but what good is a holiday without a treat? The recipe that caught my eye was the Valentine Jelly Pops. This would be fantastic to make with your kids or for your kids. This would be a fun treat to take to a Valentine party or to serve at your own Valentin party! Fun!
How About Orange is a fantastic blog I found that has loads of free downloads, and DIY tutorials! This particular tutorial that caught my eye is for fabric Valentine hearts garland. This tutorial is completely user friendly and understandable and in the end you will have a really cute Valentine decoration!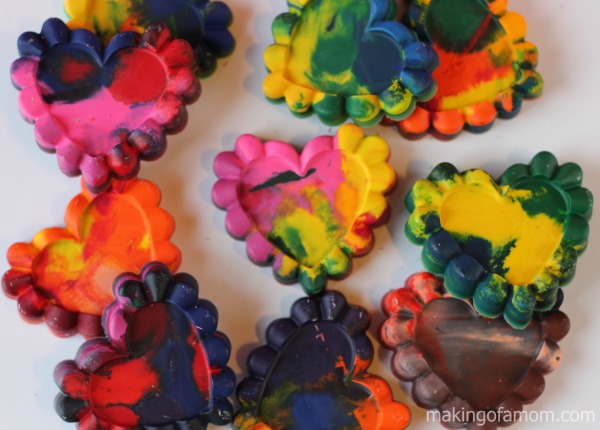 Last year my friend at Creative Mommas shared the cutest tutorial for
crayon heart Valentine's
.
I made these
last year for my daughter's preschool class. My daughter  and I had a good time peeling crayon wrappers and breaking the crayons to bits. She loved picking out the different color combinations.  We made enough for each child to have two and them bagged them together in some cute Valentine's bags. We gave some to the preschool teachers also and they loved it! I think it is always fun to bring a unique Valentine for the school party!
Funny enough I found some cute Valentine crafts on the Fiskar's website. You know the specific brand of safety scissors every Kindergarten teacher wants you to get for your student! My favorite of all their craft ideas listed on this page is definitely the pop rocks! Check it out!
This heart bag from Simply J Studio is super cute and something my daughter would LOVE to work on! This would be great as your "mailbox" for the school party or to hold all your Valentine's you are delivering! You should definitely poke around the rest of Simply J Studio's blog because it has a lot of good stuff!
Speaking of "mailboxes" for Valentine's Day parties, we have made a couple cute ones in years past. Check out our
Princess Castle mailbox
, 
Hot Air Balloon mailbox
 and
Robot Valentine's Day Mail Box
.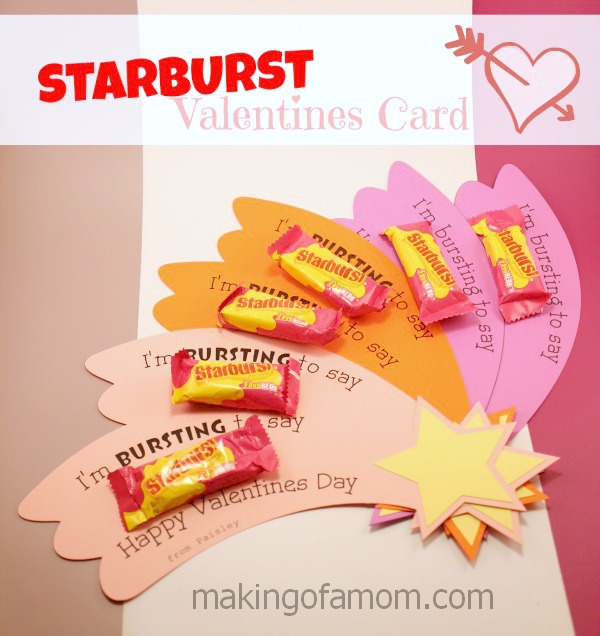 I like to be the parent that goes above and beyond on their kids' Valentine hand outs so check out our Valentine Cards: 
Starburst Valentine Cards,
Valentine Candy Bar Wrappers
,
You Brighten My Day
,
I Spy My Valentine
,
High Five Valentine
,
You're the Star of my Show Valentine
,
Love is in the Air
,
You're a Beary Good Friend Valentine
,
Dropping Down to Say Happy Valentine's Day
. These are simple, yet cute ideas for making homemade handouts that your children's classmates will love!
Finally on our Top 10 Valentine Crafts list is an adorable heart paper wreath from Woodlands Home. This easy wreath is just strips of Valentine colored paper glued into hearts inside each other. This blog has put the wreath on their door, since it is made out of construction paper I would recommend hanging it inside, or laying on a table for a center piece. It is just lovely though!
Since I love holiday's perhaps I will find some other awesome craft ideas to share with you before we get to Valentine's Day! Enjoy these and if you end up using any of them, be sure to stop by the website of the owner and thank them for sharing their craftiness, I know they'll appreciate it! Also, if you make any of these, or you have your own awesome craft ideas, please share!