Continuing on from where we left off on Wednesday, here is the rest of my amazing list of yummy, scrumptious treats!
The Decorated Cookies (that name alone should tell you to explore her ENTIRE site! Also, she is a recently published author with a
yummy book of treats called Sugarlicious! Order now!) She made some cute Love Bugs! Now I know these look a little intense with rolling marshmallows in sugar and such, but your kids will have a super time making these cute and edible bugs!
Here is a less high maintenance treat you can easily make! This website will give you the recipe to make your own fortune cookies. I hate to admit this, but I would probably just buy some and dip them!  Chocolate dipped fortune cookies with a cute Valentine's sprinkle! Very cute to have as a center piece on your table and then yummy to munch later on! Perhaps your fortune will be that of a new found love!
I LOVE Texas sheet cake, so I can only imagine this next one is going to be even BETTER!! Red Velvet sheet cake with Nutella frosting!! Oh my yes! This one is DEFINITELY on my list this year to bake ASAP!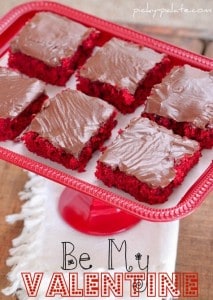 This next one is really more up my husband's ally, which means it would be perfect for a gift for him!! If your husband is like mine, he LOVES twinkie's (cringe!!) Even though I wouldn't want to eat this, they sure are pretty chocolate covered twinkies!
Going back to the Red Velvet theme, let's get another red treat on our plates shall we? These Red Velvet Cheesecake brownies should please just about anyone. They look pretty easy from the recipe posted on Baking Bites. This should be an easy, but yummy treat!
I LOVE a super cute cookies. I am a sucker for cute and definitely want to try to make it because my 6 year old daughter also loves cute things. These will certain please! These red spiral cookies will be just the trick to impress your Valentine! The fun thing is you can even add some flavoring to the colored cookies to make them cherry or strawberry! Very fun!
And lastly there is Betty Crocker, who never let's us down! These strawberry cream cheese cookie tarts are a fantastic way to end the list and the holiday. How yummy do these look. Anything with cream cheese has got the approval in my book!
I did want to make note of an impressive website that has 50 Valentine treat ideas for kids and link to them so you could check it out. I linked to a couple treats on their list, but since theirs is so huge, I wanted to make sure the share that! I hope you have a very "Sweet" Valentine's Day! If you missed it, we also made a list of Valentine crafts you should check out!