While I was making my Firework Blocks the other day, my kids told me they wanted a 4th of July craft to make. I headed to my craft room to see what supplies I had. I saw a bag of popsicle sticks and inspiration struck. I asked them to give me a few minutes to prepare and I would call them when I was ready.
What you need:
Glue
Red, white and blue paint
Paint brushes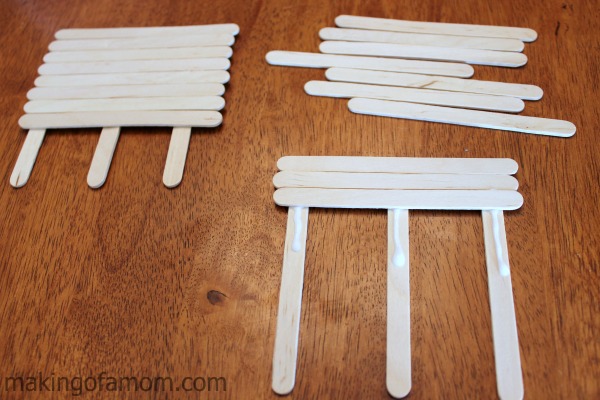 You can prepare the popsicles a couple different ways. First I decided to use 8 sticks for my flag. You can either line up the eight sticks (or however many you choose to use) on the table and then put glue on the supporting sticks all at once and lay them down. OR you can do it the way I did it. I place three popsicle sticks vertical place glue on each stick and then laid the 8 horizontal sticks on top, doing little glue lines at a time. Either way you do it you will need to trim the left over popsicle sticks which is easily done with scissors.
Once the glue was dried I was ready for my little painters. I poured out the colors and let them get to it. I did help them figure out the stripes and where to paint the blue part of the flag but everything else was left up to them.
Once the blue paint was dry I gave them each a toothpick to make the "stars". They had a lot of fun dotting away with the paint. Once all of the paint was dry you can add two strips of adhesive magnet to the back of each flag and each child can enjoy displaying their flags on the refrigerator! Have fun!
Looking for more craft stick crafts?
Craft Stick Crafts
For more 4th of July fun, check out this Pinterest board for craft, recipes and party ideas!