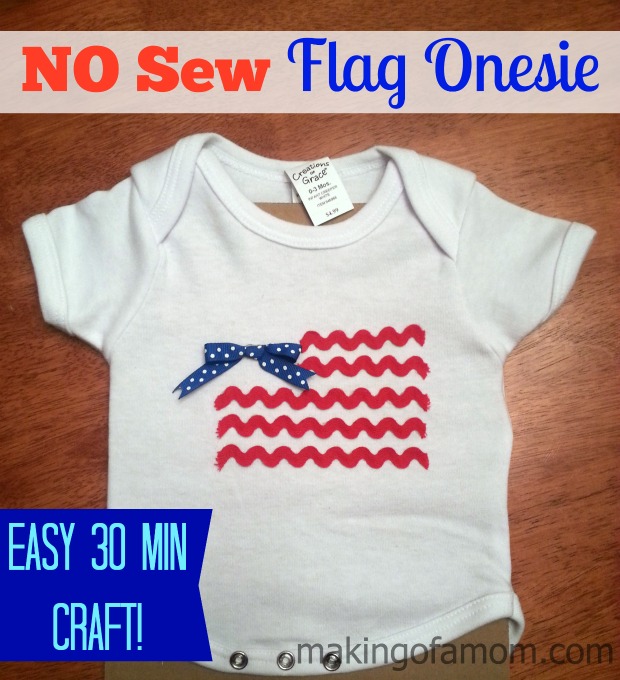 For this cute project I decided to combine a pinterest inspiration with the desire to send my newest niece a present and BAM, out came the No Sew Flag Onesie (of course you can adapt this into a shirt).
What you need:
Onesie (or shirt)
Red rick rack
Blue and white polka dot ribbon
Fabric Glue
Directions:
Since you may be using a different size onesie or shirt than I did, the best advice is to eye-ball how big you want the flag. Cut two shorter length of rick rack and 3 longer length of rick rack for the stripes of the flag. *PRO TIP- for bigger shirts use wider rick rack and ribbon. Since I was making this for a new baby I used the smallest ribbons I could find. Your ribbon needs to be proportioned to the size of the shirt and person wearing it. *
Tie a bow in the blue and white polka dot ribbon.
Once you have each piece ready to go place a cardboard piece in between the onesie so as to not accidentally glue the shirt together.
Glue each piece with the fabric glue remember to line up each piece as you go. The fabric glue will take about 24 hours to be completely dry (though, I've always just treated it like it was dry a couple of hours later). Are you wondering why I didn't sew it? Well since the onesie is so small with all the bunching to only sew the ribbons and not both sides of the shirt it was a lot easier to just glue it. With a larger shirt I probably would have sewn it, though fabric glue is always a great option!
For some other easy 4th of July crafts check out my Popsicle Stick Flag Magnets, Firework Blocks and 3 Star String Art Tutorial.