Disclosure: Disney provided me an all expense paid trip to Los Angeles to attend the Muppets Most Wanted premiere. All experiences and opinions are my own. Yours may differ.
In a somewhat unique experience, I was able to view Muppets Most Wanted twice during my five days in Los Angeles. I arrived on Sunday afternoon and that evening we went to a screening of the film so that all of the bloggers on the trip would be better prepared for questions for our interview with the Muppets. We first saw the film in the old Animation building on the Disney lot. It was so much fun to be in that building and experience the movie in that location. My second viewing of the film came at the Muppets Most Wanted red carpet premiere. It was really exciting to view the film with the people who made it. After every song there was clapping and cheers. There is nothing like watching a film during its premiere with those who have put everything they have into it.
I loved this movie so much. As I have mentioned several times over, I grew up watching the Muppets so I already had a warm fuzzy place for them in my heart. This film was reminiscent of the older Muppet movies. Muppets Most Wanted has a reprise of the song "Together Again" which was originally featured in "Muppets Take Manhattan". It also has elements from "The Great Muppet Caper" in it (which happens to be my favorite classic Muppet movie). I love that this film seems to take us back to the older Muppet days.
The story of Muppets Most Wanted is actually really fun. The Muppets head off on a world tour under the leadership of Dominic Badguy (Ricky Gervais) who has convinced the Muppets to trust him and has incidentally gotten Kermit replaced by Constantine – the worlds most dangerous frog. Through out the stops around the world a fantastic jewel heist is taking place. Meanwhile, Kermit is being held captive in a Siberian Gulog by Nadya (Tina Fey), a guard at the prison.With typical Muppet humor along with amazing songs this movie is very entertaining for the whole family. This movie also includes some very funny cameos from various celebrities. This adds to the humor as well as enhances the music in the film. I don't want to spoil anything so GO see the movie! It is NOW in theaters!!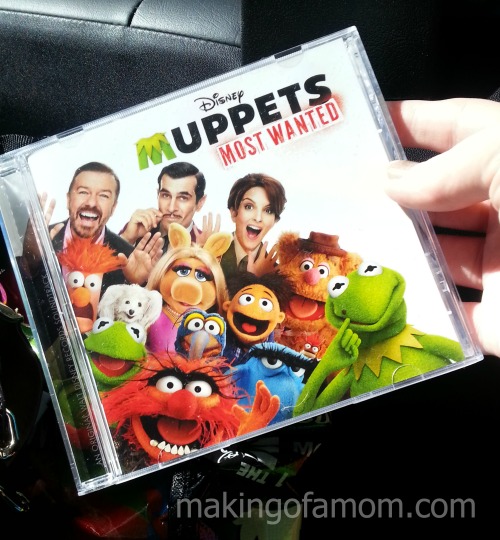 I got home from my trip on a Thursday. Two days later, on Saturday, my whole family went to the local screening in Kansas City. Usually I wouldn't be excited to see a movie three times in one week, but since I sincerely love this film I couldn't wait to experience it with my family. I knew my husband would really enjoy it and hoped my kids would too. At our house we have a movie rating system of our own. With a 4-year-old boy and a 1-year-old boy we rate things based on their interest while watching. This movie passed the test with both kids being interested. The 1-year-old was squirmy at times but as soon as one of the hilarious songs began, he was very interested again. Great news! There is plenty of music in the movie to keep the kids entertained and comedy coming. The soundtrack is also now available.
I had the opportunity to interview Kermit, Miss Piggy and Constantine as well as James Bobin – director and Bret McKenzie- song writer. Stay tuned for their interviews coming soon.
Starting today March 21 Muppets Most Wanted is in theaters! To read about all my adventures while in LA you can click on the #MuppetsMostWantedEvent tag and see everything from the Disney portion, to ABC shows and Captain America info!