Disclosure: Disney provided me an all expense paid trip to Los Angeles to help promote Muppets Most Wanted, Captain America and other projects. All experiences and opinions are my own. Yours may differ.
Interviewing Scarlett Johansson at The Beverly Hilton was a ton a fun. She is a really cool person! Since we had just seen her in Captain America: The Winter Soldier and because I have seen her in several things it just felt like I knew her (but of course I don't) but she made us all feel very comfortable like she was just talking with friends. It was really interesting to hear her perspective on the movie and the questions we asked!
Scarlett said that she has really enjoyed playing the role of Black Widow. In this film especially we learn more bits and pieces to her back story and Scarlett said she has really loved passing that information on through the film. She knows that the die-hard comic fans, movie fans and Black Widow fans are loving learning the little pieces of her back story and so she enjoys throwing them out there as well.
Scarlett was very complimentary of her stunt "girlfriend" Heidi Moneymaker (yes that is her really last name!). She said that they have worked together from the beginning to come up with a fun and playful fighting style so they can really match each other. She mentioned that in Iron Man the fight sequences were really fantastic, in Avengers there was more weaponry but this time around the fighting was gritty. She said this made it a lot easier. She said with the acrobatics in the fighting she started it and finished the scenes and Heidi took over in the middle. Scarlett said that she deserves most of the credit because she is an amazing and brave person.

In referencing the "Black Widow" costume she said that it was probably the most comfortable of the super hero costumes. She said it was similar to a wet suit. She called the suit "Empowering" and that it looked great. Scarlett said the suit is what makes everything believable otherwise it would look ridiculous. She said at first she was terrified of it but now she has come to "embrace it, because it embraces me." She was so funny!
When asked about a Black Widow movie it sounded like she would be willing should Marvel go in that direction. She mentioned that since it is the voice of the fans that "drive this train" that if they are loud enough and demand that, that perhaps it would happen! I say start chanting people!!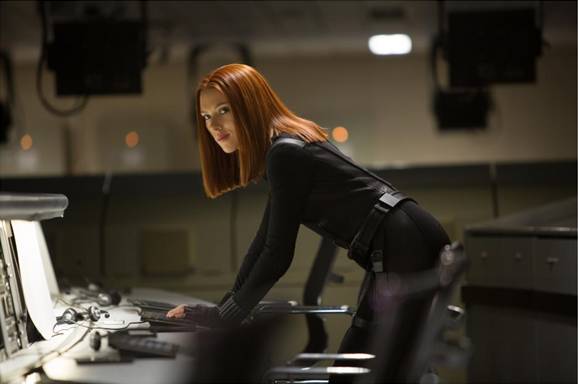 In this film Black Widow plays the role of matchmaker or cupid. We asked about that kind of transition from what we typically associate with her.  Scarlett said that she thinks with those comments during the movie that it was more of Natasha coming out. That Natasha has a romantic side and she was using that to try to help "Cap" find a love interest. Whether it was the Widow or Natasha, it added some fun humor to the movie.
Scarlett said that she really enjoy this film because her character has matured. She said that in Iron Man and Avengers we don't really learn more about her but there is a lot more information about her in this film. I, personally, loved that she played a greater role in this film. She was not a supporting cast member by any means, she was definitely one of the stars and vital to the success of the plot. Since Black Widow is the oldest female superhero she has a lot of back story material to work with to mold the character into her version of Natasha and Black Widow.
Captain America: The Winter Solider is in theaters April 4 – this Friday! Stay tuned for more interviews from the people that made the film!
Be sure to keep up with all the fun posts from this trip including Muppets Most Wanted, Captain America and ABC TV shows by clicking the  #MuppetsMostWantedEvent tag!