Disclosure: Disney provided an all expense paid trip to Los Angeles to promote Muppets Most Wanted and other Disney projects. All experiences and opinions are my own. Yours may differ.
I grew up watching the Muppets. As a child I didn't know how big the Muppets franchise was, but I LOVED The Great Muppet Caper. My parents had recorded it off of TV and I would watch it weekly.  Throughout the course of my life and after meeting my husband (he too is a big Muppet fan) I found that we had watch all 7 (now 8) Muppet films. Curious as to what they are?
The Muppet Movie (Original 1979)
The Great Muppet Caper
Muppets Take Manhattan
Muppets Wizard of Oz
Muppets from Space
Muppet Treasure Island
The Muppets
Muppets Most Wanted
How many have you seen? Muppet movies are know for some very silly comedy and awesome songs! Though at times they do have some more adult-esque humor, for the most part they are very family friendly.
While in Los Angeles for the red carpet premiere of Muppets Most Wanted I had the honor of meeting Kermit, Miss Piggy and Constantine at The Beverly Hilton. Let me tell you how surreal it was and the 15 minutes we had to interview them flew by way to fast. It was over too soon and I found myself trying to hide my tears of that amazing moment passing.
Today I wanted to share with you some highlights from the interview as well as some audio from it! We weren't allowed to take pictures, but I DO have an audio clip from the interview and it is pretty amazing!
The questions started right off straight to the heart of the Kermit, Constantine, Miss Piggy love triangle. Miss Piggy was asked who she thought was more romantic – Kermit or Constantine? She responded with, of course, Kermit. Constantine disagree and a small argument ensued! It was pretty funny.
We also asked Miss Piggy how she stays looking so great. Her response:
I just, I just woke up one morning and decided I'm not gonna' age. It's not for me. I'm gonna' do something else with my life. I'm not gonna' waste my time aging you know. I'm gonna', I'm gonna' have– I'm gonna', I'm gonna' drink some coffee. That's what I'm gonna' do. I'm gonna' drink coffee. I'm not gonna' age. I'm gonna' have– I'm gonna' go– I'm gonna' go get my nails done. I'm not gonna' age.
Another question for Miss Piggy: "You always look so fashionable Miss Piggy and I was wondering if you have a favorite designer and how was it working with Vivian Westwood on your wedding gown?"
Yes. Um right now Vivian Westwood is my favorite. She made me some exquisite dresses, outfits for the movie including a certain white gown. That I wear down a certain isle in the movie.
A fun fact about Miss Piggy's wedding dress in the movie is that it was made from recycled plastic. Kermit made the joke "that it smells like sour milk" he said on set they would say "Piggy, you got milk?" It was so funny!
Next up, a question for Kermit. "So we saw Miss Piggy's dream sequence. Your future together, you guys get married and you have a cute like pink frog and green pig. Any plans to make that come true?"
Kermit tried to respond but Miss Piggy jumped in with a resounding YES! And everyone laughed. It was so cute and funny. Kermit went on to tell Miss Piggy when she does become a Mom she can be a Mommy blogger like all of us that were interviewing her. It was really sweet. Miss Piggy then looked at us and said "You are the future me."
Someone was brave and asked Miss Piggy about her feud with Joan Rivers. Have you seen the clip of their little disagreement? Click on that link to check out the video. Miss Piggy's response when asked about that clip was
I won. I won. Did you see the pictures? Joan with cake all over her face… I was being very nice. She wanted some cake so I gave it to her.
We asked what started the feud? Piggy and Kermit had a lot to stay on the issue.
MS. PIGGY: Oh what started– she started it. A long, long, long, long time ago. Yeah she actually auditioned for my role in the Muppet Show.

KERMIT : Yeah, yup.

MS. PIGGY: Behind my back, she did this to me.

KERMIT : Yup. She, she would have– she woulda' got it too. It was very close. I mean you know.

MS. PIGGY: She woulda' got it.

KERMIT : Well you came in.

MS. PIGGY: Well instead I came in and I drove her out. There's a lot of history between the two of us and uh– well a lot of ancient history if you just look at Joan.
Then we moved on to Constantine. We asked him "So how did you feel about doing the villain role and blowing stuff up?"
Oh it was the greatest pleasure of my life. I enjoy to– to blow the things up. I enjoy stealing things. I enjoy stealing the movie from a pig and other frog. I think I will now go steal other, other things from other shows. I will steal other shows… I will go do the Modern Families. I will steal that show. I think I would be great on 60 Minutes. The in depth report.
Miss Piggy tried to get Constantine to go right now and start those plans but he wanted to stick around and mess with them.
Staying with Constantine it was then asked "I wonder if you had to work out a lot for your fight scene?"
No actually– no– well I learned um a lot of my skills are natural. Some of my skills I won in Gulog, and then we also had Stunt Coordinator who was very helpful to me.
The most inspiring question from in interview in my opinion was "Kermit, the last couple of decades what makes the Muppets so timeless in your words?"
KERMIT: None of us have watches. We really don't keep up with it you know. Except Walter. Yeah well he will not be timeless. He's going to age. Believe me he ages on you. Uh [LAUGHS] no it's uh– you know I uh, I think uh we, we try to stay current. We live in the real world you know. We're out there just like all of you.

CONSTANTINE interjects: Right now we're here.

KERMIT : We are sitting in this room.

MS. PIGGY: We are here right now.

KERMIT : But uh I, I think you probably hopefully, hopefully everybody watching sees an aspect of somebody they know, or maybe themselves, or maybe their friends. I, I think that's part of it. Uh you know we sorta' keep up with what's going on. We are uh all currant as they say in that country I never go to.
Miss Piggy actually does some really good impressions of her co-stars! Since I can't type what that is like, here is the audio of the interview for you to hear, including My Piggy's impression of Fozzy Bear and Animal. If you listen about 10:12 Miss Piggy says she can do Fozzy Bear.
Pretty incredible right? I love how impressed Constantine is with Miss Piggy and her impressions. The conversation continued for a couple more questions which you can hear if you listen to the whole audio recording. We talked about a future wedding, Constantine being a bad guy and Miss Piggy's favorite songs. I encourage you to listen to the whole audio file because it is a lot of fun. Just picture yourself in a room with them in front answering the questions. It was so incredible and I feel very blessed that I was able to be apart of it.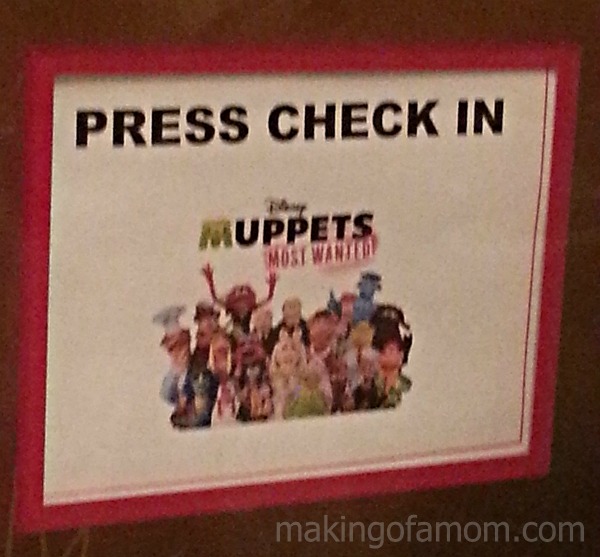 If you were able to interview Kermit, Miss Piggy and Constantine what would you want to know?
Muppets Most Wanted comes to theaters March 21. Don't miss out on this action packed, funny movie! Stay tuned for my Muppets Most Wanted movie review on Friday. To read about all my adventures while in LA you can click on the #MuppetsMostWantedEvent tag and see everything from the Disney portion, to ABC shows and Captain America info!