Disclosure: Disney provided an all expense paid trip to Los Angeles. All experiences and opinions are my own. Yours may differ.
Sad news everyone, this is the last post relating to my amazing trip to Los Angeles in which I watched Muppets Most Wanted (twice), Captain America, interviewed Kermit, Miss Piggy and Constantine, Brett McKenzie, James Bobin, Chris Evans, Anthony Mackie, Sebastian Stan, Scarlett Johansson, the Russo Bros, Kevin Feige, and learning a lot about a host of ABC shows like The Middle, Trophy Wife, Resurection, Grey's Anatomy and General Hospital.
I have never actually seen an episode on General Hospital so looking around and meeting the actors was all new to me. One of blogging pals on the trip is a HUGE General Hospital fan, though, so she helped me with knowing people and taking pictures of prominent things.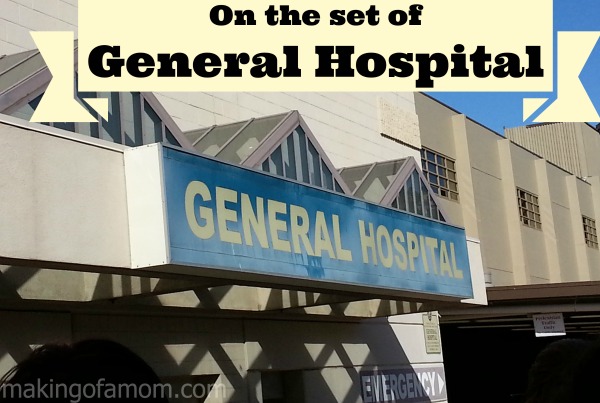 Walking on ABC Studios lot over to the General Hospital building was so exiting. The last time I was on the ABC Studios lot was for my senior Prom in high school. That was a fun night! But I digress…
When we first walked into the building we were taking to a room with props and costumes from the show. They also gave us some GH 50 hats because last year General Hospital celebrated their 50th Anniversary!
There were some lovely ball gowns from the Nurses Ball last year. Side note on this years Nurses Ball:
Port Charles will once again hold the iconic Nurses Ball gala, a fundraiser for HIV and AIDS awareness and research. As the Nurses Ball2014 begins, several popular Port Charles residents will be noticeably absent from the Red Carpet and stuck at home watching the festivities on TV. Old and new loves will percolate while others find themselves in awkward situations. Amidst all the romantic drama, the never-dull Nurses Ball audience will be entertained with fun performances and sexy surprises. The Nurses Ball episodes air May 8 through May 13. "General Hospital" airs MONDAY – FRIDAY (2:00- 3:00 p.m., ET) on The ABC Television Network.
After waiting in the "green room" for the actors to take a break from filming we headed up to the set. We had 15 minutes to take some pictures, ask some questions and look around. Dominic Zamprogna, who plays Detective Dante Falconeri on ABC's "General Hospital"  escorted us up the stairs to the set. It was amazing when we entered the room. There were lights, cameras and cords everywhere. There was room after room all set up. It was amazing and super interesting how different this set was compared with Grey's Anatomy. They were nothing a like.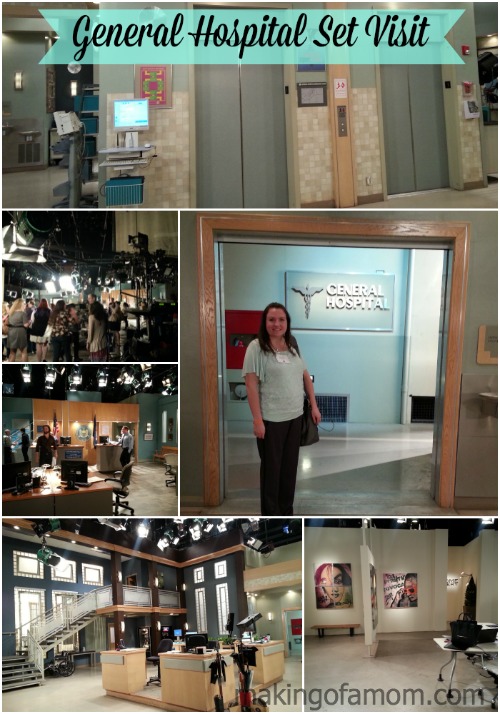 It was fun to go on my own and explore. Some of the actors on the show were still hanging out on set so some people were able to ask questions and get a mini tour. It was also fun that there were some sets we weren't allowed to take pictures of because they are part of the show that is being filmed right now, but viewers haven't seen the rooms or locations!! Oooohhhhh secrets!! 🙂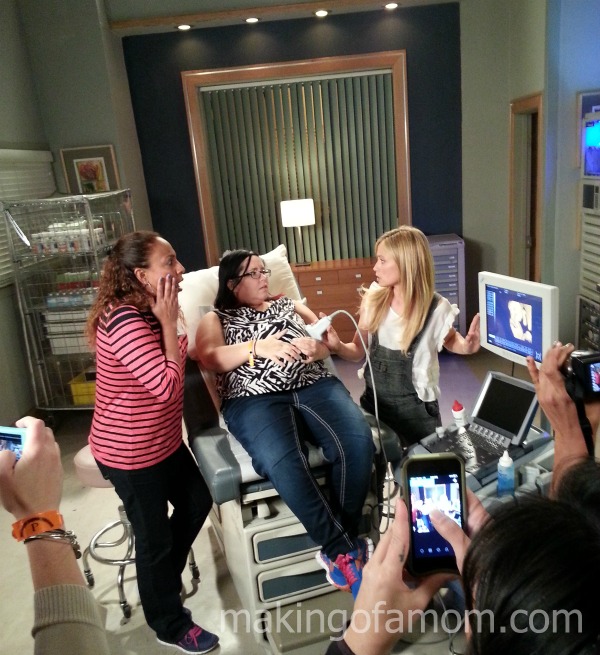 Emme Rylan, who plays Lulu Spencer Falconeri was hanging around the set. She was super fun to be with. She had a lot of fun giving people fake ultrasounds. It was so funny to watch everyone be so dramatic as the baby would come up on the screen.
After seeing the whole set and taking all the pictures we could we decided to take a big group shot. William DeVry was walking by and jumped in the shot! He was hilarious! Notice most of us were wearing our GH 50 hats!
After the tour when we were leaving the set Emme Rylan stopped some of us and asked if we wanted to see her dressing room! Of course we did! So she opened the door to this very cute, very girlie room. There were tons of beads and bracelets on the ground. She told us she has an Etsy store and can't work with the bead at home because her kids will get into them so she works on it at work. She was so nice and such a cute girl!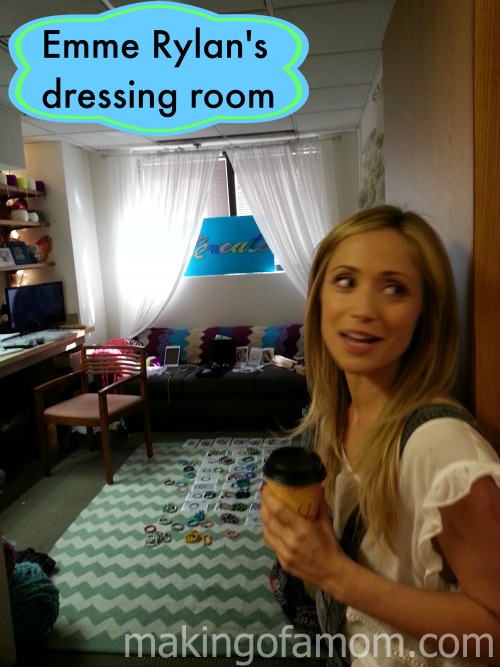 It was such a fun tour of General Hospital. They cast and crew were so very nice. They were so excited to have us. They even chatted with us a little bit about the upcoming Nurses Ball episodes. They invited us to be extras if we were around (Bummer that I live 1200 miles away). Don't forget to tune into General Hospital on ABC from 2-3pm ET and that the Nurses Ball episodes are May 8 – May 13.