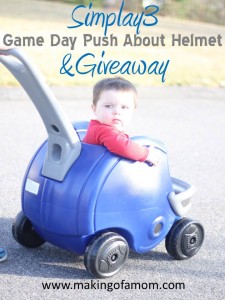 I recieved this product from Simplay3 in exchange for a blog post. All product reviews and opinions are my own.
When the Simplay3 Game Day Push about Helmet popped up on a facebook ad I couldn't peel my eyes away.  So many thoughts were rushing through my head.  Here are a few of them.
My little guy's second birthday is in a few months- he would LOVE this!
My husband loves football and would love to see his little guy riding around in a helmet (ahem- instead of the pink car that belonged to his sister)
This is the most adorable thing I have ever seen!
So I clicked on the ad and it sent me to the Simplay3 website with a description of the product.  I immediately looked to see what teams they had.  When I saw that they had My New England Patriots I thought- oh we Need this!!  Then I found another option that was pretty cool.  I learned that you could customize your helmet for any team you want.  The Simplay3 company provides a "Touchdown" sticker or the option to leave your helmet blank or put your own teams decal on it. The options for this are endless.  I of course immediately pictured this helmet with my husband's favorite football team , The BYU cougars on the side.  I scrolled through the 5 NFL team options and down to the 5 color options and shouted for joy when I saw the lovely blue option! BEST WIFE IN THE WORLD AWARD! I'm getting ahead of myself here.  Anyway, I decided that this lovely helmet was too good not to share with our readers and so I decided to contact Simplay3 and ask them if they would be interested in a blog review of their Game Day Push about Helmet. They were very excited to work with us and provided me with the Game Day Push about Helmet and the Super Coupe Pedal Trike to review.  Thus here I am writing this article with my own opinions on this lovely product.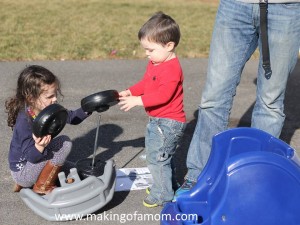 So when these big boxes arrived at our house, our children were so excited.  We were happy to finally have a warm day after a ton of rain, which was much needed but not the best for outdoor fun.  Putting this fun toy together was best project to do on one of our first warm spring days.  As soon as we pulled out the Game Day Helmet our children squealed with excitement.  They thought the helmet was as adorable as I did.  This little car was even cuter in real life than it was in the picture.  I wished it was big enough for me to ride in.  We immediately started the assembly and I have to say that this was one of the easiest toy assemblies I have ever done.  It really was so simple and the directions were so clear. There is nothing more frustrating as a parent than saying "ok let's put it together" and 3 hours later you are still scratching your head or pulling your hair out.  Simplay3 fits its name, it was simple to put together and just get to the play part!! I love that! So we put it together so quickly, I don't even think it took 15 minutes.  I can't even begin to tell you how awesome that was.  There were some opportunities for our kids to help by using the drill or hammering the caps on the wheels which is always fun and exciting.  Nothing like using Dad's tools right?  I loved putting the stickers on.  The finishing touches are always my favorite and although this helmet was adorable right out of the box putting the little stickers on the facemask and sides of the helmet just make me smile a little bit bigger. It really is one of the cutest things I have ever seen.  Plus let's be honest, is there anything a parent loves more than a toy for their kid than a toy that doesn't come inside and make a mess?  Nope! I love outdoor toys for that very reason.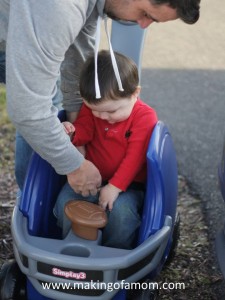 Once we had the assembly done we had to hold our older kids back so that we could let our almost two year old have the first try.  He was so excited.  He kept saying, "Football" as he looked at it and held the steering wheel.  This Helmet is so easy to push and turn.  We cruised down the road and up and down the driveway all the while he was safely buckled in and entertained by his football steering wheel as he cruised in style.  I of course felt so much better that he was no longer riding the pink push toy we had him in for the last 18 months.  I have always loved the little ride on cars with seat belts.  I see them everywhere.  People bring them to the mall, the zoo, the grocery store, the part.  They are so convenient and such a nice change from the stroller.  I feel bad for kids that are strapped in the stroller all the time, don't get me wrong there are times when your child needs to be strapped in so you can get things done or for safety reasons but it is nice to change it up a bit.  We have always found that our kids respond a little better to being strapped into a fun little ride on car than they do when they are strapped into a stroller.  This really is a must have on every parents list. The Game Day Helmet in particular is very nicely sized for outings as well. It is shorter and thinner than a lot of those bulky ride on toys which means it will fit into a trunk or the back of a car a lot better, making it a great choice for all of those fun outings and family trips you have planned for this summer!
After our children raced around in it for a bit we placed a BYU football decal on the side.  I love how this looks. My husband can't get enough of BYU football….ALL….YEAR…..LONG. So this was such a fun thing to do to celebrate the soon to be beginning of the football season.  This toy truly was created for parents and kids alike.  This item is both functional and creative.  I love, love, love it and I love the thought of all the fun team events we may be able to take it to in the future.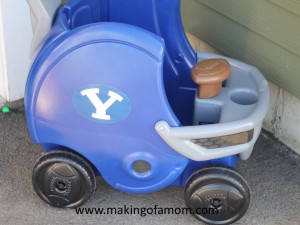 Is there a football fan you know who would enjoy this awesome toy? Simplay3 wants two of our readers to win one of their great products! One winner will receive a Game Day Ride About Helmet, the other will receive the Super Coupe Pedal Trike.
This giveaway is open to US residents ages 18+. The giveaway will run April 10 -24. Winner will be verified, emailed and have 47 hours to respond before a new winner is chosen. Enter the giveaway below and share with your friends.
a Rafflecopter giveaway