We had the pleasure of heading back to Legoland Discovery Center in Boston. My children of course were beyond thrilled to be coming back. When I told them that we were going to see something new they were even more excited. The excitement continued as I mentioned The Lego Ninjago Training Camp! They were so excited to practice their ninja skills!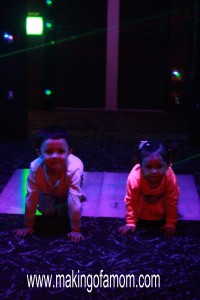 When we arrived at the Lego Ninago Training Camp we waited our turn to head in to the lasers. There was a long laser maze where you challenged yourself to avoid the lasers and make it to the end. It was fun to watch my kids as the maneuvered through the lasers, going over and under to show their ninja skills.
While you are waiting in line there are little building challenges with lots of bricks to build with. In addition the walls were covered in your favorite ninja characters, maps, challenges and more.
After your completion of the laser maze there were a few more challenges including a metal maneuvering test and a speed a focus test. The metal maneuvering test was to see how easily you could move a piece of metal up and down another metal rod without touching it. The speed and focus challenge was a fun game where two people compete against each other to see if you can only hit your colored lights as quickly as they light up. I loved this game because it was great for any age group and could challenge both children and adults alike!
My kids went through the laser maze and the other tests at least 6 times. They had a blast. The Lego Ninjago Training Camp is a definite must see! Its fun and interactive and includes some of your favorite lego characters! We will definitely be visiting again!
Of course while we were there we explored the rest of Legoland Discovery Center. You can see my previous review here. I will say that visiting again was just as fun as the first time. The kids wanted to see everything again. There were changes to a few things and some of the things were pretty much the same- my kids were excited about each one. We rode each of the rides a few times, watched a few 4-D movies and a highlight was visiting the lego builders office. We were able to see thousands of legos organized in little drawers and talk to a few of their "master builders" as my son calls them. They had some pretty incredible projects they were working on as well as awesome things that were already completed. All in all we had a blast! My kids are already asking when we will visit again. Soon little ones, soon!
Now I wouldn't want to tell you how amazing Legoland Discovery Center and its new Lego Ninjago Training Camp are without giving you a chance to visit for yourself ……..for FREE! So we have a giveaway today and it will go for the next 7 days! Enter to win a four pack of tickets and take your family to one of Bostons most family friendly attractions! Thanks Legoland Discovery Center for this great opportunity!