We prepped our children for what we called "THE BEST DAY EVER!"  We didn't tell them where we were going or what we are doing but I will tell you this.  It really was "THE BEST DAY EVER! in both their eyes and ours.  Why you ask? because we spent over 5 amazing hours at Legoland Discovery Center Boston!  Legoland Discovery Center Boston is located at the amazing Assembly Row in Somerville, MA. I don't even know where to start with the fun and excitement we enjoyed throughout the day.  Our 4 year old has become really into legos in the last year and we knew this would be a dream come true for him!  In addition after searching their website we knew there were plenty of things to keep our 2 year old very entertained (although she is very much into legos as well- much to her brothers dismay!)
 When we pulled up outside Legoland the kids were trying to burst out of their car seats.  They were so excited.  We parked (Free Parking=AWESOME!!) and they booked it down assembly row to the huge lego giraffe that was there to greet them.  From the second we walked in the door to the moment we left we were treated so well.  Everyone was so personable and happy.  They really wanted everyone to have a good time.  The details in the center were amazing-legos everywhere and so much color!!  Here is what we did in 5 wonderful hours- the kids didn't want to leave so we were there for a while and you will see why:
First we walked in to the lobby and stared in awe at every detail
Rode the Elevator
Went into the Lego Factory– where we learned how legos are made and got to create our own minifigures digitally
Then we rode the Kingdom Quest Laser ride– So much fun!  You collect points by hitting skeletons, spiders and other spooky things as you try to save the princess.  This was fabulous because my son has been so into knight and skeleton legos and there were plenty of both.  All this is done as you ride around in your own 4/5 person car.  It was fabulous!  We might have gone on this ride more than once…………..or twice.
Walked into Boston – MADE OF LEGOS– aka miniland-it was fabulous to see the city in this way- so much detail and so cute.  My kids were so impressed with every detail.  Fenway of course was my sons favorite- especially seeing all the mini figures sitting in the grand stand.
As we headed out of miniland we each following an excited child.  Our little guy set off to the racers build and test to make his own car and race it down a track as our little girl headed to Lego Duplo Farm.
Look at this face as she cruised down the duplo farm slide!  We had a blast!
Our kids caught sight of Merlin's Apprentice Ride after a little while and both wanted to go for a ride.  They loved flying through the air propelled by peddling a bicycle.  We went up and down based on how much we peddled.  It was actually a very thrilling ride!  We rode it at least 3 more times!
After our time in these two places we took a little break in the bathroom. I had to capture these awesome doors.  I love this.  I love the time and effort and thought that goes into every single detail.  How easy would it have been to just have regular door but yet how magical was it to choose your favorite one and enjoy even the bathroom at legoland.
Next we went to the Lego City Play Zone.  The kids loved the oversized legos that they could build with.  They loved the slides and nets and climbing structures.  They spent so much time running through the padded obstacles and giggling as they raced to the top of the slide.  It was so magical to pretend to be a firefighter in a fire station  or a worker at a construction site in the one and only lego city.  It was so fun to watch my children's faces just light up!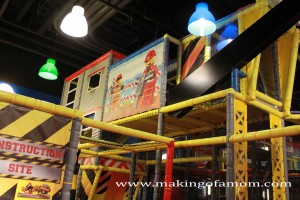 After a long time in the Play Zone we watched the countdown for the next showing of the Chima lego movie (one of 4 D movies shown throughout the day in their 4d Cinema.) When it was a few minutes from start time we brought the kids in where they got their own glasses and got ready for the 15 minute movie.  Our little guy has a chima lion and we thought he would really enjoy this movie and HE DID!  From the visual effects to the water squirts and sounds we all were in our element!  In fact throughout the rest of the day we watched the 3 other movies.  The first was so good that we didn't want to miss out on any of the others!
We tried out the earthquake tables to see how sturdy our structures were and then headed over to Olivia's house for some Karaoke!  There were tons of songs that both my children were familiar with.  They LOVED singing in the microphone as we enjoyed the view of assembly row out the window.
Throughout the center there were tons of places to build lego structures and even (as my daughter chose to do) bathe in a bowl of legos.  It was fun to watch them just enjoy the atmosphere and scenery.
The kids were getting hungry at this point so we all went over to the cafe for a little lunch.  The prices were very reasonable and the food was great.  We loved sitting together (still in the atmosphere of legoland) having a snack and talking about what we wanted to do after lunch.
After lunch we went to the Lego Model Builder Academy.  Each of our kids got to build their own dragon along with a bunch of other kids in a little classroom type setting.
After the Lego Model Builder Academy we visited everything again (at least once- sometimes 3 times) and watched the other lego 4D movies.  We just couldn't leave.  There was so much to do and you just didn't get bored.
A very fun and special thing we did which we had read about ahead of time was the mini figure trading you can do.  We brought a few mini figures that our son doesn't seem to play with as much and were prepared to trade them if he wanted to.   All of the employees have mini figures on their name tags.  As you are walking around you look at them and see if there is one you like.  Our son saw a little chef with a pizza that he liked and so he traded one of his own for that.  He also traded another one for a sheriff.  He was so excited to get two new little guys to play with and of course what a great way to freshen up his collection!
As a parent the things I loved most about Legoland Boston were how everything was contained. 1.  It was very hard to lose your child because you could really see all of the places to go in the main area.  That is high up on my list of important features.  2. There was a little bit of everything- places to run and climb and slide, places to build and improve fine motor abilities, places to think and create and place to relax and ride. 3.  I loved that the people were all really friendly and helpful.  Everyone interacted with you but they weren't over the top.  They were real and you could tell they enjoyed legos and children.  It was just a wonderful experience. 
On our way out after we had done everything over and over we had one more stop- The Store.  We checked out all the minifigures and lego sets that lego is selling now.  It was a great way to get some Christmas ideas and a fabulous way to end our experience!
I will just say that this really was THE BEST DAY EVER!
In fact did you know you can buy season passes to Legoland Discovery Center Boston. This is a fabulous Christmas present for any kid (or adult) and speaking of adults did you know that they have adult only nights throughout the year.  Its a great time for those BIG lego fans out there to have access to all the fun of legoland with some adult perks.   In addition there are other fabulous events throughout the year that go along with holiday themes and so much more.  Check out their events page to see whats coming up!!  The Toddler Tuesdays are looking good to me!!