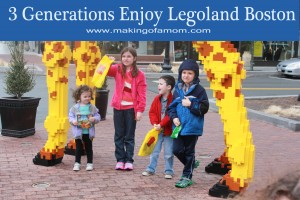 Yesterday we did the first half of this awesome review!   Check it out here!  Don't forget the giveaway that ends today!!  Here is the second half where the mom and grandma talk about their 5 favorites from LEGOLAND Discovery Center Boston.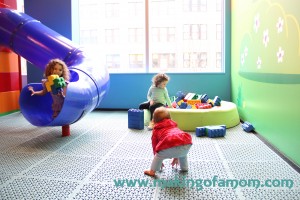 5 Things their mom liked about Lego Discovery Center (It was hard to choose just 5)
1. I loved the little details Lego Discovery put in the decor.  For example they had clear posts filled with loose legos in the line barriers.  My favorite was the Lego play house.  My daughter was able to sit in large life sized lego chairs as she built things with small legos.
2. I LOVED the free lockers they provided.  They came in handy as we had all our winter coats with us.
3. Lego Discovery put a lot of thought into the details like waiting in line.  We didn't experience long lines on our trip, but I noticed they had many interesting things for kids to look at and play with to keep them occupied if we had lines to wait in.
4. The baby area was fantastic.  They had a large soft padded floor with large soft legos in a large soft kiddie pool sized container on the floor.  You may have noticed that I liked all the "soft" aspects of the young child play area.  This was perfect for my budding walker.  They also had a fun tree house slide so that my 5 year old was also entertained as my baby played in the soft padded area.
5. I LOVED watching the expressions on my kids' faces as they experienced the 4D movie.  They reached out to try to touch the animation and were thrilled as they experienced wind and even rain all with huge smiles on their faces.
Bonus #6. I absolutely loved Lego Boston.  I loved that my daughter recognized scenes from history.  I loved that my son could push a button to activate a crane.  I loved that even after I spent a lot of time looking at the incredible detail of each building it switched to "night time mode" and all the room darkened and the Lego city lit up and I was able to view it all again with a new perspective.
As a grandmother I was impressed by many aspects of Legoland Discovery Center:
1. My grandchildren were entertained from start to finish.  There seemed to be endless opportunities for entertainment.  Their ages ranged from 3-9.  They played together but were comfortable to venture out and interact with a child they did not know. We could have stayed much longer than we planned on.   There were a lot of happy faces.
2. Everywhere was colorful, inviting, and clean.   The restrooms were large and well maintained with family restrooms as well.  The Ladies room was very colorfully decorated with a different Lego Figure tastefully adorning each door. Even the restroom was inviting. I saw another grandmother taking her granddaughter picture in front of one of the stall doors.  They were impressive.
3. The staff were friendly, helpful and organized.  Even though a school bus full of children and adults came in behind us we never waited in a line. I thought for sure we had come on the wrong day but I was pleasantly surprised.
4. The design of the main play area allowed my grandchildren to play at different activities while  I was able to watch from a distance while sitting next to a life-size lego parent.  I particularly liked the play structure which had the same entrance and exit.
5.  I would like to go back to Legoland with my husband and show him the extraordinary display of the city of Boston all made of legos.  The architecture was incredible. Each of my grandchildren was impressed by something different.   Having taken my children on historical tours of the City of Boston,  visiting Lego Boston gave me an idea of how to make the tour more exciting for my grandchildren.  Of course it would include a stop at Lego Discovery Land, Lego Boston.