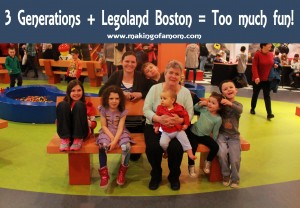 Lets see what three generations are saying about their recent visit to Boston's very own LEGOLAND Discovery Center!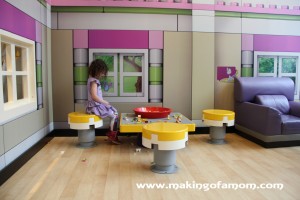 5 Things 5 year old Lily liked about Lego Discovery Center
1. I liked the play house
2. I liked the lasers
3. Merlin's Ride
4. Kingdom Quest
5. Climbing structure
5 things 6 year old Matthew liked about Lego Discovery Center
1. Kingdom Quest ride
2. Lego Boston and the building with the boats
3. Making a car and racing it
4. Play Structure
5. Ninja Lasers
5 things 9 year old Sara liked about Lego Discovery Center
1. I scored 37,500 as a Sensei Level Ninja
2. Kingdom Quest Ride
3. Merlins Ride (I went on it 3 times!)
4. The biggesst Lego Creations like the Giraffe and Laval (Chima Guy)
5. The Boston Tea Party Lego in Boston  because I am studying it in school
I thought it was very colorful and super fun!
These three kids and their cousins and sister all had a fabulous time as you can see!  Stay tuned tomorrow for part two and see what their mom and grandma are saying about LEGOLAND Boston!
In the meantime have you entered this giveaway for a 4 pack of tickets….only a day and a half left!  Hurry!