Thank you to Mavea for providing samples and compensation for this discussion and giveaway. All opinions are my own.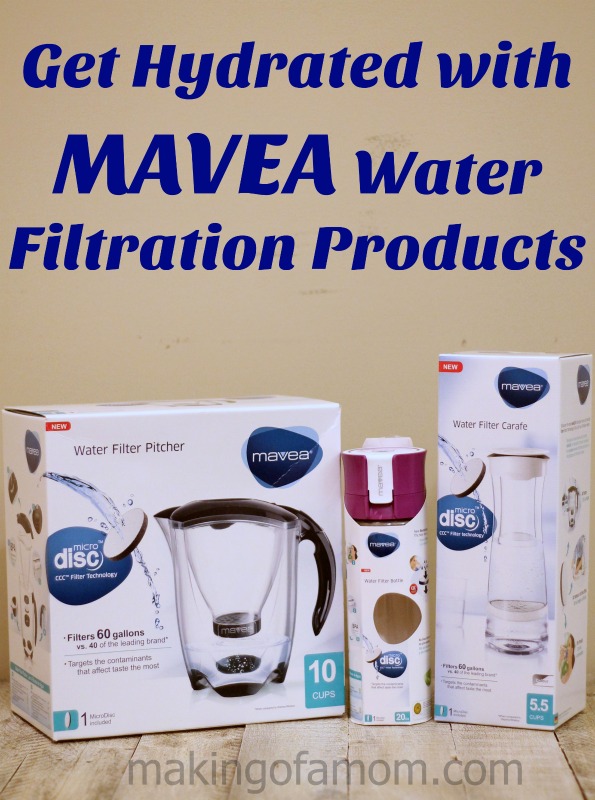 It's amazing how the one essential ingredient that our bodies need is the one thing we sometimes resist. Water is the ONE thing your body needs and now there is a fantastic way to get in your "eight glasses a day" or in my case 100 ounces a day. MAVEA offers an awesome water filtration pitcher, carafe and bottle. I absolutely love having the water filtration offered in each product individually so no matter my circumstance or location, I'm getting clean water.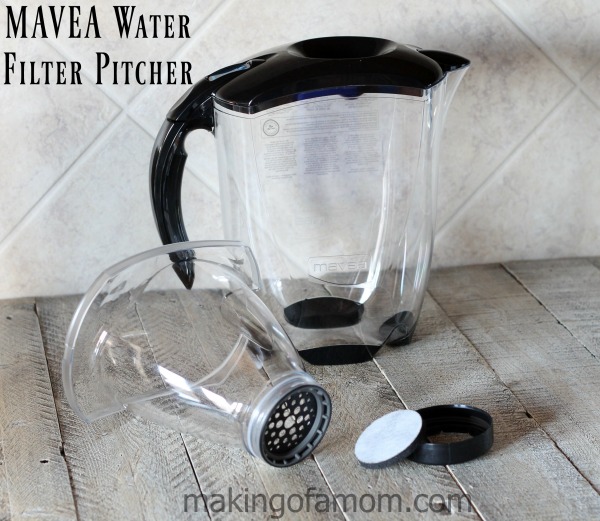 At home the
MAVEA Water Filtration Pitcher
is perfect. Using the MicroDisc (one size fits all products, by the way) in this pitcher will filter an impressive 60 gallons of water, which happens to be 50% more than standard filters. With the pitchers sleek design and MEMO indicator to let me know when it's time to replace the MicroDisc, I can be confident about the clean water now always available in my refrigerator.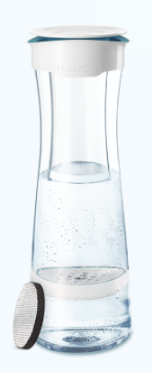 Do you need a container for a smaller space? Perhaps at work or in a college dorm room you don't have room for a big pitcher. The
MAVEA carafe
is perfect. It also uses the MicroDisc so it can also filter 60 gallons of water taking up a fraction of the space.
My favorite of the three products is the
MAVEA Water Filter Bottle
. I try really hard to drink 100 ounces a day. I just feel better and I know my body is happy when I'm very hydrated so I LOVE this water bottle. When I'm out with my kids I don't ever have to feel worried about the water I'm filling my bottle with because it is getting filtered before it hits my mouth. You guessed it, the MicroDisc fits there at the top and the water is filtered on its way to my.
So perhaps you know that you need to drink water and that it's vital to your existence, but perhaps you know don't why. Check out why water is essential to your body!
#1. Your body is made up of water
You have probably heard this phrase since you were a kid. There is actually a lot of science behind your body being made of mostly water. It's amazing to think that your body is made up of more than half water. If you stopped drinking water today, you wouldn't live very much longer!
#2. Water helps you to digest your food
Are you having problems digesting your food? It may be because you're not drinking enough water. Water is essential to your body for the simple fact that it helps the food you eat get digested. Since digestion is an important part of your body's function, I'd say water is pretty essential as well.
#3. Water helps keep your body hydrated
During these hot summer months, it is especially important to make sure your body stays hydrated. Water is the key element to helping your body stay hydrated. Although you may want to drink sugary drinks or even sports drinks, water is always the best answer!
#4. Water helps your body get rid of waste
One of the last things you want to think about is your body and all of the waste it is trying to get rid of. However, water is the number one thing that can help you get rid of elimination. Constipated? Make sure you drink water to help move those bowels.
#5. Water is all natural
Another thing you should realize about water is that it's the one natural thing we can give our bodies. In a world of processed food and fast food, water is an easy healthy choice. It's simple, but yet it can mean the world of difference in your body! Water even helps you lose weight!
Water is essential to your very being, so drink up. The next time you think you don't want to drink water, mix things up a little bit. Try adding a little bit of fresh fruit to your water, nothing else. It'll make your water a little fruitier, but it'll still keep it natural. What knowledge can you offer us about water?