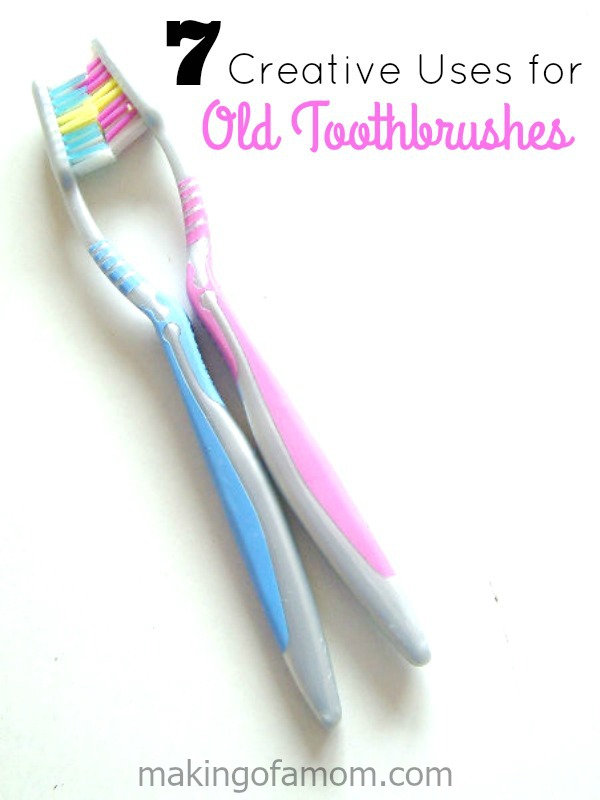 When your toothbrush becomes worn out and used up, what is the first thing you do with it? Chances are it ends right up in the trash. And while that is fine and dandy, did you know that there are other ways to use that old toothbrush long after it has served the purpose of keeping your teeth clean? If you want to get the most bang out of your toothbrush buck, take a peek below at 7 creative uses for old toothbrushes that you need to try now! You will never toss another toothbrush away again.
1. Get grout sparkling.
Do you hate how your shower grout gets dark and moldy? Your old toothbrush can help with that! Just add a paste of baking soda and water to the bristles and scrub away. The brush is the perfect size for getting into the grout and scrubbing it clean. Rinse and repeat as needed!
2. Make faucets shine.
Get your faucets nice and shiny without being too abrasive when you use an old toothbrush. Dip the end of the toothbrush in a mixture of lemon juice and vinegar and scrub away. Rinse clean and repeat as needed for a sparkling shine.
3. Touch up your roots.
Do you like to color your own roots? If so, you can use an old toothbrush to get the job done. Just dip the end of the toothbrush into the coloring and brush on to your roots. It will help you apply the coloring evenly and get close to the scalp.
4. Make splatter art.
Give children a dish of paint and an old toothbrush. Dip the brush into the paint and then using your finger, pull the bristles back and release. The paint will splatter and make all sorts of cool designs. Or, the kids can simply use the end of the brush to create brush marks.
5. Detail your car.
Toothbrush heads are perfect for getting into all those tiny spots in your car that get grimy. Just add some cleaner to the brush and gently buff the areas clean. They are great for scrubbing out sticky cup holders as well.
6. Take them to the garden.
Old toothbrushes can be used to scrub the grime from gardening pots and tools. The bristles can also be cut and sprinkled around the base of plants to keep pests like slugs away. Just snip and sprinkle.
7. Scrub old hardware.
Do you like to refinish old furniture pieces? Toothbrushes are great for scrubbing the hardware pieces. Just soak the pieces in a basic cleaner and use the toothbrush to scrub away grime. You can also use a toothbrush head to add a distressed look to paint, just brush the dry bristles over corners and edges where you just painted and it will buff it away for a worn out look that is quite popular.
It is wise to mark old toothbrushes so you know they have been used in cleaners and chemicals and no one will put them in their mouth. Just take a marker and mark directly on the handle.
Gather those old toothbrushes and give these 7 creative uses for old toothbrushes a try!
Looking for more creative uses for items around your home. Check out unique things to do with neckties, old t-shirts and candy corn.