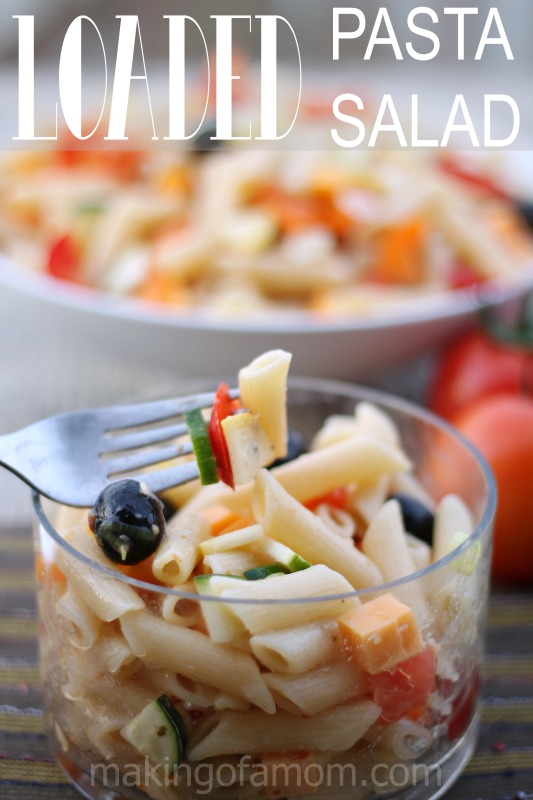 As the weather warms our family outings begin. This means the time is soon coming where I'll be packing lunches quite often as we venture out to different parks, activities and small road trips around the area. Instead of just packing a peanut butter and jelly sandwich and calling it good, I want to include fun and different food options that are easy to take on the go.
Loaded Pasta Salad
is one of those things that is easy to customize based on your food likes and easy to take along. With a travel container and a small insulated cooler, the pasta salad is ready to go!

Recently
Door to Door Organics
reached out to me to work together on a sponsored post to get the news out about their incredible services. Door to Door Organics is an online grocery store ready to load you up with organic produce, meats, dairy products and more. They deliver to 15 states & 80 cities throughout New Jersey, Pennsylvania, Delaware, Maryland, New York, Maryland, Ohio, Michigan, Indiana, Illinois, Iowa, Wisconsin, Missouri, Kansas, Colorado & Wyoming. You can check their
delivery locator
to make sure you are in a region that gets deliveries. You can sign up for a subscription box. They have an incredible amounts of varieties. I got a medium mixed (veggies and fruit) box. I also added on a pound of strawberries and some organic pasta to try. All of this was $50 including the shipping! I think the most fun part for me is getting to try a few new things I probably wouldn't try otherwise. This week we will be trying yellow mango and butternut squash for the first time!
To make my version of Loaded Pasta Salad you will need all your favorite veggies diced up. I just used what came in my Door to Door Organics box this month.
Ingredients:
Pasta
Favorite cheese(s)
Tomatoes
Bell Pepper
Zucchini
Yellow Squash
Green Onion
Olives
Carrots
Italian Dressing (1 cup or to taste)
Directions:
Boil noodles according to package.
Drain excess water, place in bowl with a small amount of Italian dressing. The noodles have a tendency to stick together and the little bit of oil in the dressing will help the noodles stay separate.
Place in the fridge for an hour, or until cool.
Cut up veggies while waiting for the pasta to cool.
Once pasta is cool combine veggies and the rest of the Italian dressing and stir to mix. Keep refrigerated.
Want to make it a meal instead of a side? Add some chicken chunks to bulk it up!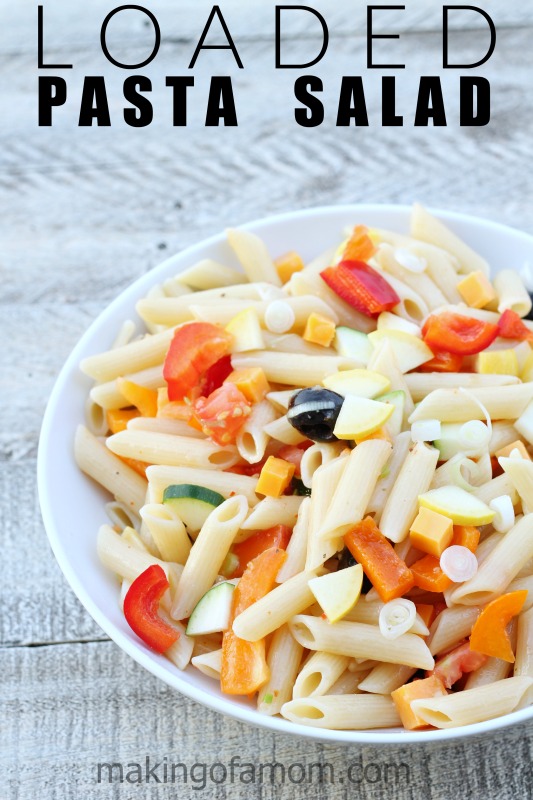 With Door to Door organics you don't have to get a mixed box, you can get just veggies or just fruit if that better suits your lifestyle. The boxes are preset with produce but you can make up to 5 changes to your box. You can also set what your favorite foods are so they are always included in your boxes.
Are you interested in trying Door to Door Organics? Right now you can save $10 on your first produce box with code HEALTHYSPRING16.