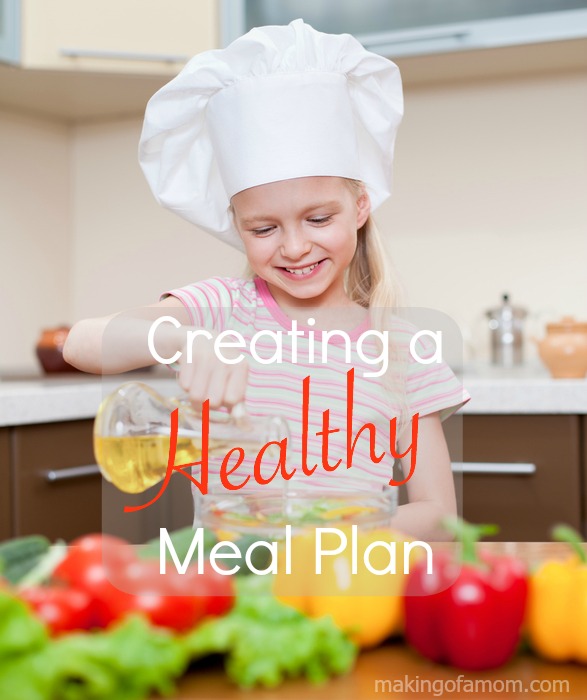 We have previously talked about how to start meal planning. Now let's talk about making those meals healthy.
After you have selected the food choices that you enjoy eating, go through to make sure that you don't have too much of one thing over others. Color coding types of meals can help in doing this. If you have young children who are picky, finding healthy ways to eat the foods that they like is a beneficial option in the balancing phase of meal planning.
Be sure to fit in 2-3 cups of veggies, and 1-2 servings of fruit (for each family member) per meal. This is important for nutrition and health.
Meats should vary all week. You don't want to make the same meat for every meal during the week, unless you're changing up the way it's cooked and tastes. Don't be afraid to cook a meat for one meal, and use it in another way the next day. For example, grilled chicken breasts for dinner can easily turn into grilled chicken breast sandwiches for lunch.
Include at least one vegetarian dinner meal every week with no meat. (Unless you prefer vegetarian meals over meat, then do the opposite.) Lean meats are okay to eat often, but fatty meat should not be a staple food. The protein is good for you, but too much fatty meat can do harm to your health and weight.
Be sure to eat proper portion sizes. For example, when eating steak, it should not take up half of your plate. A quarter of the plate tops! Portion sizes are key to health and nutrition.
Only include one dinner meal that is primarily pasta each week. Pasta is made of "bad carbs". It's great to add to meals, and who can resist spaghetti every once in a while! But it should be eaten in the right portions and just often enough to satisfy your families pasta needs. If you like a lot of pasta, try enforcing the "I can only eat it if I make it rule" for a few weeks. Although homemade pasta isn't all that hard to make and whole wheat homemade pasta is actually better for you, if you have to make it every time you want it for the average family of four, that's a lot of pasta making you have to do! It will allow for you to eat it less pasta than normal.
Don't be afraid to plan to eat left overs, in fact PLAN to eat them intentionally. Left overs are fantastic for lunches and even as snacks throughout the day. Making recipes often means leaving behind ingredients that will go bad before you use them again. Try to make a double batch to use up what you can and eat leftovers. This is another great way to save money on groceries.
You can also mix things up and try planning breakfast for dinner. My kids love when we do that. When we make breakfast I try to make sure I have most of the food groups covered with fruit, grains and protein. Omelets or whole wheat waffles are great ideas!
eMeals
 make meal planning easy. They send you a weekly meal plan complete with shopping list. You can choose from many meal options like slow cooker, low fat, Paleo, gourmet and more. eMeals
 is even happy to plan your breakfast, lunch, dinner or desserts.
What are you favorite balanced meals?