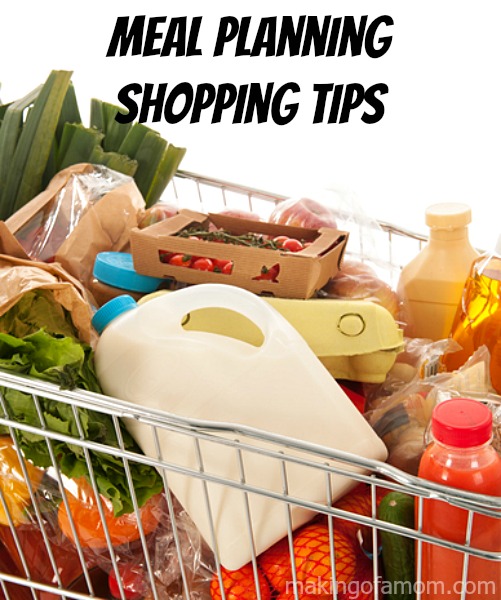 Buy in bulk.

Although you should not purchase perishable goods in bulk, and some things are more expensive in bulk, you should do your research and buy anything in bulk that you can that is less expensive when more than normal is bought at once. Often times you can find things like seeds and nuts, as well as oats and grains in bulk at a lower cost than purchasing them every shopping trip. Purchase large quantities of meat, especially through services like Zaycon, you can get a nice discount and higher quality meat.

Shop the sales!

Before you go shopping check out the sales at your local grocery stores. You can either base your meals off of what is on sale, or you can plan your meals and then see where your ingredient needs are cheapest.
Make a detailed shopping list. List the store, and underneath it what you need from that store and exactly how much you need of that item so that nothing is forgotten and there are no trips back to the store needed throughout the week. My printable meal plan has a shopping list you can tear right off and take to the store!
Be sure to get store cards anywhere that you can, they are free and can score you some great deals!

Don't be afraid to use a coupon.

There is no need to be an extreme couponer or to buy 20 of one thing because it's cheaper than you've ever seen it before unless you know that you will use it up before it goes bad. However, if you come across coupons that you will actually use, go for it! You can save some pretty decent money using coupons combined with store cards and sales.

Take inventory before you make your list.

Before you make a grocery list, be sure to take inventory of what you already have at home. Save time and money by using a printable inventory list. These can be found online, the best place to look for things like that is Pinterest.

Be sure to make a plan which stores to go to first.

I always go to the cheaper stores first before the more expensive ones so that I can get the majority of my list at a lower cost.

Don't bring the kids, unless you absolutely must.

Kids are great, they're awesome really, just not when you're trying to go grocery shopping and focus and they want everything in the store or just so happen to need to have a meltdown right when you walk in. If possible, use grocery shopping as a part of your "me" time. Do your shopping when someone else can watch the kids, or while they are at school or an outing.

Bring Bags.

I don't know about you, but I prefer canvas bags over paper or plastic and have PLENTY of paper and plastic bags already at home. You can either reuse the grocery bags that you have so that you don't acquire more or purchase some inexpensive store cloth or canvas bags to bring with you. Many stores like this and it saves you the hassle of figuring out what to do with all of those bags! (Trader Joes even lets you have the opportunity to pick a prize when you bring your own bag and at Target you save 5 cents!)

Use a Money Saving App.

Have you tried using Walmart's Savings Catcher? It'll compare prices of the things you purchased against all their local competitors and automatically give you the different. Once you've saved as much as you want, cash it in for a Walmart gift card.
Retail Me Not has a great app for you to get coupons on the go. You can also turn on your locations on your phone and it will alert you of deal near by!
This post is the 3rd in my meal planning series. If interested you can also read How to Start Meal Planning and Create a Healthy Meal Plan.