Disclaimer: I received free tickets for my family to visit Schlitterbahn as part of the US Family Guide network. All posts, reviews, opinions and experiences are my own. Yours may differ.
We recently went to Schlitterbahn Kansas City for the first time and LOVED it. After all the posts I have written about Schlitterbahn leading up to our visit I was very excited and confident we would love it, but it greatly exceeded my expectations.
In order to avoid large crowds we went on a week day that also happened to be pretty over cast and rainy off and on throughout the day. This was awesome because it wasn't too hot and it seemed to keep others away. We arrived shortly after the park opened so we could have a full day of fun!
One little issue we had was that we were able to walk right into the park. Since we hadn't been there before we were expecting there to be a ticket booth or counter or something, but no one was looking for tickets, just through our things to make sure we weren't carrying anything harmful to others. We found a table and got settled and noticed everyone around us had wristbands so we walked back to the little building at the front of the park. We were supposed to go inside this building and show them our tickets. Now we know, and so do you!
Once we got back to our table (which was under a huge umbrella because I am all about the shade!) we got our children fitted in their FREE life jackets provided by Schlitterbahn. It was such a nice relief to know the kids would be able to have a fun day in the water because they would feel safe in the life jackets. I love that they were free and there were a lot of them! It is on a first come, first served basis, but there were TONS so I'm sure you'll be fine.
There were a lot of fun attractions within Schlitterbahn. There were a couple "kiddie pool" areas with fun little slides, sprayers and things for the kids to do. My kids loved the "pirate ship pool" because it had some fun slides and because it had the warmest water. They also loved playing in the "train pool" because those water slides were a little bit bigger. They were able to meet a couple friends playing in these pools and make up some fun games to play. Our table with all of our belongings was right next to the "train pool" so we could sit and watch them and relax.
The park also had some bigger water slides. Some required tubes and some required mats, all were provided for FREE. My husband, daughter and I would take turns going together on the water slides. It was a blast. My husband loved the slides where you used a mat to go down. I didn't try one but he told me how much fun it was. My favorite slide was like a roller coaster. I know what you are thinking, How in the world is a water slide a roller coaster? Well you sit on your tube as you ride a conveyor belt up and then you drop for a while, to go back up the slide uses your speed along with shoot water up the slide to carry you over the hill to go down the next hill. It was pretty awesome. That slide dumps you into a lazy river.
I LOVED  that a lot of the park was connected by waterways. You could sit back in your tube and let the current take you where you wanted to go. My son and my favorite ride of the whole park was the lazy river that had rapids in it. We would get a 2 person tube, but instead of the front being a hole for a person it was a seat for a child. He would sit in that seat and hold on while I sat in the back of the tube. You go along a lazy river and then every 50 feet or so there would be a series of rapids. It was so much fun! And it was very long. It took about 15-20 to run the rapids course. We loved it and did it several times!
Later in the day when we were getting hungry we pulled out our cooler with food and snacks and ate lunch. It was so nice to be able to bring in our own food and not worry about the expense in the park. Once everyone ate we decided we wanted a treat so we got a funnel cake. There is a little shop that makes different kinds of funnel cakes. We decided on cookies and cream.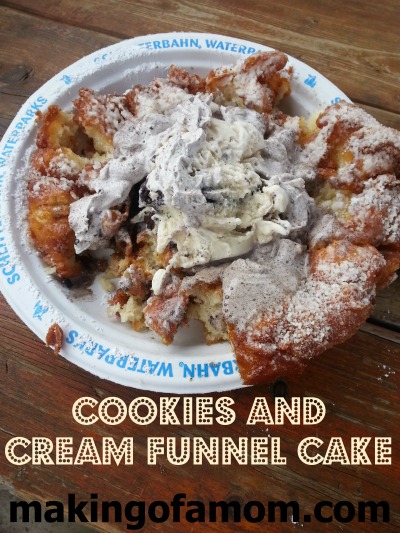 It looked good, but in the end it is just fried bread. Skip the funnel cake and just get an ice cream cone!
We loved Schlitterbahn so much we are determined to make it a yearly tradition. We each had our favorite parts and things we loved. We can't wait until next summer to enjoy some more family fun and create more memories at Schlitterbahn Kansas City because we have #bahnfever!