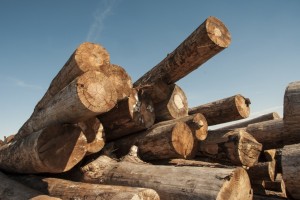 These days "going green" is everywhere and it seems like every company is trying to jump on the green "bandwagon" because it is important to consumers. Well guess what? Schlitterbahn was going green before it was "cool". Schlitterbahn has always been on top of the water issue. 98% of the water is recaptured, filtered, and reused all season. This is good news, especially in areas where there are droughts and water is a precious commodity.
But what about beyond the water? The new Schlitterbahn resort in South Padre Texas has an amazing story of recycling. Read this story from the Schlitterbahn News website.
In 2011 a major wildfire raged through Bastrop County, Texas in September. Three separate fires started during Labor Day weekend and by the time it was controlled, it destroyed 1,691 homes and burned over 34,000 acres of land including the vast majority of Bastrop State Park's 5,900 acres of Loblolly pines. The Lost Pines Forest, thought to have originated in or before the Pleistocene era, was also heavily impacted.For safety, the burned pines had to be removed. These scorched trees were destined for the grinder who would have turned them into mulch. Jeff Henry with Schlitterbahn offered to take the felled trees, then had them milled, beginning the process of transforming the pines from scorched wood to the most dramatic feature throughout the Schlitterbahn Beach Resort at South Padre.

Here's where you'll find the Bastrop Pines in the resort:

·        Rooms:  In most rooms the cabinets, coffee tables, nightstands, and headboards are made from the Bastrop Loblolly pines.

·        Dining areas: Large tables are made from the Loblolly pines.

·        Lobby: The large tree stump tables by the doors leading to the heated pool are from the fire, as is the siding along many of the interior walls.

·        External: The siding on the outside walls of the resort are made from Loblolly pine.

Ropes:  Over three miles of 3-inch mooring ropes of dozens of former ships have been painstakingly wrapped around giant concrete structural poles in our Sea 4ever 10,000 square foot patio.

Green House: The retractable roof over our indoor waterpark was built from a large greenhouse – an old Schultz nursery.

Lobby Check in Counter: Built from salvaged walnut trees which were pulled from a road project in Kansas.

Parapet Walls: The hatch covers came off a famous US Troop carrier the John E. Pope and are used on parapet walls and also to make tables. Over 500 are on site.

Chandeliers: The beautiful chandeliers hanging in the Sea 4ever event patio were salvaged from an ageing Vegas hotel.  Our team glued shells to them and hung in the ceiling.

Waterslides: Yes, even some of the water slides were recycled. The water slides came from a park in Cleveland Ohio, were salvaged, refurbished, and re-installed.

Handrails: An old Dutchman Downs Stadium was the source for all the handrails.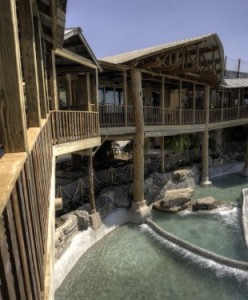 I love that all that wood was saved and placed front and center for everyone to enjoy within the park. That was definitely a good deed! I think the wood is beautiful also. I am impressed that even though the wood was reclaimed from a fire it wasn't destroyed and it was able to be made into something more beautiful!
If you are interested in visiting a Schlitterbahn waterpark or wanting to try your luck at winning tickets remember right now Schlitterbahn has a $5 off your admission or a discount for a 2 day admission offer going on (Kansas City) or some other special discounted offers for Schlitterbahn parks in Texas. Buy online and use the discount code BLOGGERFUN13 to receive these discounts! Don't forget I have my Schlitterbahn Ticket giveaway going on right now. The giveaway ends July 16.