It's springtime and with that comes new flowers, trees blooming and rain showers leaving beautiful rainbows in their path. This easy rainbow paint chip craft is easy for the classroom to an at home activity. Whether you are looking for cheap and creative way to keep your kids busy on the weekend or during summer break, this is it! Plus, it's almost free since you can gather paint chips at all home improvement stores and even some big box stores for FREE!
Let's get started.
Rainbow Materials 
red, blue, orange, yellow and purple paint chips OR whatever colors you would like. It's a rainbow. Have fun with it.
glue stick
(affiliate) circle craft punch
Directions – 
#1. Use the 2″ circle punch to cut your paint chips into circles.
#2. Use the glue stick to make a U shape using the red paint chips. Put a small amount of glue on one edge and stick them together.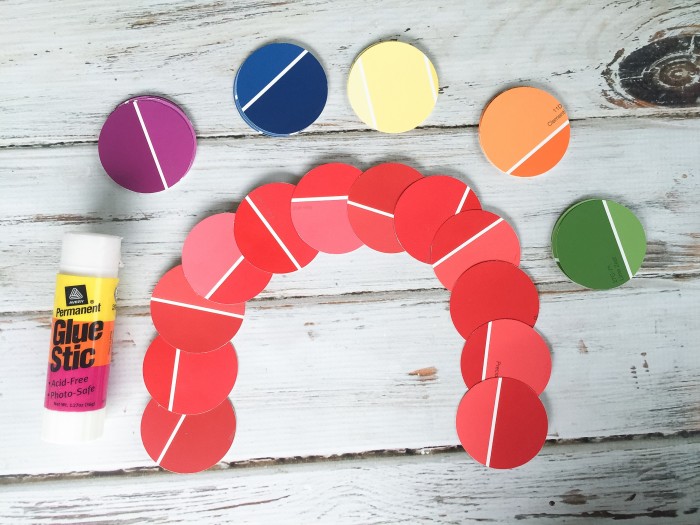 #3. Next, take another color and glue over the first U shape, moving slightly down each time.
#4. Repeat until you've filled the entire rainbow using all the colors you want.
Love easy, cheap crafts? Want to do more
paint chip crafts
? While your in the paint chip section, make sure you pick up enough paint chips to also complete the paint chip
fish
,
monkey
,
pig
, and 
cow
. All of them are really fun and super easy. I love crafts kids can do on their own or with little help!