As one final trip before summer ends and we head back to school my family took an #OmahaWeekend vacation in Nebraska.
Visit Omaha
reached out to me to tell me about their new
Omaha Savings App
and invited my family to come enjoy some of the attractions that are featured on that app. We were so excited to visit places we've been before and some new destinations as well.
We've been to the
Henry Doorly Zoo
before and love it so much! Recently the zoo underwent some updating so it was really fun to see some of the new exhibits and changes. The Omaha Zoo is huge (I guess compared to the zoo's we are used to) and have some awesome exhibits. My family loves the Lied Jungle where you walk through a rain forrest habitat filled with various species of animals. It's really fun to wind through the trees and walk near the river running through it.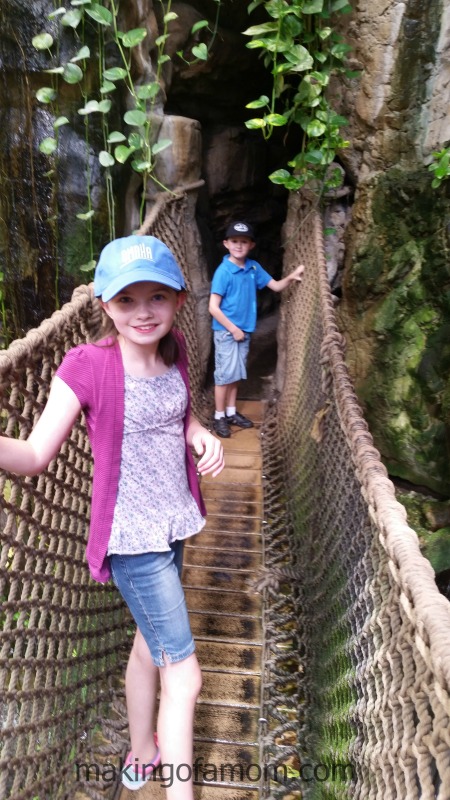 The dessert dome is also a big favorite. Wander through a warm dessert habitat filled with creatures not far off the path. The zoo does a fantastic job of making the enclosures subtle so it feels that you are actually walking with the bob cats and prairie dogs. Of course the birds are actually free to roam where they will.
It was so much fun to visit the giraffes in their home and see them eating lunch. The enclosure across the path is really cool too, with plenty of room for them and their roommates the ostriches. We were there at a great time because some of the young giraffes were chasing each other.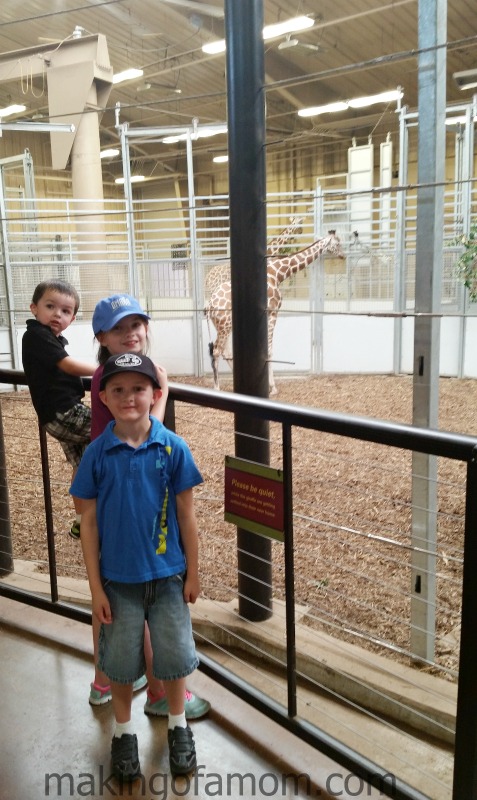 As the children started getting hot and tired it was the perfect time to ride the train, which is a great way to see a lot of animals while sitting down. The Omaha Zoo is really big so allow a whole day for your visit.
With the Omaha Savings App you can get $2 off admission for up to 6 people!
Again, this is another stop we have
visited before
 and the kids love it. Inside you will find tons of magical things children love, from shows, to water tables, slides, music, arts and crafts, super crazy fun ball zone with a ball drop, play grocery store, bank and restaurant,  and traveling exhibits on the second floor. On the second floor there are also rides like a train and a carousel.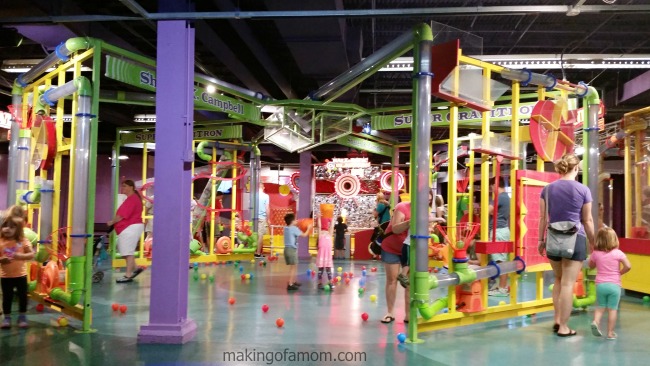 With the Omaha Savings App you can save $2 on admission for up to 6 people as well as 10% off your purchase at the gift shop!
This was a completely new stop for us and ended up being our favorite place in Omaha. Our first order of business was to the fantastic buffet which included salad, soup, pizza, pasta, chicken nuggets, baked potatoes, dessert, ice cream, soda and slushies. Seriously, as awesome assortment of food that pleased everyone in my family. The other awesome part of eating at The Amazing Pizza Machine is the themed dining rooms. We chose the room playing cartoons to help my toddler be happy.
After eating we were off to the games. We first took a lap to look at all of our choices. All of our favorite arcade games were there as well as some new-to-us games. There also was mini bowling, several rides, go carts, and laser tag. It was incredible. We have never been to a place like this before, it was awesome. We let the kids go wild and they got to do everything they wanted to do and more.
If you want to get a good deal at The Amazing Pizza Machine definitely get the Omaha Savings App.
You can get a deal on laser tag and get a free $20 play card by purchasing a buffet!
Don't miss this awesome deals.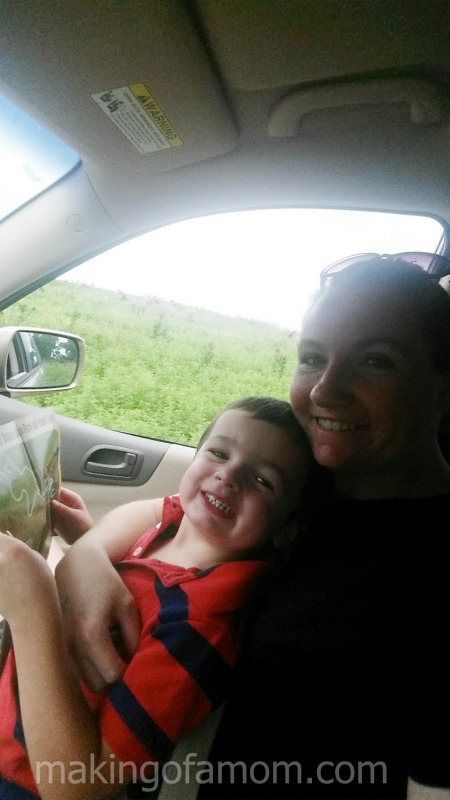 We love drive thru safaris. We look for them where ever we go on vacation, so having the opportunity to visit this one was really exciting. The kids love being able to get up and close with animals we don't often see. This wildlife safari also took it up a notch because in the middle of the driving path was a parking lot to park and go on a hike to see other animals. There was also a little petting barn with goats. It was really fun.
At the Wildlife Safari Park you can save $2 on admission up to 6 people.
Other attractions that have deals on the Omaha Savings App, but we didn't visit are:
Fontenelle Forest
Village Point
Strategic Air command and Aerospace Museum
Joslyn Art Museum
Omaha, Nebraska is filled with really fun family attractions that are now made cheap with these awesome deal with the Omaha Savings App. These particular deals run through December 31, so start planning your #OmahaWeekend now!