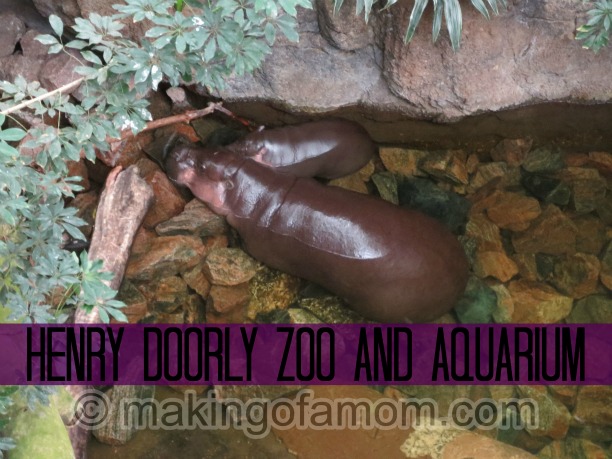 First of all, I am very grateful to the Omaha Convention and Visitors Bureau for sponsoring our trip to the zoo. The Henry Doorly Zoo and Aquarium is amazing! The Henry Doorly Zoo is a massive zoo feature 130 acres of exhibits. One of the things I love about this zoo is that there are so many indoor building exhibits. We were at the zoo on a very hot day and so it was nice to be able to see some animals outside and then head indoors for some more animals in the air conditioning (unless we were in the desert of course).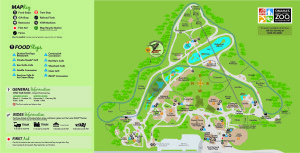 That's right! The Henry Doorly Zoo has an indoor desert. This dome shaped building is quite incredible.
Immerse yourself in a desert environment at the Desert Dome. The world's largest indoor desert, located under the world's largest glazed geodesic dome has become a landmark for the city of Omaha.
Below the desert is an exhibit called Kingdoms of the Night which is the worlds largest nocturnal exhibit. It is pretty amazing to walk through. The amount of detail and the number of animals housed down there is amazing. Check out this fun video about the Dessert Dome and Kingdoms of the Night.
And all of that is just ONE place to visit within the zoo! My other favorite place in the zoo was the Lied Jungle. This is America's largest indoor rainforest. It is so amazing inside, you feel completely submersed in a real rainforest, and watch your head there are low hanging vines. 🙂 The size is impressive. It seems as though we were walking forever, but it was very interesting and never boring. This is where we saw the cute hippos in the top picture. My daughter and I were the brave ones in our family to go across the swinging bridge. It was up close to a waterfall and offered a beautiful view!
Here is a great video talking about the Lied Jungle.
The Aquarium has been newly remodeled and is very nice. It was fun to walk past some penguins strutting their stuff for the crowd. There was a huge variety of fish in dozens of tanks. Of course the most popular tank was the shark tank that involves walking through a tunnel with the sharks swimming above you. This was very fun and offered an interesting perspective as you can see above.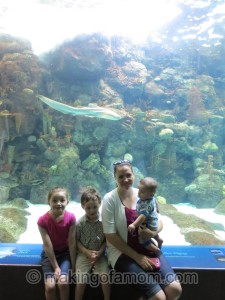 One of the areas of the zoo I really liked was the Orangutan Forest and Gorilla Valley. These two places were completely connected with a series of walkways. You were able to see tons of animals, stay indoors where it was cooler and the paths were wide enough to accommodate tons of people and strollers. This was a really nice area. It was also near the cat complex and the bear canyon so it was a pretty efficient way to see a lot of animals. It had a nice flow.
The Henry Doorly Zoo and Aquarium also has some fun rides. They have a tram, train, carousel and skyfari. You can purchase single ride tickets as well as unlimited day passes. We rode the train because it drove past several animals that were quite a walk to see and since it was hot we decided to ride instead. It was a fun trip. Even my tired, sweaty baby loved it! The zoo also has an IMAX Theater where you can watch a film every hour on the hour.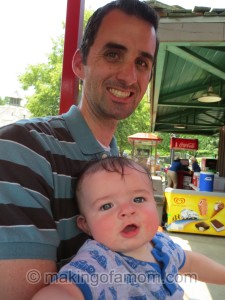 We really loved our time at the Henry Doorly Zoo and Aquarium. We always go to the zoo where ever we are on vacation and this was definitely one of the best zoos we have been to. We would completely put this on the MUST list for your trip to Omaha. Obviously with so many "World's Largest" or "America's Largest" in the description of exhibits, why wouldn't you want to visit? For other family friendly activities in Omaha, be sure to check out my reviews for The Durham Museum, Lauritzen Gardens, Omaha Children Museum and the River City Star.