Driving up to the Omaha Children's Museum you see these funky and colorful wind spinners. These are the perfect welcoming structure for such a fun and colorful museum. The Omaha Convention and Visitors Bureau generously gave my family passes to visit this great museum while we were in town.
I want to note that we got there using  google maps on our phones. The side of the building it took us to didn't have any parking besides on the street, so we parked there and paid a meter. There IS free parking on the opposite side of the building, which we didn't see until were driving away.
The Omaha Children's Museum has a lot of fun permanent exhibits as well as great temporary ones. Visit their website to read about what will be there for your visit! We arrived at the museum in the early afternoon, just in time to sing along with "Princess Poppy". It was very fun to head straight into the little theater and participate in this fun activity. My daughter was very excited!
The museum featured several different activities such as puppets, a water table, play houses, pretend grocery store, baby area, slides, tunnels, a mechanic room, a fire truck, ant farm, crafts, a science and technology center using balls and various ways of manipulating them through the air and so much more!!
My husband and my favorite part of the museum was the Science and Technology center. Here there were various methods of making balls fly in tubes and tracks around the room. Each station within the room featured a didn't was of making the balls get to a centralized location (This chamber would then dump the balls on the children below once it reached a certain capacity). We had fun jumping on pumps, using a water hydrolic system, sticking them in air pressured pipes and many more methods of getting the balls to fly around the room. It was science in action without the kids even realizing it! There are science demonstrations put on several times a day so be sure to check their website for times.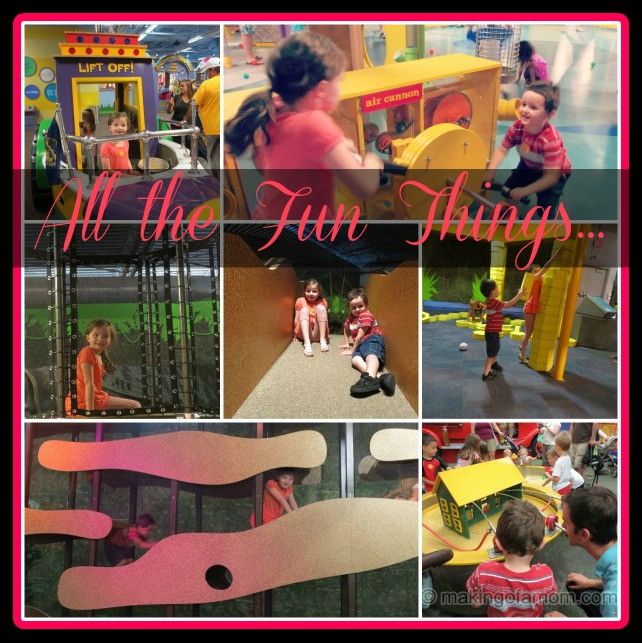 When we were visiting the museum the traveling exhibit was "A Bug's World" which will be at the museum until September 8. In this upper level of the museum we found giant robotic bugs. At first my 4 year old son was hesitant but he quickly warmed up to the bugs when he realized they couldn't get him. My son's favorite part of this exhibit was the ant hill where he could climb up high and take several different routes to the top and bottom. This part of the exhibit stirred memories of my own childhood going to a children's museum with a similar exhibit. There were also honeycomb building blocks, a diner featuring some "buggy" food, an inflatable giant caterpillar obstacle course, live bugs, a coloring station, book and costume corner, giant spider photo op and a tall toadstool that allowed you to go eye to eye with a giant grasshopper. This interesting, educational and interactive exhibit was a lot of fun! Permanently upstairs in the museum is a carousel and a snack bar.
After quite a while of playing with the bugs we heard a call for story and craft time downstairs in the "birthday room" (yup, pick a theme and host a funtastic party at the Omaha Children's Museum!). We hurried downstairs to listen to "The Grouchy Ladybug" and to make ladybug counters. This was a fun break from all the busyness going on in the main part of the museum.
One thing I didn't love about the whole experience was that it was very busy! There were so many people that it was rather easy to loose track of my own kids for a few minutes. I understand why so many people want to be there – it is a TON of fun. It definitely passed the "J test" as we refer to things at our house. When it was time to go he was in tears and didn't want to leave. I was glad that he had such a fun time.
If I lived in Omaha this is an attraction I would want to have a season pass. There are special "members only" hours that are probably less crowded, plus we would be able to go at slower times during the week than when we went. This is a super fun place and definitely gets my recommendation. For other family friendly activities in Omaha, be sure to check out my reviews for The Durham Museum, Lauritzen Gardens, The Henry Doorly Zoo and the River City Star.