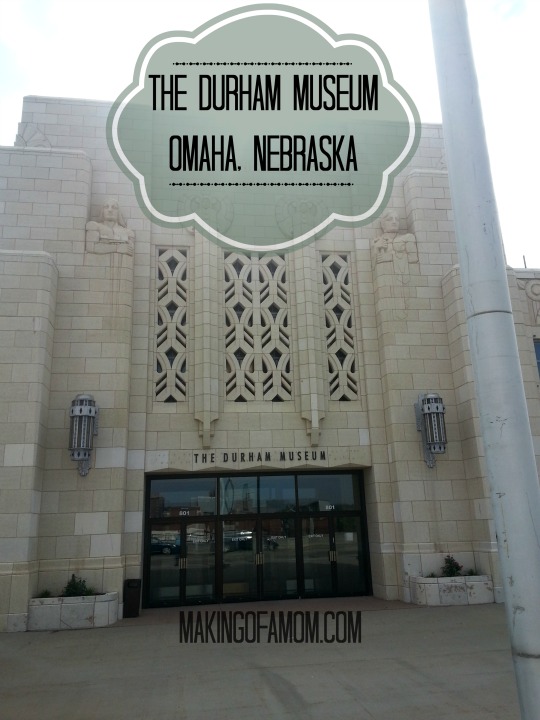 As soon as you drive up to the beautiful old Union Station building that now houses The Durham Museum you know you are in for a treat! This lovely building was announced in 1929 and completed in 1931 to accommodate the rapidly growing railway system in the United States. In 1971 Union Station was closed and after several years of being vacant, it became home to the Western Heritage Museum. It underwent a huge renovation which was completed in 1996 and the museum was renamed The Durham Western Heritage Museum after Charles and Marge Durham. This lovely art-deco themed building radiates history.  A big thanks to The Durham Museum for sponsoring out visit.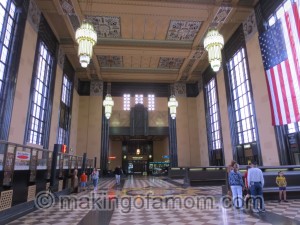 Throughout the main lobby are statues that tell a story of days gone by. My kids loved to sit and listen to the audio clips that are motion activated to hear about history.
Still on the main level is a gallery of pictures and a history of Union Station and Omaha, along with some interesting artifacts.
When you head down stairs you are immediately greeted by the skull of a Tyrannosaurus Rex which helps welcome you to the T Rex Name Sue exhibit. To the left and right of you are trains, a trolley and some building store front replicas. My kids were immediately drawn to the trains so we headed towards those first!
They really loved learning about the wheels on trains and what sort of shaped work and what shapes don't. They also learned how the wheels work and had a chance to be the "power" for the train and see the motion of the wheels.
When we were done with the trains we decided to go take a look at the T-Rex named Sue. The T-Rex skeleton is the most complete skeleton known at being 90% complete. Then we moved onto the kids play room where there is a dinosaur fossil dig site, puzzles, dinosaur operation and a reading station. This was a lot of fun!
One of my favorite parts of The Durham Museum was walking through the antiques and the building fronts. They were so cleverly designed and featured a lot of different buildings such as a home, store, a teepee, a saloon and others. It was very fun to wander through all the different themes and see the artifacts.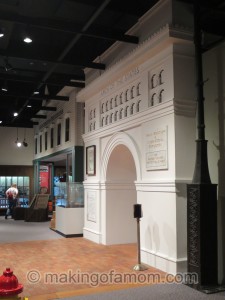 The Durham Museum is a fascinating place to visit. It is fun while being educational. It held my children's attention for over 3 hours as we explored. We had such a great time and definitely want to visit again the next time we visit Omaha! I would put this on your itinerary if you are headed to Omaha.