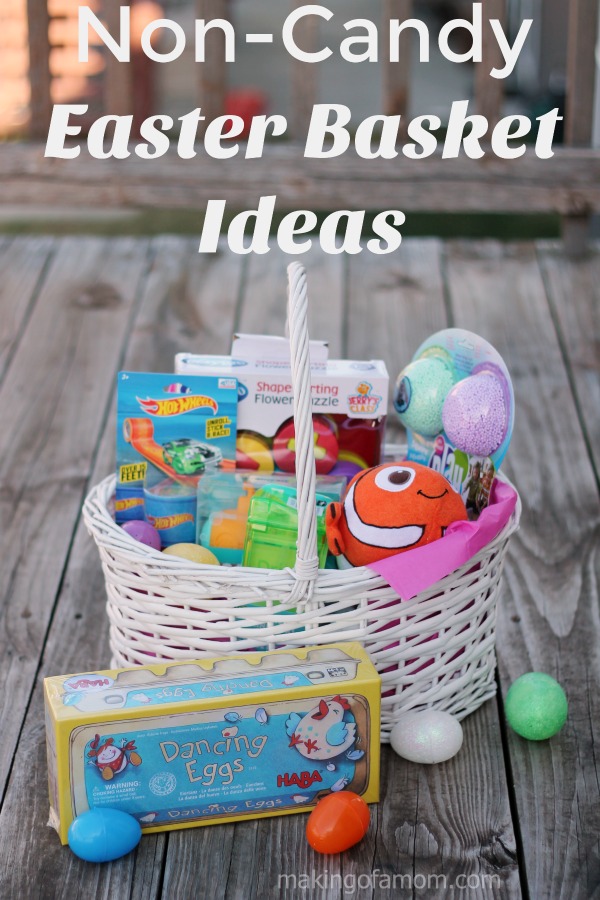 While I do enjoy Easter candy (hello, Cadbury Eggs!) I also prefer to get my children some fun toys and games for their Easter baskets. This year I teamed up with some awesome products to be showcased in an Easter basket so you can skip the sugar and go straight to the fun!
Non-Candy Easter Basket Ideas
All these items were sent to me to be featured and shared with you to give you non-candy ideas for your Easter baskets this year. Let's chat about each item.
Dancing Eggs is a fun game my kids have enjoyed playing. This game does involve a lot of movement and energy which is perfect for kids. The goal is collect as many eggs as you can hold in all the positions you get assigned (for example, between your knees or under your chin). The game offers a fun challenge. The first to drop their eggs ends to game. Dancing Eggs is available at Target and HABAusa.com
Don't keep buying juice boxes, buy a Drink in a Box. The Drink in a  Box is a plastic, reusable box with a straw so you can fill it with your own beverage.
Hot Wheels® PlayTape Track has been a fun way for my boys to create their car tracks. We got them a giant box and they have put the tape every which way to create a crazy race track for their cars. This tape is available at Hobby Lobby and Toys r Us.
Marcus & Marcus Silicone Bath Toys help make bath time fun. Each is made of BPA free and phthalate free silicone. These are available at Amazon.
Shape Sorting Flower Puzzle from Playgro is a fun little stack, match and sort puzzle. Though it is meant for children 12 months+ my toddler will enjoy this toy until my baby is old enough to enjoy it. This toy is also available on Amazon.
Disney Baby SoapSox is another fun way for children to enjoy bath time. With a special opening meant for soap and finger holes for secure scrubbing this is a really fun way to get clean with your favorite Disney character. These are available at SoapSoxKids.com.
PlayFoam Sparkle 4-Pack from Educational Insights is a mess free fun way for children to express their creativity. The foam never dries out which is so perfect!! The PlayFoam is meant for ages 3+ and is available on Amazon.
After exploring these toys I also thought of a couple additional candy-free ideas.
Stickers
Bubbles
Sidewalk chalk
Pencils/Crayons/Markers
Notebooks
Legos
Cars
Dolls
What are some of your non-candy Easter basket ideas?  Feel free to share them in the comments below so we can add to our list!
More Easter Ideas: 
Fun Ways to Celebrate Easter with Your Toddler
White Chocolate Dipped Strawberry Easter Eggs
Pastel Easter Printable Banner
How to Dye Easter Eggs with Food Coloring