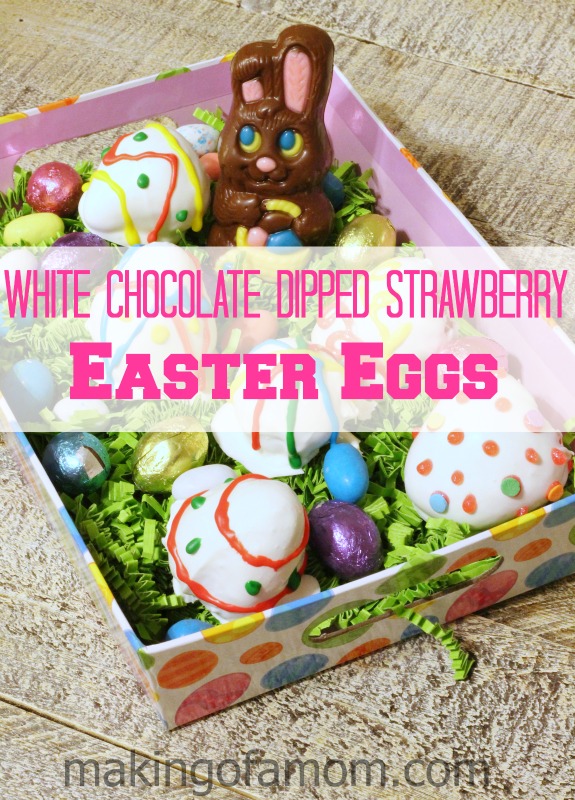 Inspired by some of the cute Easter treats I've seen around the internet, my husband and I got the idea to make some delicious
White Chocolate Dipped Strawberry Easter Eggs
this year. They were fun to make and delicious to eat!
They don't require too many ingredients. Simple gather:
Strawberries- washed and without stems
White Chocolate (we used 1 package of Wilton Melts, they were so easy to work with and tasted amazing!)
Decorating Gel Frostings
Sprinkles or Candy as desired
Wax Paper
Directions:
Melt the Wilton Melts according to the package directions. Depending on how many strawberries you are dipping it may require more bags. 1 bag will cover roughly 15 strawberries.
Dip washed, de-stemmed strawberries in melted chocolate. I placed some on their sides to dry and some standing straight up on wax paper so that they easily lift off.
I found that the Wilton Melts cooled rather quickly so I didn't even need to refrigerate these strawberries. By the time I dipped the last one they were set and ready to be decorated. If you need to step away to do something else feel free to chill them until you are ready to decorate.
As you can tell neither my husband nor myself are artists so our designs are a little rough, but we had fun. It was a little tricky working with the decorating gels but I still think they look cute. We will do this again with our kids closer to Easter and they will love it!
I'm not sure what it is about chocolate cover strawberries but then tend to break down quickly so I recommend eating these within 24 hours of making them. These would make darling treats at a get together with family or friends, a fun project for the family to eat right away, or a fun little party activity with your kids and their friends.  There isn't much preparation, easy to make and so fun to decorate.

For more Easter crafts and recipes I have an awesome Easter section for your enjoyment. Looking for another chocolate dipped strawberry idea? Take a look at how cute these Chocolate Dipped Strawberry Carrots are!