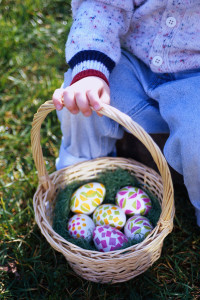 Easter is one of the most fun holidays for children, and why shouldn't it be, it is filled with vibrant décor, Easter egg hunts and is an overall lovely time for family and friends to spend together. It's a great holiday to dress up your toddler in bright spring outfits and to venture out to meet the Easter bunny. If this is your first Easter with your toddler, then you should definitely make the experience fun for him or her. Easter is a great holiday for arts and crafts, family time, and fun, so make sure you take advantage of the holiday and all the fun activities you can do together. Here are some great ideas for you and your toddler to make sure you have a memorable Easter together.
Introduce Your Tot to Family Tradition
If there are certain traditions your family has for Easter day, make sure you introduce those traditions to your toddler in an easy and fun manner. Whether you attend Sunday Mass or decorate the house Easter morning, make sure you involve your toddler so that you can familiarize him or her with tradition as well as get him or her involved in the fun. It's always best to explain things to your toddler in a fun way so they can remember the tradition next time and can have something to look forward to for next year.
Decorating Easter Eggs
Decorating Easter eggs is definitely something your tot will remember. Decorating eggs is a great way to bond with your toddler and is a really fun way for your toddler to express himself or herself. While an arts and crafts project may feel a little daunting, especially when you have a younger child on your hands, there are easy ways of going about decorating eggs so that the experience is fun for you and your child.
It'll probably be easier for you to dip and dye your eggs instead of letting your tots, because they can potentially create a mess. However, you can hand them a little paint brush or some crayons and an egg and watch them explore their creative side.
Decorating Baskets
When decorating Easter baskets, you should do all and any cutting required. If you do decide to use some Easter grass, you have to be extremely careful as this can be a choking hazard for your toddler. Instead of Easter grass, you can opt for some colored paper or tissue. Instead of decorating your Easter basket with little chocolates or candy that could again be a choking hazard, why not put in some nice toddler toys in the basket such as coloring books or stuffed animals? Organize the basket with your toddler, it'll be really fun and a great bonding experience.
Organizing an Easter Egg Hunt
And when you've had just about all the decorating you can, get together with your friends and family or community to organize and participate in an Easter egg hunt. Easter egg hunts are a great way for you to bond with your toddler as well as your toddler to run around with other kids their size. There is nothing quite exciting as hunting for Easter eggs with friends and family.
Rick and Annie are parents who established http://babystrollerconsultant.com. They love to share new parent advice on a range of topics such as what kind of baby stroller to select for your newborn to how to have a fun Easter with your toddler.