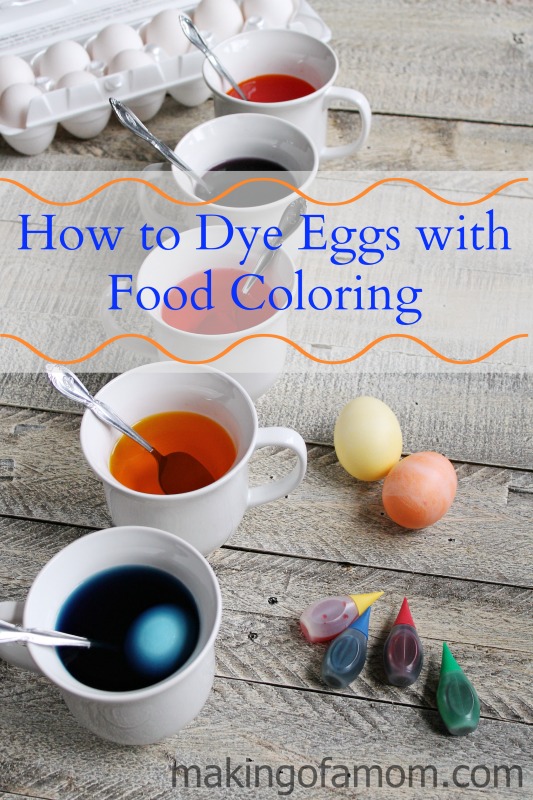 If you have plenty of food coloring on hand, there is no reason to run out for an egg dying kit. The truth is you can dye Easter eggs with just food coloring, vinegar, and hot water, and get the same vibrant results as you would with a store bought kit. If you want to try something new this year, take a look below at
how to dye Easter eggs with food coloring
and get some dazzling results. You will be amazed at what just a little food coloring can do.
When choosing your food coloring, there are so many varieties out there. You can use a basic kit, or choose one of the neon or bright varieties on the market. As long as it is food coloring, it will work well for this project no matter the variety.
Supplies needed:
Boiling water (the amount you need will depend on how many eggs and colors you are doing)
Assorted food coloring (Both basic colors and neon varieties are great)
Vinegar  (again the amount will depend on the number of colors you are using, but a good rule of thumb is one teaspoon per cup of coloring)
Cups, one per color
Spoons
Hard boiled eggs
Directions:
1. Begin by mixing ½ cup of boiling water and a teaspoon of vinegar into each cup. Since you are working with boiling water here, this is a step that only an adult should do.
2. You can now add your food coloring. About 12-15 drops seems to be sufficient, but use more if you want darker hues. Mix well.
3.  Drop the eggs into each cup and allow them to sit for 5-7 minutes. The longer you leave them in, the bolder the color will be. Your spoons will come in handy here as far as dropping the eggs in and taking them out.
4. Remove the eggs when done and place on a paper towel or back in the egg carton to dry.
The great thing about food coloring is you are free to mix it up to achieve various colors. Mix some red and blue to get purple, or try some other color combinations of your choice. Get creative, have fun, and save a little cash in the process.
Gather your supplies and give this tutorial for dying eggs with food coloring a try! You are sure to find it fun and easy!