I love getting ready for
patriotic holidays
and making cute decorations for my home. Here is an intermediate tutorial for a
3 Star String Art
decoration. Hang it outside on your porch or lean it indoors on your fireplace mantel. Where ever you put it, it'll be an impressive piece of decor.
Materials:
Embroidery Floss
–1 each of red, white and blue
Nails with nail head.
–I'm using wire nails I picked up at Wal-Mart. A 2 oz package of 3/4″ nails.
Tack Hammer or Regular Hammer
Wood Board
–Mine is a pallet board and measures 14″ x 5-1/2″
Printed Star Pattern (click link to open and print)
–Print on paper, not card stock
Tape Measure or Ruler
Masking Tape
Sanding Block (optional)
Directions:
If your wood board has rough edges, use a sanding block to remove them. I lightly sanded my rough pallet board.
I like to work with an old towel on my surface. It helps keep the board in place and softens the pounding.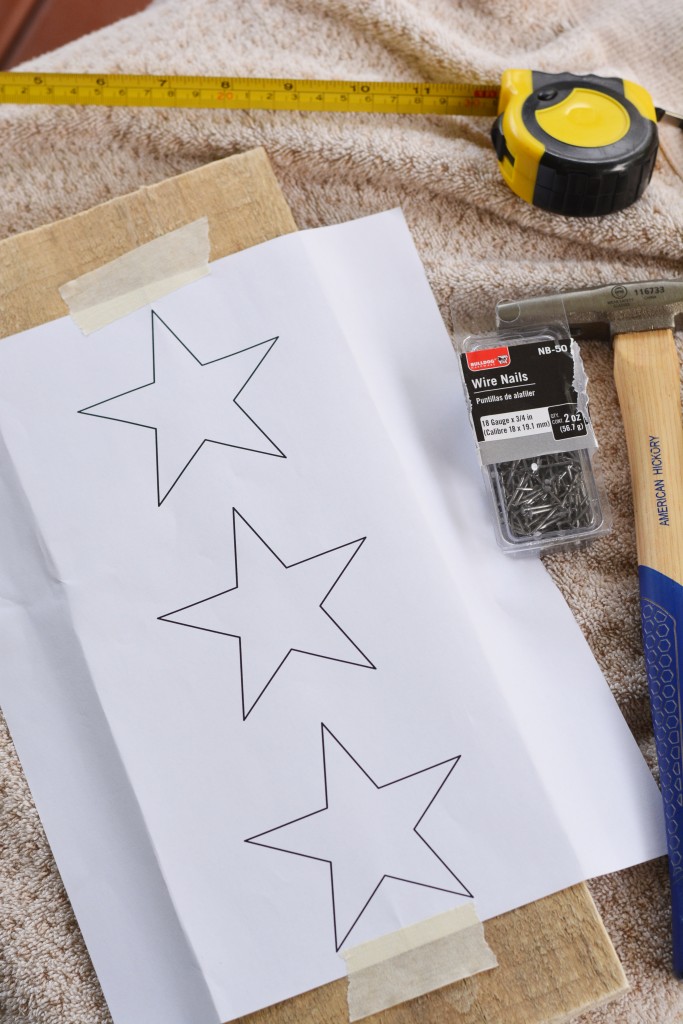 Center the
star pattern
on your board. Use a ruler to measure and line up. You can also cut out the stars and position them how you'd like. Affix pattern with masking tape.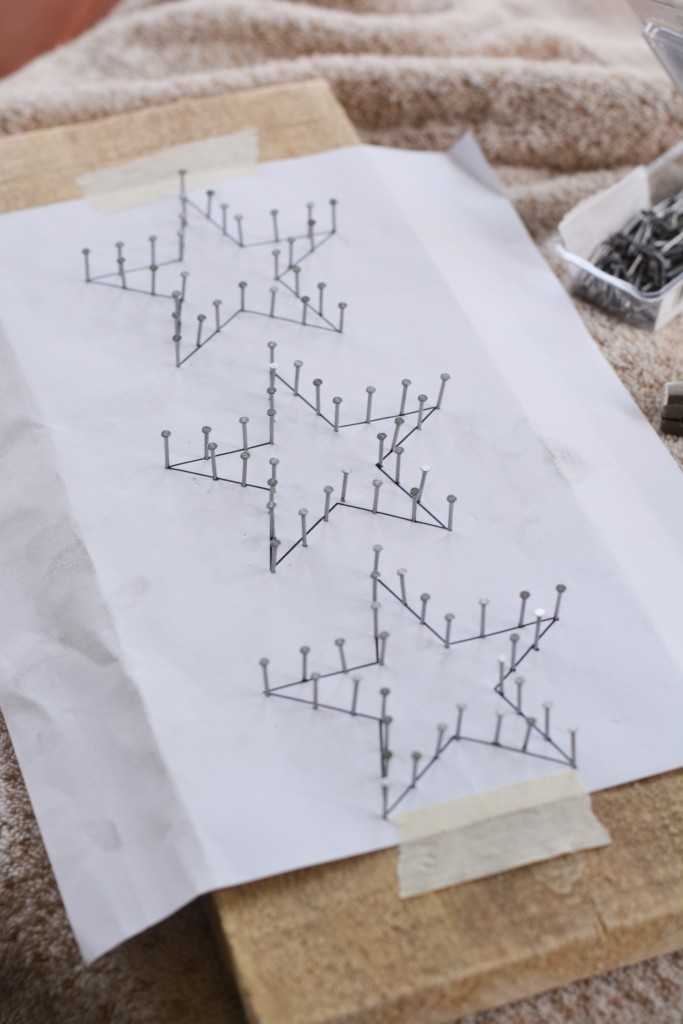 Begin adding nails. Pound about 1/3 of the way into your board. I always begin at the top and move to the left. I am right handed and use my left hand to place and hold the nail, and my right hand to drive it into the wood with the hammer. My nails are about 1/2″ apart. Continue until your pattern is finished.
Remove the pattern. It is important to pull the pattern UP and AWAY from your board before tearing it off. If you don't lift it up, you'll end up with little pieces of paper by the nails that can be removed with tweezers. Not fun.
String your stars. Begin with embroidery floss. Unwind it a bit so it doesn't tangle (mine usually always does). You'll be using all six strands. Do not separate. Begin by tying the string to a nail – any nail, anywhere. Double knot and leave a tail. String away!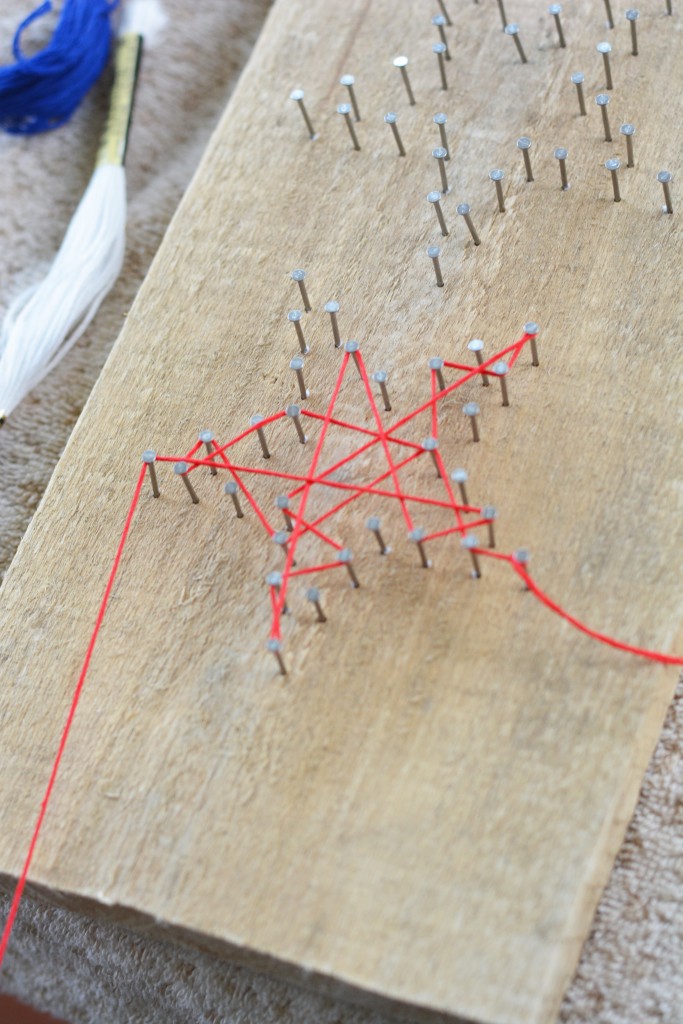 I begin with a zig zag motion, hitting every other one and then weaving back and forth, up and down. There's no right or wrong way, and you can fill it in as much as you want. When you're happy with the fill of the star, return your string to the starting nail (with the tail, the one you tied the string onto)
Note: Your string will need to be tight and will at one point probably slip out of your hands and off a nail and unwind! To prevent this, I usually wrap my string completely around a nail head after stringing about five nails.
You will now begin the outline. You can do the inside or the outside outline first, it doesn't matter. Begin by moving from one nail to the next and completely wrapping your string around the head of the nail and moving onto the neighbor nail. When you return to the starting point, reverse direction and begin the opposite outline (if you started with the inside, you'll now be doing the outside, etc). When you finish, tie the two strings together in a double knot.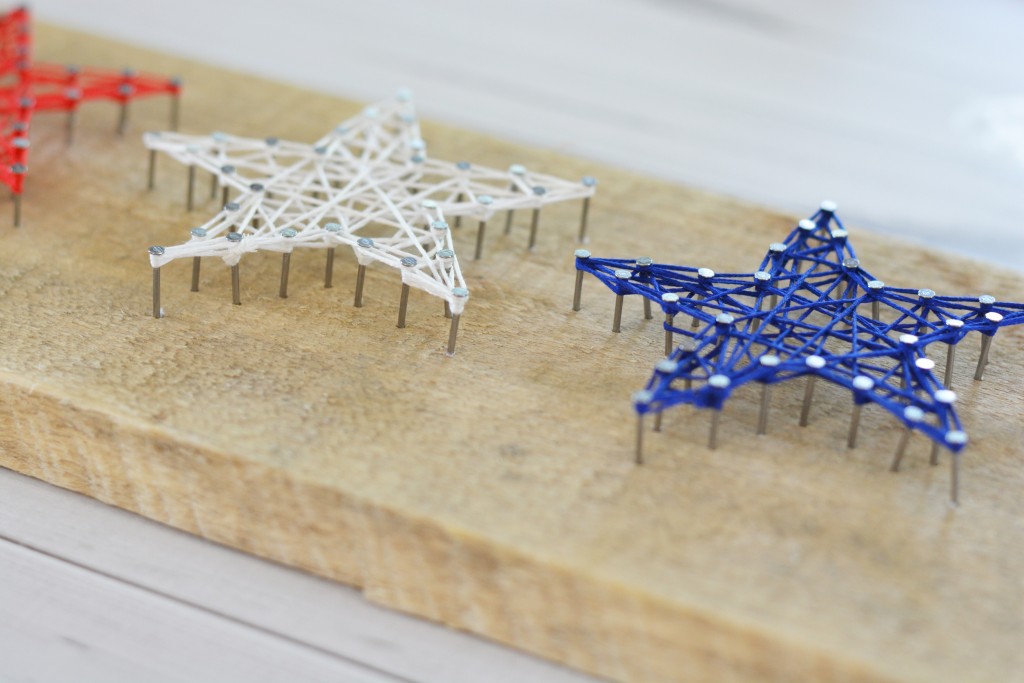 Trim strings. Sometimes I apply a little saliva to my string ends after cutting, It helps smooth them and hide them next to the other string.
Continue on all stars and display!
Check out my other
4th of July crafts
, including an easy kids craft!