Disclsoure: I received free product sample as part of the BabySpa ambassador program. All experiences and opinions are my own. Yours may differ.
My baby has some very sensitive skin! He started with some small patches of Eczema but as the summer has come around and temperatures have risen it has flared up really bad. We have tried some many things to help control it and not many have worked. We did find that a combination of products was doing pretty good to keep it in check. One of those items is the BabySpa Calming Eczema Relief Cream, the other is oil.
Intensively soothing and hydrating, our Calming Eczema Relief Cream provides immediate comfort to eczema-prone baby skin. Specially formulated with Colloidal Oatmeal, our skin-conditioning blend helps to protect and relieve dry & itchy patches. Vitamin-rich oils of Jojoba and Calendula are combined with Shea Butter, Aloe, and Chamomile to naturally soothe irritated skin for a calming and refreshing feel. Our ultra-mild and fragrance-free formula also contains a Botanical Allantoin extract, to nourish sensitive skin and provide a healthy, supple feel.
My baby loves when we rub him down with this cream. He especially loves when we rub under his chin. He gets so calm and you can tell it really is offering him great relief. He closes his eyes and almost falls asleep because it feels so good to him.
Along with my baby, I also have had a small patch of Eczema flare up with the summer. I decided to also try out my baby's Eczema cream and this stuff cleared up my patch within a few days. My spot was not near as bad at all the patches all over my baby's body, though. 
Since baby's have such sensitive skin and require such special treatments, I'm glad to have a BabySpa arsenal of products for the taking. Earlier this year I talked about their bath products. In that post I told you about how all the baby spa products are natural and free from chemicals.
BabySpa likes to feature different products throughout the year. Right now they are featuring the Calming Eczema Relief Cream, Diaper Cream & Nourishing Massage Oil. You also have a chance to win this gift bundle!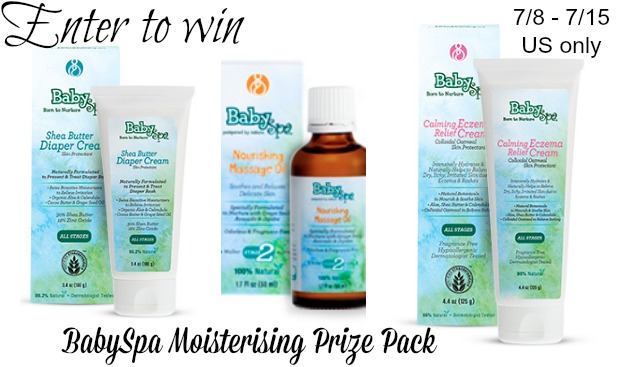 This giveaway runs from 7/8 through 7/15 for US residents 18+ only. Winner will be verified, emailed and have 48 hours to respond before a new winner is chosen. Please enter through the rafflecopter below. Good luck!