Disclosure: As a Baby Spa Ambassador I am sent free products for review and promotional purposes. All experiences and opinions are my own. Yours may differ.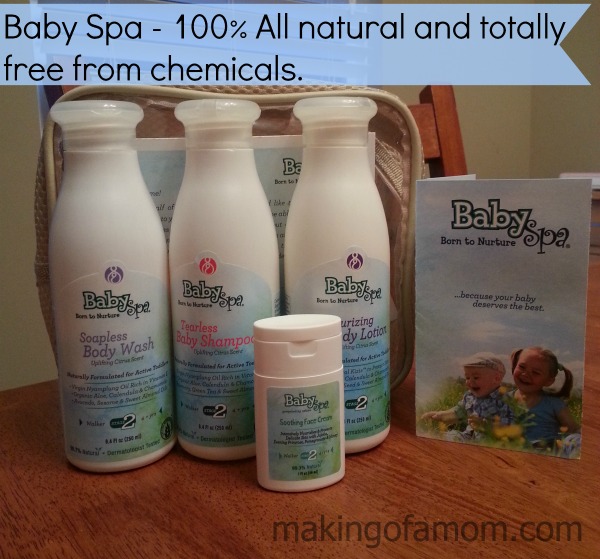 Do you like learning about new products for your children? I really do. I think it is fun to come across new products that will benefit my life and my kids lives. I am not one of those Mom's that is obsessed with natural, organic or any of that other stuff, but I know a lot of people are. For those Mom's there is Baby Spa.
Baby Spa is a brand of products meant for children that is all natural and chemical free. They use plant extracts, roots and flowers to do the dirty work. The Baby Spa collection contains over 30 different botanicals, each one selected for their unique benefits and therapeutic qualities.
Baby Spa works in 2 stages. Stage 1 is for children newborn to crawler. These products are for delicate skin . Stage 2 is for walkers through 4 year olds. This stage is for tender skin that is more often exposed to outdoor elements and environments.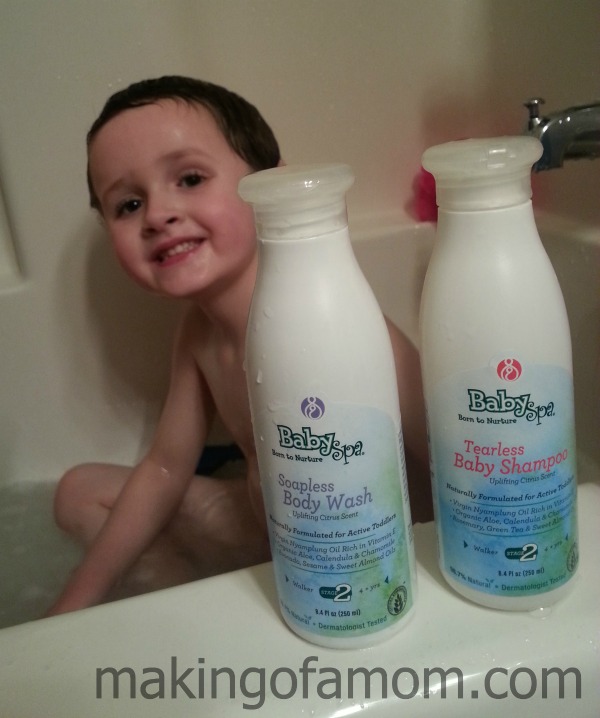 I was sent the Splish Splash stage 2 kit. This kit included Soapless Body Wash, Tearless Shampoo, Moisturizing Body Lotion and Soothing Face cream. There is a citrusy smell to the products that I think smells really good. The smell of citrus is said to boost your mood so you are getting clean and happy when you use the Baby Spa products.
What is in the soapless body wash?
Virgin Nyamplung Oil Rich in Vitamin E
Organic Aloe, Calendula & Chamomile
Avocado, Sesame & Sweet Almond Oils
How about the tearless Shampoo?
Virgin Nyamplung Oil Rich in Vitamin E
Organic Aloe, Calendula & Chamomile
Rosemary, Green Tea & Sweet Almond Oil
As you can see, each product really is natural and free from harsh chemicals.  I am new and skeptical of these types of things so as I use it we will see if I notice a difference or think it is superior to my usual baby soap.
My baby has patches of eczema on his body and so I was very interested to try this all natural lotion on his skin. So far, no difference has been made but it has only been a couple of days. I will continue to use it to see if it helps his skin. Baby Spa does have a Calming Eczema Relief Cream which I am very excited to try at some point. I really hope to find relief for my baby's skin with these products. In case you are wondering what is in the lotion:
Ethnobotanical Kizis™ to Protect Skin
Organic Aloe, Calendula & Chamomile
Jojoba, Grape Seed & Sweet Almond Oils
Baby Spa products can be bought on the Baby Spa website.  In addition to the skin care line they also have organic baby wipes, herbal insect repellent, You can purchase individual products as well as gift sets and bundles. These would be great as gifts for an expecting or new Mom. If chemicals in baby products is a concern for you then you will also be interested in these items. Stay tuned as I will be receiving more Baby Spa products for review.
GIVEAWAY TIME
BabySpa is giving one lucky reader their own Splish Splash Stage 2 kit! This giveaway will run from April 9 – April 18. Winner will be verified, emailed and have 48 hours to respond. Open to US only. Enter through the rafflecopter below. Good luck!