Disclaimer: I received a free product sample for review purposes. All experiences and opinions are my own. Yours may differ.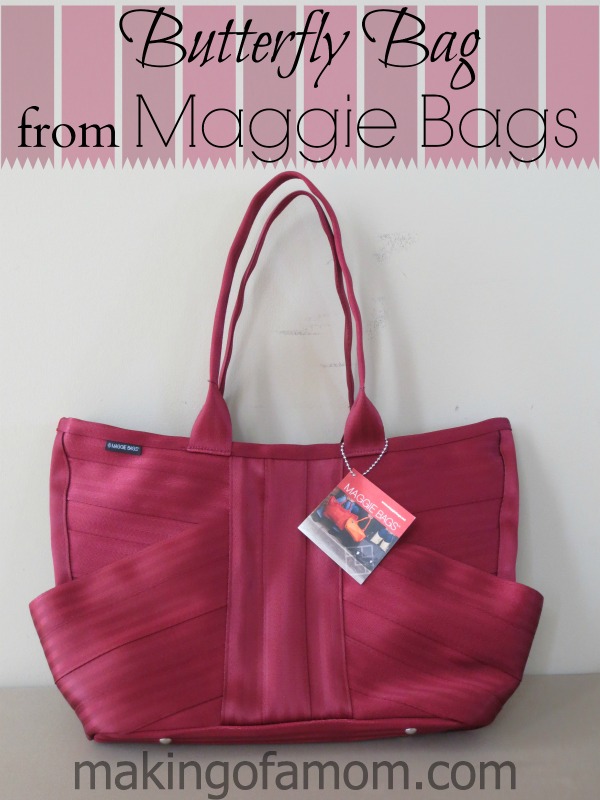 I have a handbag fetish. I LOVE purses. Even though I love them I don't just buy them to buy them. I wait until I find a special bag, or an amazing bag and then I buy it. When I am traveling I usually try to choose a purse as my souvenir. That way I will get to use it often and remember my trips. I have purses from my trips to South Korea, Austria and Mexico. Although my Maggie Bag isn't from a trip, it is beautiful, special and one of my favorite bags!
I asked Maggie Bags if I could review the Butterfly Bag in Cranberry. From the Maggie Bags website:
Step out in style with the beautiful and unique Butterfly Bag. It features the signature Maggie Bags lining and inside pockets plus outside pockets on each side that wrap around the sides. As an extra bonus the outside pockets have tiny zipper pockets great for the essential you need to keep at your fingertips! The recently redesigned Butterfly Bag boasts a longer shoulder strap and a wider base to hold even more than before. It might possibly be the prettiest seatbelt handbag ever!
One obvious reason Maggie Bags are special is because they are uniquely made out of seat belts.  I was very surprised how large the bag is when it showed up at my door. I had been wanting to get a new diaper bag so once I saw how huge the bag was, I knew my new diaper bag had just arrived!
The Butterfly Bag has been revamped. I guess there was an old version of the bag and they decided to change it up based on customer requests. The new Butterfly Bag features a longer 11 inch handle to comfortably and easily wear on your shoulder as well as a wider bottom. The bottom is 2 straps wide, although with all the supplies I put in my bag it still tips over. I could stand to have a wider base of the bag. I love that the bottom of the bag has 4 metal pegs for "feet" so that the bag doesn't rest on the floor. But the number 1 feature of this bag for me is:
The POCKETS! If I could sum up this bag in one word it would be POCKETS! This amazing bag has 10 pockets! There are even pockets inside of pockets. Talk about amazing storage and organization. This is what convinced me that my bag would be my new diaper bag, but for others this is going to be a fantastic way to never lose your keys or cell phone again! I guess when you consider that the entire bag zips at the top making the whole thing a pocket, there are really 11! 🙂
This bag is super sturdy. I have actually been through several diaper bags. My conclusion is that they are made poorly.  Although this Maggie Bag isn't intended to be a diaper bag, it is super sturdy and so I know it will be my last diaper bag. The construction is high quality and will withstand a lot of use. I'm totally in love!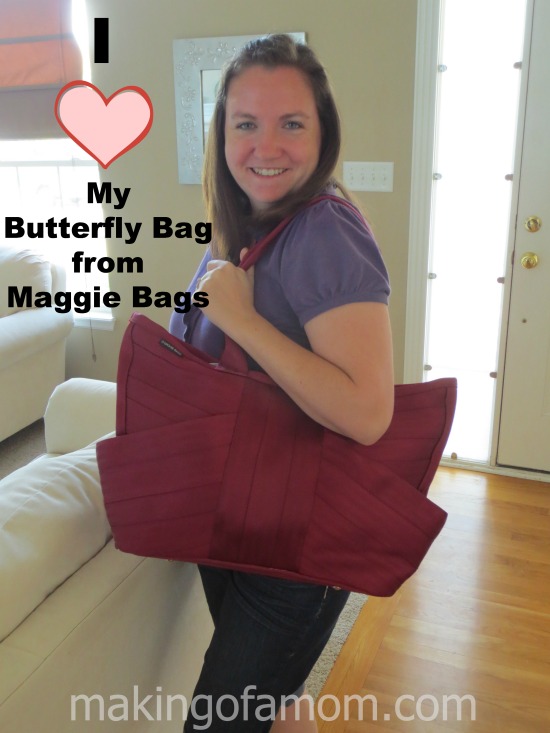 This lovely bag can be purchased at the Maggie Bags website and has a $114 price tag. You can also try your luck at winning a Butterfly Bag from Maggie Bags! They are generously giving one lucky reader a Butterfly Bag in your choice of color (of the colors in stock at the time). This giveaway is open to US residents ages 18+. Making of a Mom is not responsible for prize shipment. Winner will be verfied, emailed and have 48 hours to claim prize before a new winner will be chosen, no exceptions. This giveaway will run from November 11 through November 21. Enter through the rafflecopter below. Good luck!
a Rafflecopter giveaway