My family's first international experience was to travel to South Korea in May of 2006. My husband had to go there on business and my 6 month old baby and I tagged along. We flew from Los Angeles to Busan, South Korea and from there took a taxi to Changwon, South Korea. We were very excited, and very scared at the same time. During the flight our daughter slept several hours (as it was over our night time) and we watched several movies. She did a really good job for being only 6 months old!
When we got to the airport in Busan we were told to take a taxi to our hotel in Changwon. We thought that would be easy enough until we found that NO ONE spoke English. We luckily had a print out with the hotel name and city on it and found a driver that knew where we needed to go. We, naively, brought our carseat along thinking we were keeping out baby safe, when in reality, they didn't care about carseats, or seat belts for that matter. We all just held on for dear life and prayed we would arrive safely.
When we finally arrived at the hotel and got settled for the night I shed many tears. I kept thinking "What have I done? Why am I here?" I have had this same experience with every international trip I have taken since. It is overwhelming to be in a new country (and this being out first time in a new country) where no one speaks your language. Because of the crazy time difference we were up every couple of hours with our baby watching shows and playing games because it wasn't bedtime on her little internal clock.
Changwon, from what I gathered, is a non touristy town about 45 minutes inland from Busan. I thought it was interesting that the part of the city we were in reminded me of Times Square New York with all of the lights and banners. This picture is from across the street from our hotel.
Everyday my husband had to go to work so my daughter and I would take little walks around the block and through some nearby streets. Since no one spoke English, and I wasn't very well traveled, I wasn't brave enough to explore any further on my own.
We came to find the Korean people very entranced with my daughter. She has very creamy white skin and light hair. Everyone we passed on the street or in shops would stop us to touch her. Some would put money under her bib or tucked into her clothes. At one store a lady came up to us and unbuckled her from her stroller and carried her off to show her co-workers. We tried to speak to her, but of course she didn't understand what we were saying. We just followed her around the store until she handed our baby back.
I am not very good about trying new food, so we mostly ate food that was familiar to us. We went to Outback, had Domino's pizza delivered, went to Benigan's and McDonald's.
Some unique technology we came across while at the mall having McDonald's was this glass sanitizer. If you wanted to have water with your meal they had these water stations where you would use real glasses. When you were finished you would place the glass into the glass sanitizer that was using UV lights to sanitize the glasses.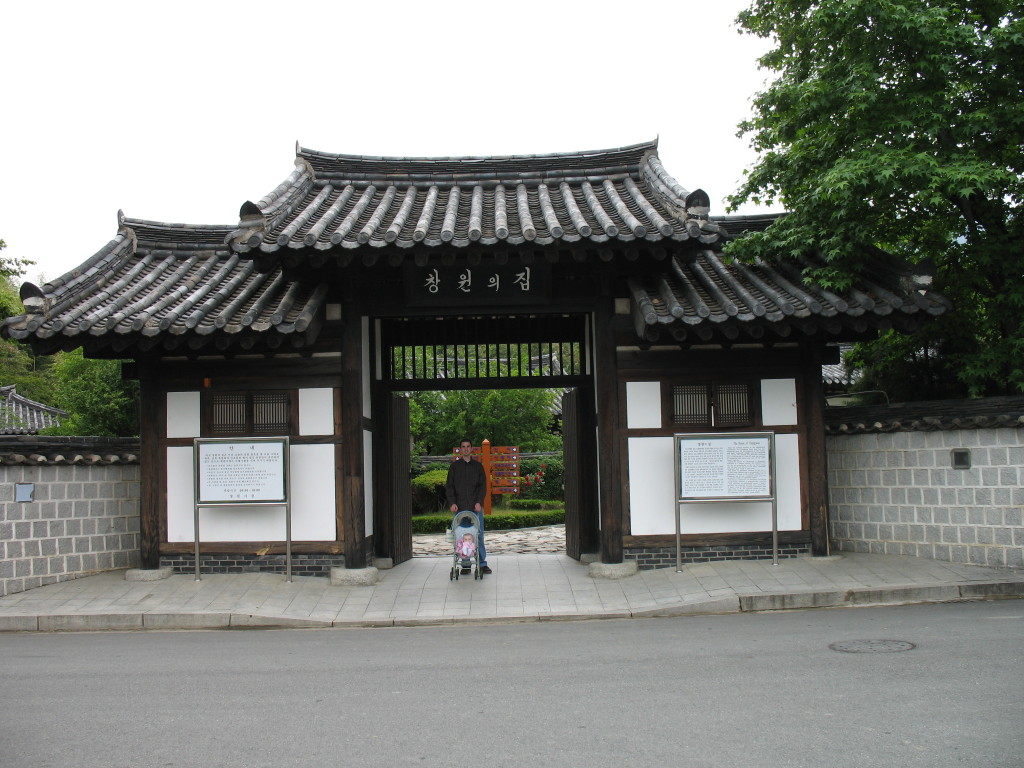 We didn't do too many touristy things while we were there since my husband was at work most of the time. On the one weekend we were there, we visited the Traditional Korean House. We had the hotel front desk attendant write out directions in Korean so we would be able to give it to our taxi drive to get us to where we wanted to go.
The Traditional Korean House location included several buildings that would be typical in old Korea, as well as some games that they played (which are stilled played here as well).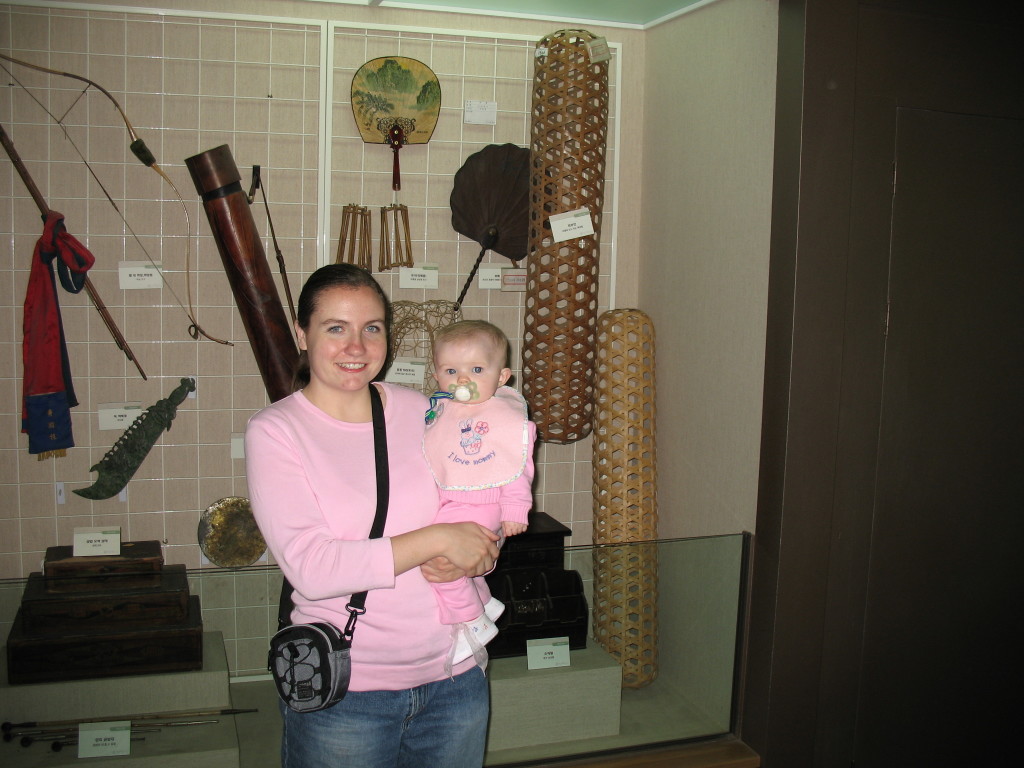 We loved this sign and how it shows the difference in English grammar compared to how Koreans speak.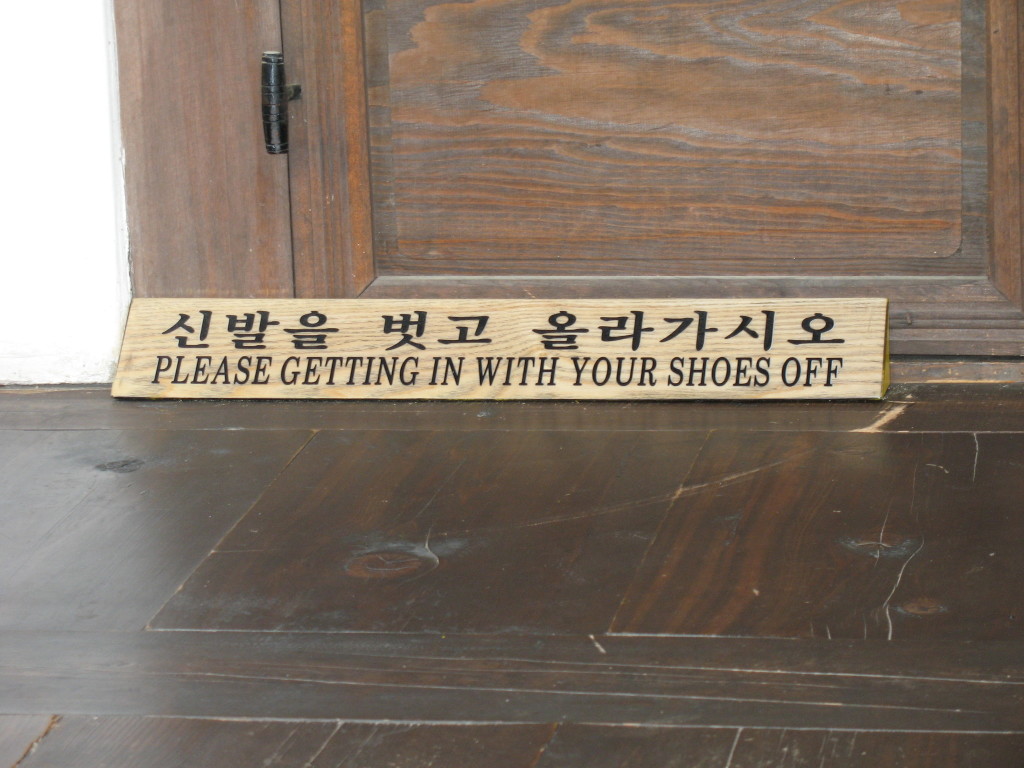 We also were brave one day and took a taxi to a traditional shopping store where individuals had set up booths. I bought a couple necklaces and a purse and we bought a parasol for our daughter. I like to buy useful or unique souvenirs when we are on vacation. I love wearing those necklaces and remembering our interesting time in South Korea.
This first trip, although a little scary, kicked off my love for international travel. It was such a great learning experience. Since then we have been on several international trips that I am excited to share with you in future editions of Travel Tuesday.
Have you been to South Korea?