It was the fall of 2006. I had talked to some of my sisters about wanting to go
on a cruise. In the back of my head I was really thinking "yeah right, going on a cruise is what other people do, not me." I didn't think there was any way that it would happen. I didn't know anyone that had ever been on a cruise (well maybe one of my sister's and her husband had, but I hadn't even seen pictures of it). To me a cruise was something that people did on TV shows, or won on game shows like The Price is Right. You can imagine my amazement when my brother in law called to say they had booked a cruise, gave me all the information and instructed me to get my family booked also. So I did! Since it was my first cruise I went right to the Carnival website and bought my cruise (I cringe now when I think of what I paid for that 5 day 4 night cruise! I will be sharing tips for cruising on the cheap in future Travel Tuesday posts) This was the beginning of a beautiful addiction!
Some facts about the Carnival Paradise:
It was refurbished in 2008 (I went in 2006 so I can't say how the new look is working out)
It weights 70,367 tons (this is small!)
It is 855 feet long
It holds 2628 passengers
14 elevators
6 hot tubs
2 swimming pools
jogging track
mini golf
Camp Carnival and more….
November
20, 2006 we obeyed the cruise documents to get in line at 1pm (it's a lie! *TIP* Get in line earlier than that!) We knew that the first thing you do is head to the food! Your bags and room aren't ready yet, so head to the food and enjoy.
As we were walking up the gang plank I remember pinching myself several times to make sure this was really happening. It all felt so surreal. I also remember being a little teary because of how excited I was. Stepping onto the ship and entering into the lobby was a beautiful experience. Everything was shiny and exciting. The staff was friendly. I remember being a little overwhelmed as we tried to find the buffet thinking I would never find my way around the ship. (Once you have been on one cruise, most ships have the same basic layout, so you basically know where you are going on every ship after that!)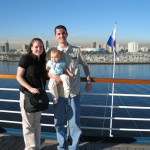 All of the firsts were amazing. Standing up on deck looking over Long Beach. Watching others rush to get in line to get on the ship. Getting reprimanded when I called it a "boat". Exploring the ship. Playing miniature golf. Going to our room and realizing how TINY it really was, but how COMFORTABLE the beds were!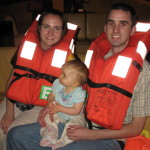 Since it was our first cruise the muster drill was fun and exciting, not annoying! 🙂
We decided to use this trip as a celebration for our anniversary we would be celebrating the next month, so my husband surprised me with a cake. It was tasty!
On this cruise we left out of Los Angeles and traveled to Catalina Island, Ensenada, Mexico and back to Los Angeles. We did shore
excursions on each of those stops (again, young, inexperienced Stefanie didn't know it is better to plan your own excursions.)
At Catalina Island we went on a glass bottom boat tour. The captain of the boat would throw food overboard so that we could see the fish gather in the windows on the bottom of the boat. It was lame, but fun to be together as family.
In Ensenada we went to La Bufadora or the blow hole. It was a fun stop. You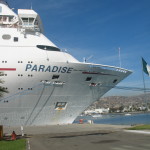 had to walk down a long street (an outdoor market of sorts) with shop owners calling for you to come inside their shop. This was my first time in Mexico so I hadn't experienced anything like this before. It was a little intimidating. Now I know you just ignore them and keep moving! When you get to the end of the street you reach the coast. There is a spot in the rocks when the waves hit it, it makes the water shoot high into the air, thus the name blow hole. It was a fun stop, but probably not worth what we paid for it going through the cruise line.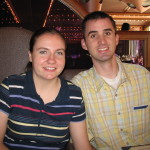 We packed everything we could into this 5 day vacation. It was an even better trip since we were with family! It was so fun, but really short. Time flies when you are having fun and this short cruise FLEW by. I would recommend at least a 7 day cruise when you go. I have been on a 9 day cruise, and that was awesome, but you can't always take that much time off.
It was a great learning experience! Now that I have been on several cruises, and with different cruise companies I will have several upcoming posts on Travel Tuesday about my cruise tips and reviews of cruise lines.
Since my first cruise was with Carnival Cruise Lines I had a very positive impression of them. They were the only thing I knew, so they were the best! I have since been on Royal Caribbean and Princess, so now I know where in the ranking of those three  I would put Carnival stayed tuned for my ranking and reviews.
Have you been on a cruise? What is your favorite cruise line? Stay tuned for more Travel Tuesday adventures!