This trip was sponsored by Tours4Fun.com but all opinions are my own. Get ready for a picture explosion and long post!

I was very excited for the Bahamas cruise we took in March. The stops would be Coco Cay – Royal Caribbean's private island and Nassau, Bahamas. Before the trip I researched the excursions for both locations. Heidi and I settled on kayaking at Coco Cay and just walking around, playing things by ear in Nassau.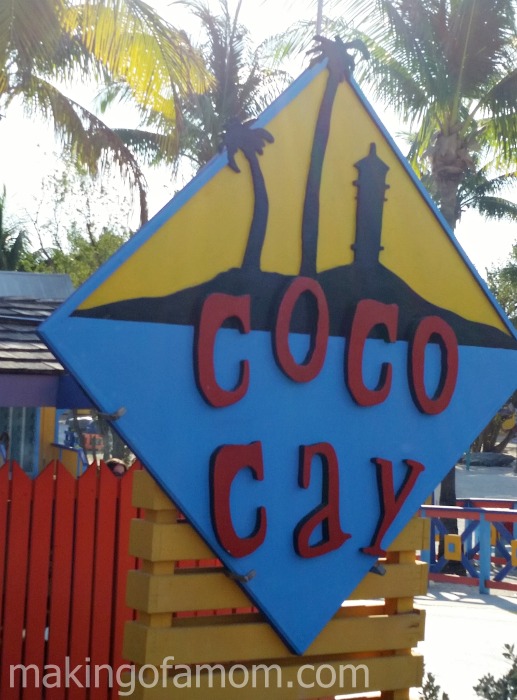 When we arrived in Coco Cay we were very excited to experience this beautiful tropical paradise together. We ate breakfast, filled our water bottles and headed to the tender boats. The tenders were big so we were able to get right on and head to Coco Cay. Tendering only took about 10 minutes. Our kayaking excursion wasn't for several hours so we were able to explore the island and enjoy the ocean.

There are a lot of things I LOVE about Coco Cay and I have a few tips for you also!
Get off the boat early! We got off about 9am and the island was mostly bare! We were able to have our choice of seating everywhere.
There are a lot of great "sections" on the island. When you first get off the tender and head to the beach that section of chairs is under Palm Trees. They provide a little shade but not much. Keep walking and there is a section of chairs under pine trees. There is a lot of share there. Keep walking and your on a different section of beach and near the aqua park. Around the corner from that is another section of beach where the kayaking shore excursions take off and there wasn't any shade. There were also picnic tables and a basketball court.
Rent a locker first thing! We didn't know there were lockers on the island and left our things on a chair as we wandered. For $10 you can have a locker all day long. There are 5 different locations on the island so as you move around you can move your stuff with you to a locker near you! Do it! They are big.
If you don't book an excursion beforehand, don't worry, there is plenty of opportunity on the island. In fact, you don't even need an excursion, there is kayak and paddle boat rentals for 30 minutes and an hour. You can buy an aqua park pass, or just a pass for the big waterside on the island. There is so much to do or you can do a lot of nothing!
Lunch is FREE! Cruises nickel and dime you every step of the way. Our breakfast waiter told us there was lunch on the island but I assumed you'd have to pay for it. NOPE! It's included. Since the island is private to the ship, you are the only people there and therefore lunch is included in your ticket. I LOVE LOVE LOVE this!
Lunch will get crazy so eat early, or wait for the lines to die down. Also, before you eat, establish a shady place because it seems everyone was off the ship at this point and we didn't have a place to sit and relax in the shade. This contributed to us getting back onboard early.
If you head back to the ship early, the deli in the back of the Majesty of the Seas was open so we had a mostly private lunch onboard with amazing food!

Royal Caribbean has done an amazing job of making the island very comfortable. There is tons of seating and places to be. It was only crowded during lunch when there was only one place for people to eat and be. Other than that there is so much room you can just relax and not even realize there are a lot of other people around.
Our kayaking excursion was an hour and a half and has us kayaking in the ocean for a little over 2 miles. It was quite the work out but so, so fun. At one point there were some waves we were competing with, it was exciting. We saw all kinds of wild life, like reef sharks, fish and string rays. I really recommend getting out into the ocean when you are at Coco Cay, there is so much to see! Notice all the different shades of water as well. It is so gorgeous.
There were about 4 guides on our kayaking excursion so all of the people were very well looked after and helped. They did a good job of sticking with those of us at the back of the group. I can't say enough good about it!
Ok, you get it, I LOVE Coco Cay. That island is worth a Bahamas cruise alone!
The next day our port was the island of Nassau. I have previously visited Nassau, but it was still fun to return since Heidi hadn't ever been there. We decided to walk the town, do a little shopping and some exploring. We got off the ship, early in the morning before it got too hot. The shops were all open and ready for business. We walked through a lot of shops finding souvenirs for our families. We found a lovely courtyard where we could sit in the shade and enjoy the breeze and look at the water.
Nassau has a pirate history so we had to take advantage of all the photo opps as they came. We had fun exploring a little off the beaten path as well. We came upon some beautiful churches, downtown living and a pirate museum.
My favorite part of Nassau was the straw market where the locals are selling their handmade jewelry, toys, bags, accessories and other items. Here you can haggle the price down to what you want to pay. I bought several toys for my kids and got them for a great deal!
When you get off the ship, if you don't have any excursion planned, worry not! There are tons of tour companies and taxi drivers waiting to get you where you want to go. Now mind you, if you go on an excursion not booked through the cruise it is up to you to get back to the ship in time, they will not wait, but you can probably do things a lot cheaper. Our table mates got off the ship without a plan and found a taxi to give them a tour of the island for cheaper than the comparable shore excursion through the cruise line would have been!

So, you want to go to the Bahamas now right? Well I recommend it! I LOVE Royal Caribbean and Tours4Fun can get your booked and ready to go on the cruise of your dreams! I really enjoyed the seamless process go having Tours4Fun book my cruise.
As the name implies, Tours4Fun also books tours. You can read about my experience on a Segway in Miami that Tours4Fun booked and then check out some tours for you to book! I can't wait to travel with them again!