My trip was sponsored by Tours4Fun.com but all opinions are my own. Get ready for a crazy picture explosion!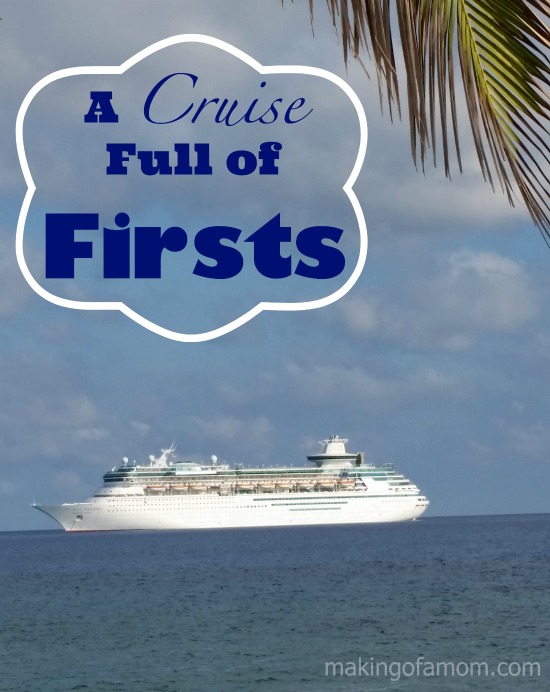 Anyone who knows me (even my loyal readers) know that a cruise is my preferred vacation. They are so affordable (when you take them frugally) and offer so much more than most other types of vacations. Even though
I have been on several cruises
in the past, my
Bahamas cruise on March 20th
was a cruise full of firsts.
Heidi from Save More and Spend Less met me at the airport in Kansas City and together we took off for our Bahamas cruise (first time cruising without my family). This was Heidi"s first cruise and she was a little nervous about it. I was so excited to get back on a ship and in the ocean! Our flights went smooth and we caught a taxi to the Port of Miami.
*PRO TIP* All taxi's from the Miami airport to the Port of Miami cost about $24 – it's the LAW! So don't get taken advantage of.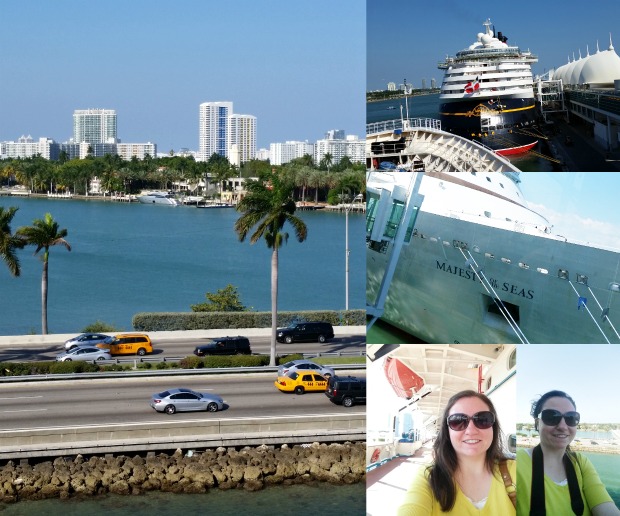 While checking in, Heidi's nerves started getting the best of her so I tried my best to keep her calm and focusing on the positives. We successfully got on the ship about 3pm and were immediately escorted to our muster drill (not a good first impression for Heidi). After the muster drill we were hearded through the halls with the crowd and we made it to our room. The cabins on Majesty of the Seas (operated by Royal Caribbean) are SO SMALL because the ship is 20+ years old. As time has past and cruise ships are built they take into consideration that we as a people are getting bigger too. With this trend, cruise ships are having to accommodate this with making cabins bigger and bigger. I have been in a lot of cabins across a lot of cruise ships and I couldn't believe how tiny it was!
After spending some time on deck watching as we pulled away from the dock and started our cruise, we called and said our goodbyes to our families and anticipated the next 3 days of fun on the ship and in the Bahamas.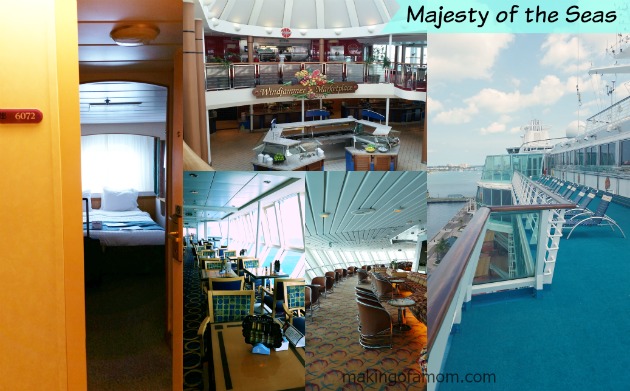 We had missed lunch in the buffet from getting on the ship a little later and then watching us sail away so we  explored the ship while we waited for dinner. We had an assigned early dinner. I personally like an assigned dinner time because it means you sit at the same table, with the same people and the same waiters for the length of your cruise. You can also choose "any time" dining and eat during the dinner time hours (typically 6:30 – 10pm) but you will have to wait to be seated.
Dinner the first night was a little rough. The food wasn't so great, one of our table mates spilled water all over my place setting (luckily avoiding me) and our waiters seemed to not be in the spirit of letting us eat all we wanted (after all this is a cruise and we all got the memo that it's all about the food!)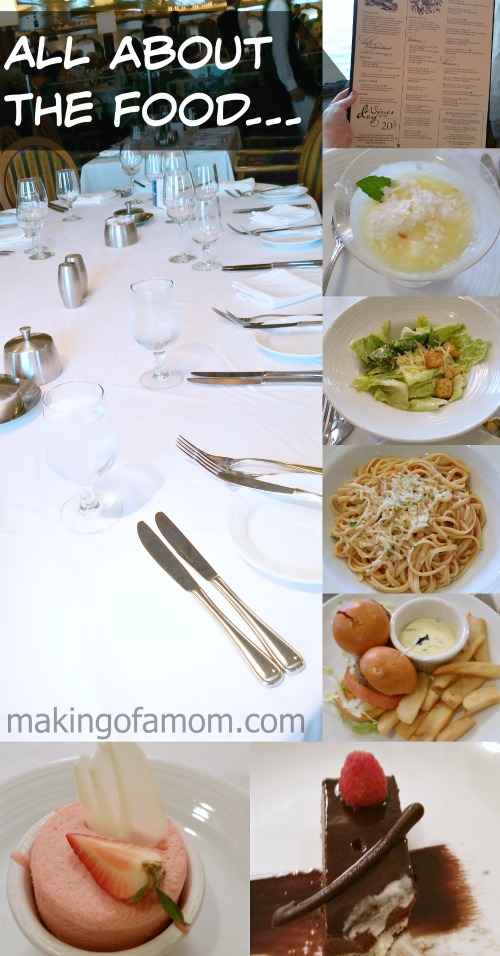 That night we went to the show, which was a welcome a board and a comedian. It was pretty funny. We learned that the cruise was very diverse with 62 nationalities represented on board. Another thing to note is that when you leave from Miami all announcements will be made in both English and Spanish. The Port of Miami must be the most popular amongst other nationalities because I have never been on a cruise that has done that before (I wonder how things like that work overseas?).
Our second day on our Bahamas cruise we anchored at Coco Cay, Royal Caribbean's private island. We spent most of the day on the island and had an amazing time. This was my first visit to Coco Cay. My Cocoa Cay post is coming! Stay tuned!
That night dinner was ah.mazing! Seriously, the food was good. The show that evening was a Magician/Comedian. He was pretty funny! The show was mostly family friend with some language slip ups every now and then.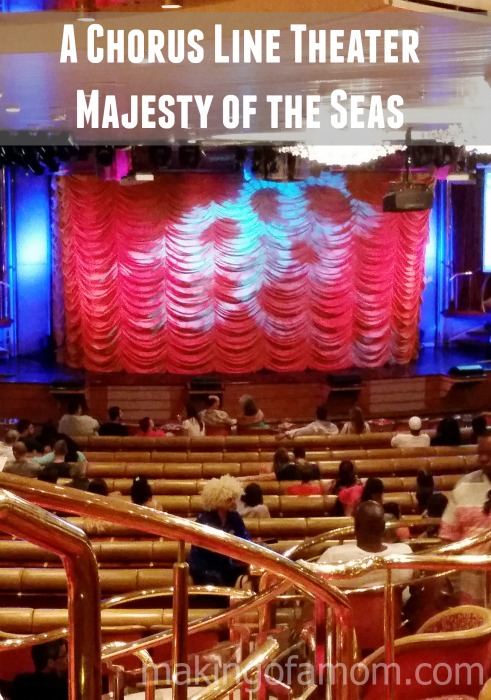 A couple of things different about this cruise that I didn't love were that the ice cream machine is only open limited hours (in what universe is this ok???) and there isn't food all the time (not counting room service). I was shocked by the lack of food and ice cream.
Day 3 we docked at Nassau. We didn't have any shore excursions planned. I have been to this port before so I knew we could just walk around the city and play it by ear. More about this in my Bahamas post.
That night was very fun. The crew got together and had a parade of flags representing where they were from. It was really fun as the Cruise Director listed the countries. Every few countries there would be a performance by that country with dancing. It was really interesting and really fun.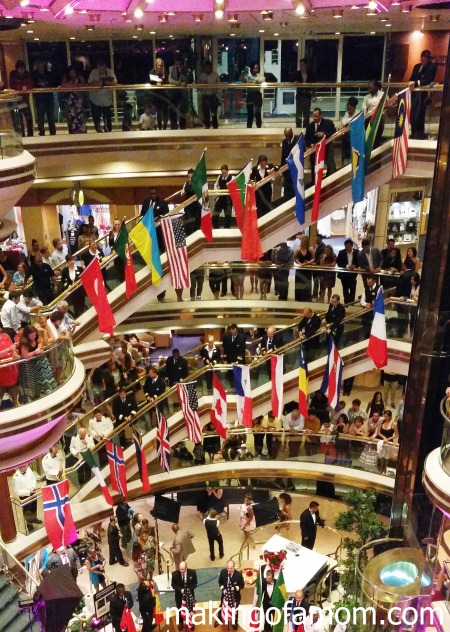 Dinner this night was also super amazing. Of course, I have pictures to get your drooling!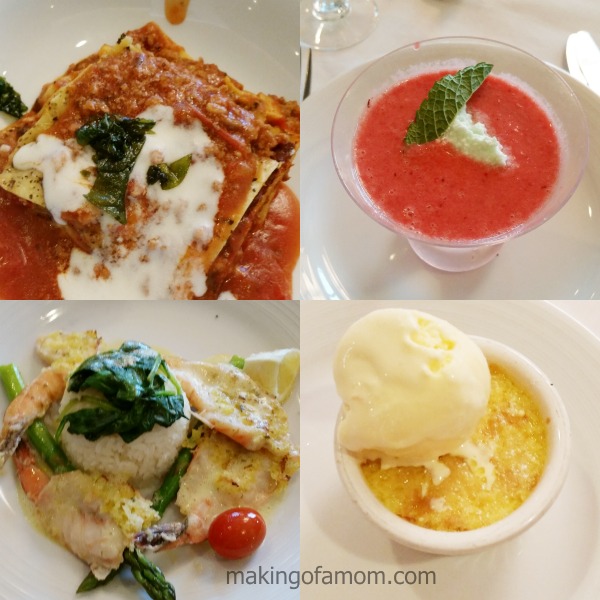 Since this was our last night we had tons of fun and stayed up late. We went to the show, watched battle of the sexes and the quest game. We got a couple virgin pina coladas and had a really fun evening. We also took a long stroll on our favorite deck 7.
To get the full scope of my trip, here is a 3 1/2 minute video. Check it out and let me know what you think!
Even though there were a few bumps in the road, the cruise was so much fun! I enjoyed sailing on Royal Caribbean again because I think they do a great job. While I wouldn't recommend Majesty of the Seas to any of my friends, I do recommend Royal Caribbean.
Also, Tours4Fun booked the whole thing for us and it was a seamless process. Through their website you can book tours around the world as well as cruises. They are an awesome site that is anxious to please!