Get ready for a tsunami of photos! Venice is the one place I NEEDED to go before I die. I was only there for 36 hours and it was a dream come true. I pinched myself several times to make sure it was really happening! So I have a million pictures I want to share!
In the summer of 2010 we (my parents and my immediate family) went to Vienna Austria for 3 weeks (that's going to be a series of posts on its own!). My husband had to go for work training and so the rest of us jumped on board as well! I have loved Austria every since I saw The Sound of Music for the first time, so there was no way I wasn't going! My parents hadn't ever been to Europe so they wanted to join in all the fun, and I wanted help with my kids! 🙂 Since we were going to be in Austria for so long we decided to use the weekends as a great opportunity for side trips to other nearby countries. Our second weekend there we rented a car (I have a fun adventure of renting a car in Germany for another post as well!) and drove the 6+ hours to Mestre Italy. It was an incredible drive through the Italian Alps. Old beautiful churches and homes on the hilltops were an amazing site. As we got closer to Mestre we started passing vineyard after vineyard, as well as cornfields (we lived in Kansas at the time so cornfields were normal to us. We joked about how at that moment we couldn't tell Italy from Kansas.)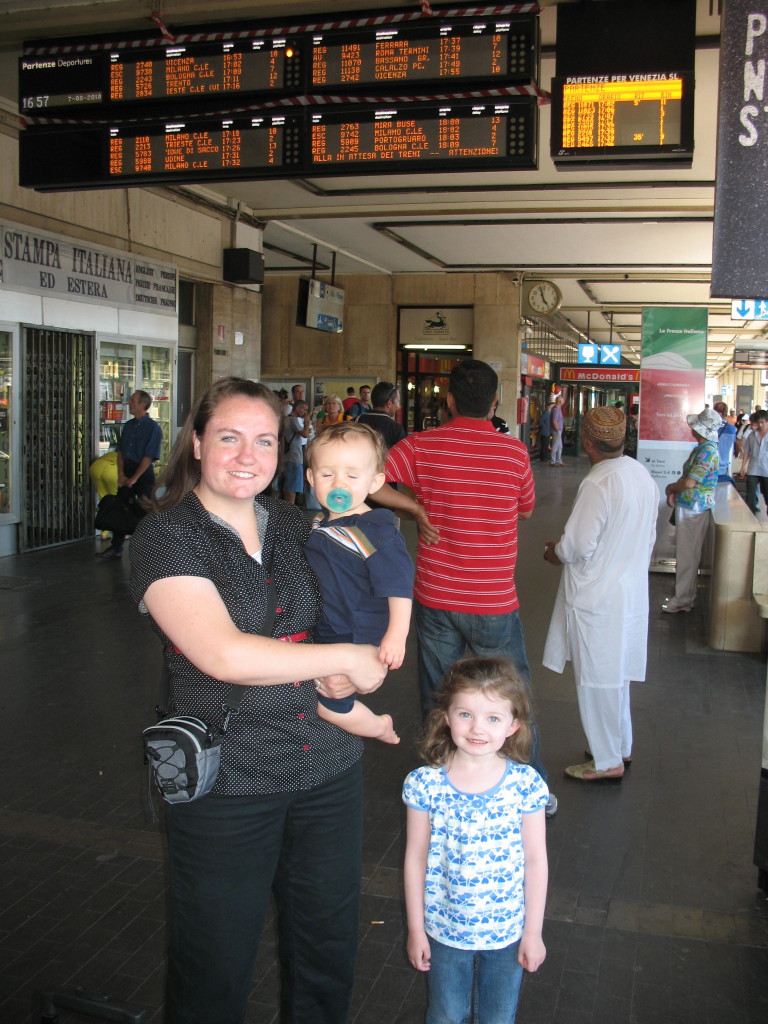 When we got to Mestre we parked the rental car in a parking lot across from the train station. We boarded a train for the about 7 minute ride to Venice. There is a long bridge that takes you from the mainland Italy over to Venice.
These are our first moments on the island of Venice! Since we had all of our luggage we wanted to find out hotel promptly. Our hotel was at the bottom of the Grand Canal and so we bought our Vaporetti (water bus) tickets and headed off down the Grand Canal!
I couldn't stop taking pictures as we floated down the Grand Canal. I was amazed at how it looked exactly as it had on TV and in movies. I'm not sure why I was expecting something different. It was incredible. Words can't describe my emotions and the joy I felt at being there. Going under the Rialto bridge was surreal (and a little disappointing, there was graffiti all over it!)
We were the second to last stop on the Vaporetti. The stop after ours was for the Piazza San Marcos… you know from movies like The Italian Job, Casino Royale, The Talented Mr. Ripley and many others. The lovely bridge in the left picture above is the bridge we had to cross to get to our hotel. It was so beautiful wandering the sidewalks of Venice in search of our hotel. The left picture above is right outside our hotel and the right picture above is on the Accademia bridge. Instead of talking the Vaporetti over to the Piazza San Marcos, we decided to walk. Even though it wasn't that far, it was still a 20 minute walk. There were a lot of twists and turns and smaller bridges to cross. I was surprised we didn't get lost because there are so many nooks and crannies around.
On our way to the Piazza San Marco there were a lot of restaurant choices. I wanted to eat on the Grand Canal so my husband and I kept going when my parents and my kids stopped to eat in the Piazza San Marcos. We eventually found a lovely Italian (LOL) restaurant. We shared some delicious bread and lasagna. It was crazy expensive. I wish now we would have just sprung for two or two different things. It was delicious!
The next morning we hopped on another Vaporetti and headed to the island of Murano, which is a district of Venice famous for it's glass. While we were there we watch a glass artisan create that spectacular  horse from the glowing ball of hot glass in the middle picture. Check out the beautiful chandelier, that was in the warehouse where they were working. We also had a similar glass chandelier in our hotel room that was pink. It was incredible to watch them work. It was a very fast process also, it only took about 15-20 minutes to create that horse!
And then all of the sudden it was time to say goodbye. The hours went too fast. We only saw a fraction of the city. I hope that I will be able to go back one day, but if not, I was very blessed to spend 36 glorious hours in Venice Italy.