Disclosure: I received free product samples for review purposes. All experiences and opinions are my own. Yours may differ.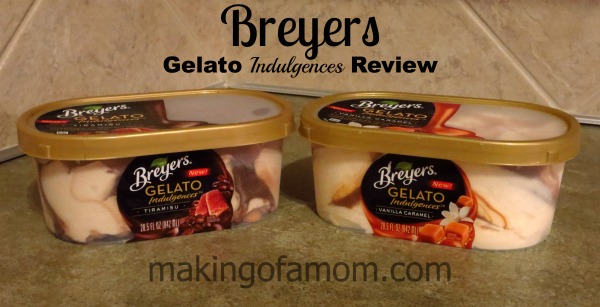 Ever since my trip to Austria, I'm rather picky about my gelato. It is my experience that it is really hard to create delicious gelato if you aren't in Austria (even my gelato in Italy wasn't very good, shocker!) So I was excited but skeptical to try the new Breyers Gelato Indulgences. After taking a couple pictures of the packages, I got out the ice cream scoop and began to dig in.
There are 4 flavors of gelato.
Vanilla Caramel
Tiramisu
Raspberry Cheesecake
Triple Chocolate
I was only sent two of the flavors, Tiramisu and Vanilla Caramel. My first impression of the gelato was positive. The gelato was beautiful. Look at the picture. The Tiramisu was covered in powdered cocoa and the Vanilla Caramel had little caramel curls on top. I love that they added the details of the extra embellishments to the gelato, just like you would find in a gelato shop.
When it was time to serve, it was very soft. It was easy to scoop and push through the gelato. I got really excited. That was a very good sign!
Vanilla Caramel
The description of the Vanilla Caramel from Breyers,"Creamy vanilla gelato with luscious caramel sauce & gourmet caramel curls" is spot on. This gelato was so creamy and delicious. It was smooth and melted in your mouth (pun intended!) There are larges veins of caramel swirled throughout the gelato and it is so good. Indulgence is the PERFECT name to go on this gelato.
Tiramisu
"Mascarpone gelato with espresso sauce, ladyfinger cookie pieces & gourmet cocoa" Even though the description says there are ladyfinger cookie pieces mixed in, I still felt like the gelato was smooth, not chunky. They weren't too noticeable – but in a good way. Sometimes I don't like big chunks of things in my ice cream because it can get hard being cold. I love that these weren't giant objects in my dessert. I'm not a huge fan of Tiramisu but I really liked this kind because the coffee flavor wasn't very strong, and the cocoa powder wasn't over-powering. It was mellow, and delicious. Again, I can't emphasize how smooth and creamy and just plain delicious it is!
This Valentine's Day get some delicious gelato and pull up a spoon with your sweetheart and dig in. No need for bowls when you are celebrating love and indulgent gelato! If you are celebrating alone – even better, more for you!
I'm very excited to head to my local grocery store and get the Raspberry Cheesecake and Triple Chocolate. I'm confident they will follow the delicious precedent of these two flavors. Happy spooning!