Disclaimer: I received one month of the  Little Passports World Edition subscription for review purposes. All experiences and opinions are my own. Yours may differ.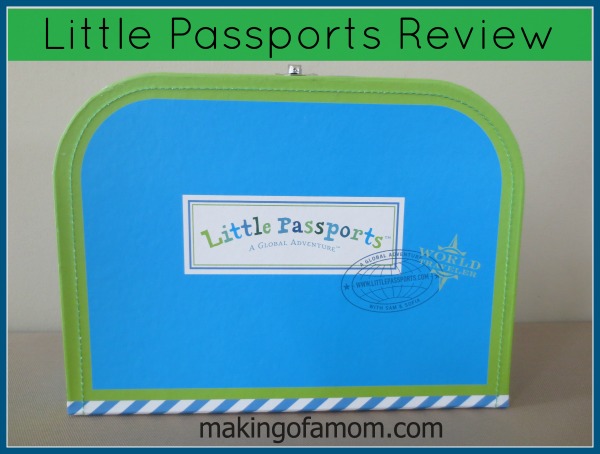 These days there are some pretty incredible companies out there. I happened to stumble across one of them on Facebook a month or two ago. Little Passports is a subscription based service that offers a fun educational experience for children (and parents, frankly). Little Passports offers a USA Edition and a World Edition. If you have been reading my blog for a while, you know that we LOVE to travel and we have taken our kids around the world. One of my favorite places so far was our trip to Italy. For this reason I chose to review the World Edition!
WORLD EDITION
For the World Edition you will travel along with Sam and Sofia to a new country every month. In each package is included a letter, fun souvenirs, stickers, photos and access to fun online games. There is a total of 24 different adventures with this option.
USA EDITION
For the USA Edition you will join Sam and Sofia as they visit 2 states every month with a travel journal, stickers, postcards, pop out models and online activities. This edition has a potential of 26 adventures!
For each edition you choose there are several subscription plans.
Monthly $11.95
3 & 6 Months $13.95/month
12 Month $10.95 / month
There was a lot of fun to be had in our first month of the World Edition. Inside the passport are questions to fill out as a family. This passport acts as a travel journal. It is so much fun to go through and answer the questions together. We got to learn about where our favorite places in the world are, where we want to go someday and what we want to see. There were also several puzzles to complete such as how different people say hello in different languages, finding out how old Sam and Sofia are and figuring out where they are traveling to next.
We had a lot of fun looking at the world map included in this month's package. Since we have been to several different countries, it was a lot of fun to show the kids where they had been on the map. They were amazed at how far away we had traveled. They also did a good job of finding where we currently live on the map.
I love this subscription service so much. I love the games. I love the education. I love that even though we aren't taking as many international trips right now as we have in the past we can still pretend to travel around the world with Sam and Sofia. I love that we are still getting to experience new languages and cultures by participating in the World Edition. I think it would be so much fun to complete the World Edition and then move on to the USA Edition. I have a goal to visit every state before I die. I have about 10 left to go. I'm sure there are some pretty amazing things we could learn about our own country through the USA edition.
I'm very happy to tell you that Little Passports is giving one reader a 3 month subscription! You can choose USA or World edition. This giveaway is open to US residents ages 18+. Winner will be verified and emailed. Winner will have 48 hours to respond before a new winner will be chosen. Making of a Mom is not responsible for prize shipment. This giveaway will run from August 14 – August 26. Enter through the rafflecopter below. Good luck!