This year as you begin to plan your road trips, think beyond the destination to how to handle the drive. My kids are young, and while they love to watch movies in the car, sometimes they need a movie break and to play some activities. So to make things easy for you, I have compiled the
Ultimate Road Trip Game Round Up
. I will feature different types of activities from DIY games and printables to real games that are easy to play with in the car.
Printable Games
The easiest way to prepare some activities for the car is the simply print them out.
I have some really awesome games that only involve printing. This
License Plate Bingo
is fun for cross country road trips because you will be able to cross off a lot states.
If you have small kids that really enjoy the alphabet game you can print out Alphabet Game board to help you keep track of the letter you are on. Small kids might not want to go in order so cross off the letters as you find them.
A really fun printable game that does involve some assembly is my
DIY Road Trip I Spy Game
. Print off the pictures on sticker paper, place them in a plastic organizer, then pick your kids favorite candy or snacks to use as the markers as they find each item. It's really fun and perfect for road trips since the lid closes and the game can be packed away easily.
You can also purchase a copy of my Ultimate Road Trip Activities book from amazon.
Games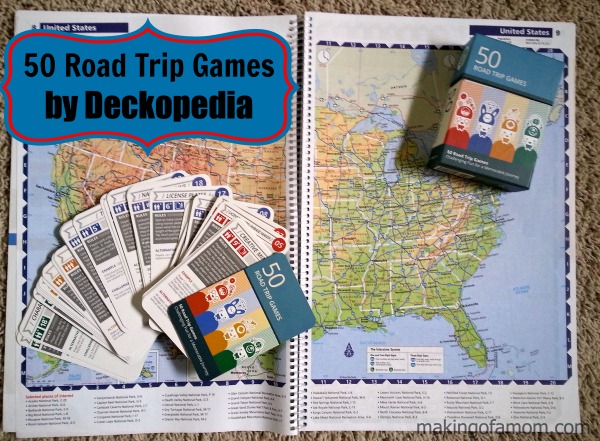 Even if space is tight on your road trips there are some fun games you can bring along that don't require much space.
Deckopedia
is a card game that has over 50 games that can be played in a car. There is definitely space for a deck of cards, even in the smallest car.
Slideways is a fun puzzle game that doesn't require much space. It would be perfect for your older kids as the game says ages 8+. It can even be played with 2-3 players so you can pass it around the car for all the players. Thanks to SAHM Reviews for telling me about it!
Toys
I like to have special toys available for my kids in the car. These toys are either new, or only available for road trips and so they look forward to being able to play with them since they don't get them often. The
Travel Entertainment Pack
is a great way to organize a whole bunch of entertainment in one place. We add snacks, paper for coloring, stickers and homemade lacing cards. Small toys and games can also be placed into the container. Each container can be specialized towards each child (or adult, I want my own!)
Do you have children that would love to play with a dollhouse while you travel? I know my daughter would and I bet she could talk her brothers into being interested if they had LEGO people to use in the house. Check out this incredibly easy and creative way to make a
travel dollhouse
on
Thrifty Northwest Mom
.
With printed games, toys, snack and movies even the time in the car can be fun. If you want to enjoy your trip in a nice new car you can check out Westbury Toyota for their nice selection.
If you have road trip games you love, leave a link or the details below!