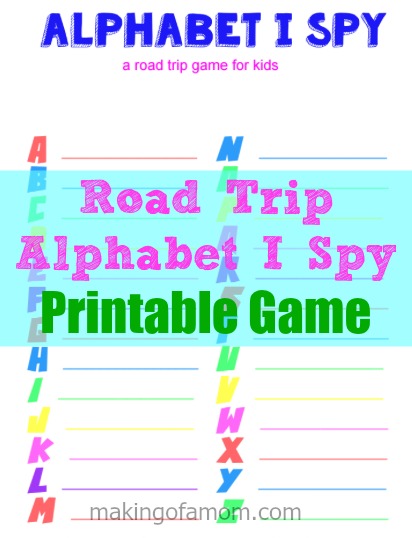 Have you started planning your road trips for the year yet. Chances are you probably have a couple locations you know you want to visit, whether they are planned or not. I know I always have a few destinations in mind and so I'm ready to book whenever the chance presents itself. If you are planning a road trip this year, here is a fun game for your family to play while in the car.
Alphabet I Spy is a version of the traditional "Alphabet Game". You know when you are driving down the freeway and you are calling out the Alphabet in order as you see the letters? Here is a printed version so you can keep track of what letter you are on during rest stops, meals and over night. To make this a little more fun (and potentially more educational for the kids) we've added a line next to ear letter to explain where you saw the letter. For example if you came across the ever coveted letter 'Q', next to the letter on the line you (or the kids) would write where you found this letter. My 6 year old needs a lot of writing practice so I like the extra steps in this game.
We have done all the work for you and created the board. Simply download and print the Alphabet I Spy board. Then you can laminate it if you want it to be reusable, or print off several copies for on the way there and back if you don't want it laminated. Print as many as you need. If you choose to laminate it and make it reusable also bring along dry erase markers and paper towels for easy cleaning.
I hope you have a really fun road trip and good luck with the game! To get this activity and a lot of other coloring pages, games, puzzles and more, you can buy my
Ultimate Road Trip Activity Book
on Amazon.
If you are in the market for a new car to drive on this upcoming road trip, see the vehicle selection at Kolosso.