Disclaimer: I received the following product free for review purposes for my Holiday Gift Guide. All experiences and opinions are my own. Yours may differ.
LOVE! That is what I feel for my new Teach My Baby All in One Learning Kit. Teach My approached me to do a product review. After I looked at their fantastic options of kits such as the Teach my Toddler and Teach my Preschooler I decided I wanted to review the Teach My Baby kit because it looked perfect for the stage my baby is in, plus it looked like a great educational toy for him to grow into.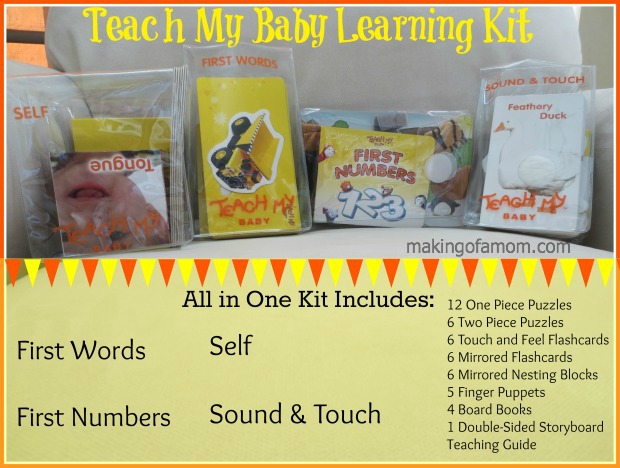 Included in this wonderful carrying case (which I completely appreciate because it keeps it organized, compact and stored away for me) is all these wonderful learning toys. Let me break it down for you by section.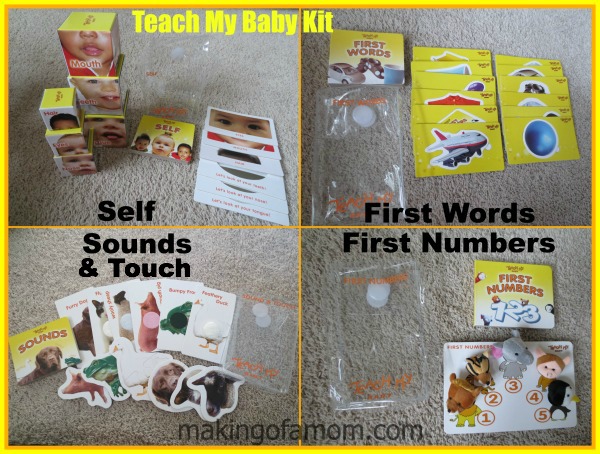 Teach My Baby Self Includes:
6 Mirrored Flashcards
6 Mirrored Nesting Blocks
Board Book
These learning toys are so fun for my baby. He loves to look at himself. I love that on one side of the block or the card talks about a body part. I show him the picture of the baby on the card or block and then I show him his same body part in the mirror on the reverse side. He thinks it is so funny. Although he is only 8 months old and may not quite know what we are doing, he thinks it is a fun game and I love spending this time with him.
Teach my Baby First Words Includes:
12 One Piece Puzzles
Board Book
My baby loves to hold these puzzle pieces. He can't put them back together but he enjoys playing with the puzzles with me.
Teach My Baby Sounds & Touch Includes:
6 Touch and Feel cards
6 Two Piece Puzzles
Board Book
These activities are my baby's favorite. He LOVES the touch cards with the different textures. He thinks the animals are so funny. These cards are what I am going to bring to church and out shopping to help him be quiet and happy because he loves these so much.
Teach My Baby First Numbers Includes:
5 Animal Finger Puppets
1 Story Board
Board Book
This is a cute section of the kit. It is fun to put on a little puppet show. I think besides teaching numbers with the story board you can also cover some other animal sounds with the puppets also.
The sweetest part of this whole kit, in my opinion, was watching my 4 year old interact with his 8 month old brother with the different activities. He was showing him the numbers and reading them to him. He was point out his body parts and showing him the mirrors. He liked putting on a little puppet show for him and roaring at him with the lion finger puppet. It was so sweet to watch him help the baby learn these things.  I love that the Teach My programs combine education with fun so that it helps keep the children attention longer. It is so nice to have all these materials in one compact space. I recommend these different kits for the different age groups. The kits would also make a very fun gift. You can buy the Teach My products right on their website and at select Toys R Us stores.