I am working together with Teach My to inform you of these new sets. All experiences and opinions are my own. yours may differ.
Last year I introduced you to Teach My, a company dedicated to making fun activities for children to help them learn. Take a look at my previous review to learn about the Teach My Baby, Teach my Toddler and Teach My Preschooler sets. Now the sets are getting more detailed by talking about Baby Animals, The Solar System, Time and Continents and Animals.
Each of these new Teach My sets is available at a Toys R Us near you. Check the store locator to find an exact location. When I went to my local Toys R Us, I found the sets on an end display in the educational toy section near VTech and Innotab toys. All of these sets are only $14.99, so very affordable and worth the money for the value they will provide your kids. In addition to use in the home, these would be awesome for a home school curriculum, in day cares or in the classroom. These are so valuable and age appropriate!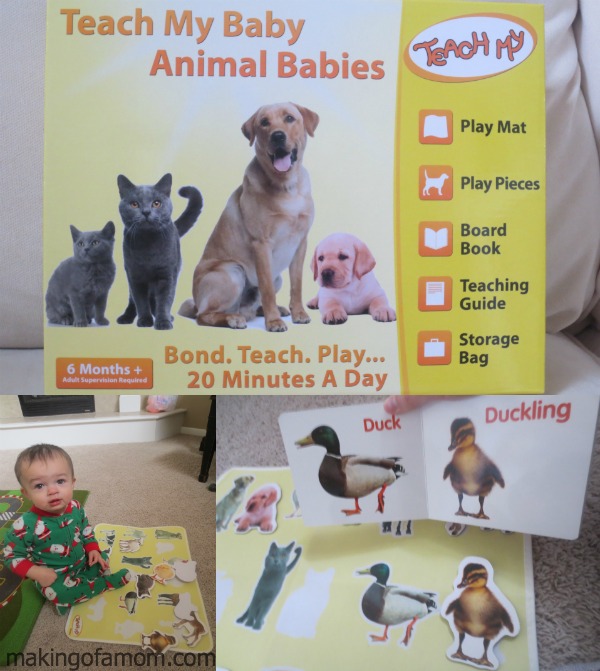 Teach My Baby Animal Babies introduces babies to 8 animals and their babies. Using a coordinated board book, play mat and 8 animal play pieces, babies can learn all about animals and their young.
Teach My Baby Animal Babies set is so much fun for my baby. He loved looking at each animal, playing with the baby animal cards, looking through the book and making matches. He loves animals and so this kit was his favorite out of the sets I received.
Teach My Preschooler The Solar System introduces your child to the basics of The Solar System. Using a coordinated book, puzzle, poster and flashcards, Teach My showcases the sun and nine planets that rotate around the sun, including Pluto, The Dwarf Planet.
This set has been really fun in my house since we just got a new telescope. We have enjoyed filling out our sky gazing journal that came with our telescope while learning about the planets with the Teach My set. My older kids love this so much and quiz each other on the planets.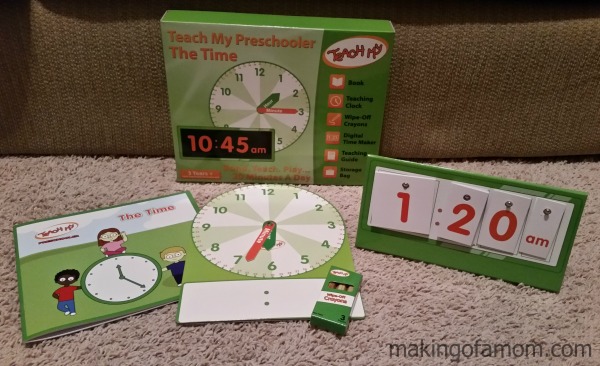 Teach My Preschooler The Time introduces preschoolers to hours, minutes, analog time, digital time and time vocabulary. Using a wipe-off teaching clock, book and digital time maker, preschoolers can master telling the time quickly!
My daughter has had a tough time learning time in 2nd grade. This set is going to be very helpful for her. I'm so happy to have these tools for her to use. All summer we will be using this to practice time and keep her fresh and ready for 3rd grade.
Teach My Toddler Continents and Animals introduces your toddler to 7 continents of the world and 21 animals that live on those continents. Using a coordinated book, puzzle-within-a-puzzle and matching flashcards, toddlers can discover more about the world they live in.
I love this set because the flashcards are so great. It was a good idea to make the flash cards color coordinated with the puzzle and to have the animals each have a piece of their color coordinated continent attached. This feature make the puzzle a challenge but not impossible. My kids have loved playing with this set because we have been a several continents so they talk about their memories in those places.

Giveaway Time
Teach My is giving one luck reader a prize pack with each of these sets. Together this prize is valued at $59.
Giveaway is open to US & CAN residents ages 18+.
Giveaway runs May 12-19.
Enter the Giveaway below!
Participating bloggers are not responsible for prize fulfillment. Facebook, Twitter, Pinterest and Instagram are not involved in this giveaway.