This is a post sponsored by Teach My. All opinions are my own.
Teach My
is a brand that I have worked with and loved for many years. Teach My provides educational kits and toys for children to help make learning fun. It's founded and owned by women! When my older kids were small we would play with the
Teach My Baby
and
Teach My Preschooler kit
. These kits helped reinforce letter, colors, shapes, learning about their body and more with fun toys and games. When they entered school we would play with the
Teach My Kindergartner
kit. In fact, that Kindergarten kit helped me with my Cub Scouts a couple weeks ago as we worked on the coin badge. In the Kindergarten kit is a unit on money that comes with some play money and it really helped my Cub Scouts in their required tasks to earn the coin award.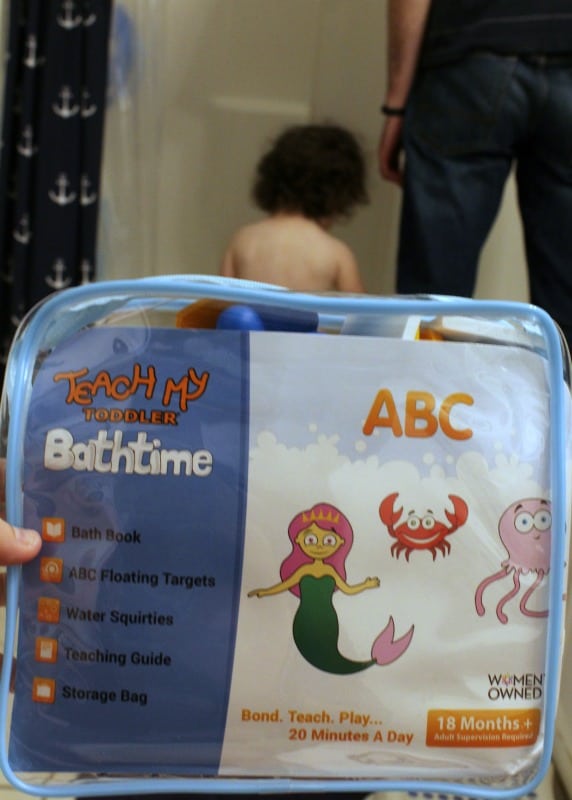 One of the newest educational toys from Teach My is the
Teach My Toddler Bathtime ABC's
. I love that Teach My keeps the education moving from room to room. In the Bath Time ABC kit is 26 letters, 26 floating holders, 2 squirt toys, a bath book, storage bag and teaching guide. My toddler, who is 19 months old, LOVED playing with the floating letters and the squirters. I tried to get her to read the book, but I think she was blown away that it could go in the water with her, so she wouldn't take it. It was pretty funny and cute.
This toy was not only fun for my daughter, but fun for me. I enjoyed setting up the letters and squirting them with the dolphin squirter. This makes bath time fun for everyone participating! My kindergartener wants to go back to baths so he can spell words with the floating letters.
This bath time activity would make a great holiday gift, or stocking stuffer. In fact all of the kits would make awesome gifts, too. They are really thorough in their teaching and include so many activities in each kit. I've had some of my kits for 5 years now and many of my kids have worked their way through them. I really love the Teach My products.
I'm really excited to announce that Teach My is giving one lucky ready a learning kit of their choice. The winner can choose from the Teach My Baby, Toddler, Preschooler, or Kindergartener kits valued at $29.99. This giveaway is open to US residents. The giveaway will run from November 2 – 16. Winner will be verified, emailed and have 48 hours to claim the prize or a new winner will be chosen. Good luck!